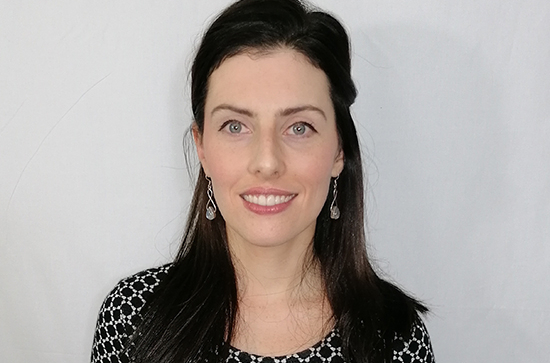 Biography
Dr. Róisín O'Flaherty earned her BSc in Chemistry at Maynooth University and a PhD in Glycochemistry at Maynooth University, Ireland. She travelled to Australia to do a Research Fellowship in Glycochemistry at the Bio21 Institute, Melbourne University. She then worked as a Process Engineer in Intel in Leixlip, Ireland and subsequently joined the National Institute for Bioprocessing Research and Training (NIBRT) as a Senior Post-Doctoral Researcher utilizing her expertise in automation in the field of Glycoscience. She was appointed Research Manager in the Cell Technology Group at NIBRT before relocating to join Maynooth University as an Assistant Professor in the Department of Chemistry. She is responsible for the creation of some of the world's most advanced automated glycoanalytical technologies. The developed technologies have found application in human health, with the recent establishment (and validation) of a clinical method for Classical Galactosemia in conjunction with the Mater Hospital and the characterization of complex biological matrices (e.g. blood serum, milk, and biopharmaceuticals (e.g. mAbs, erythropoiesis-stimulating agents) towards understanding complex glycan processing pathway alterations during disease states.
Peer Reviewed Journal
| | Year | Publication |
| --- | --- | --- |
| | 2022 | O'Flaherty, Róisín and Simon, Ádám and Alonso-Sampedro, Manuela and Sánchez-Batán, Sonia and Fernández-Merino, Carmen and Gude, Francisco and Saldova, Radka and González-Quintela, Arturo (2022) 'Changes in Serum N-Glycome for Risk Drinkers: A Comparison with Standard Markers for Alcohol Abuse in Men and Women'. 12 (2). [Link] [DOI] |
| | 2022 | Llop E;Ardá A;Zacco E;O'Flaherty R;García-Ayllón MS;Aureli M;Frenkel-Pinter M;Reis CA;Greiner-Tollersrud OK;Cuchillo-Ibáñez I; (2022) 'Proceedings of workshop: Neuroglycoproteins in health and disease, INNOGLY cost action'. Glycoconjugate Journal, . [DOI] |
| | 2022 | Ronan R.;Kshirsagar A.;Rebelo A.L.;Sunny A.;Kilcoyne M.;Flaherty R.O.;Rudd P.M.;Schlosser G.;Saldova R.;Pandit A.;McMahon S.S. (2022) 'Distinct Glycosylation Responses to Spinal Cord Injury in Regenerative and Nonregenerative Models'. Journal of Proteome Research, . [DOI] |
| | 2022 | O'Flaherty R.;Opdenakker G.;Clausen H.;Gerardy-Schahn R.;Kieda C.;Reis C.A.;Rudd P.M.;Sadrieh A.;Axford J. (2022) 'Glycobiology'. Glycobiology, 32 (6):458-459. [DOI] |
| | 2021 | Eileen P Treacy, Sebastian Vencken, Annet M Bosch, Matthias Gautschi, Estela Rubio‐Gozalbo, Charlotte Dawson, Darragh Nerney, Hugh Owen Colhoun, Loai Shakerdi, Gregory M Pastores, Roisin O'Flaherty, Radka Saldova (2021) 'Abnormal N‐glycan fucosylation, galactosylation, and sialylation of IgG in adults with classical galactosemia, influence of dietary galactose intake'. Journal of Inherited Metabolic Disease, 61 (1):76-88. [DOI] [Full-Text] |
| | 2021 | Xie Y;Mota LM;Bergin A;O'Flaherty R;Jones A;Morgan B;Butler M; (2021) 'High-throughput and high-sensitivity N-Glycan profiling: A platform for biopharmaceutical development and disease biomarker discovery'. Analytical Biochemistry, 623 . [DOI] |
| | 2020 | Greville G;Llop E;Huang C;Creagh-Flynn J;Pfister S;O'Flaherty R;Madden SF;Peracaula R;Rudd PM;McCann A;Saldova R; (2020) 'Hypoxia Alters Epigenetic and N-Glycosylation Profiles of Ovarian and Breast Cancer Cell Lines in-vitro'. Frontiers in Oncology, 10 . [DOI] [Full-Text] |
| | 2020 | Welsink-Karssies MM;Ferdinandusse S;Geurtsen GJ;Hollak CEM;Huidekoper HH;Janssen MCH;Langendonk JG;van der Lee JH;O'Flaherty R;Oostrom KJ;Roosendaal SD;Rubio-Gozalbo ME;Saldova R;Treacy EP;Vaz FM;de Vries MC;Engelen M;Bosch AM; (2020) 'Deep phenotyping classical galactosemia: clinical outcomes and biochemical markers'. Brain Communications, 2 (1). [DOI] [Full-Text] |
| | 2020 | O'Flaherty R;Bergin A;Flampouri E;Mota LM;Obaidi I;Quigley A;Xie Y;Butler M; (2020) 'Mammalian cell culture for production of recombinant proteins: A review of the critical steps in their biomanufacturing'. Biotechnology Advances, 43 . [DOI] |
| | 2020 | Foldager L;Gaillard C;Sorensen MT;Larsen T;Matthews E;O'Flaherty R;Carter F;Crowe MA;Grelet C;Salavati M;Hostens M;Ingvartsen KL;Krogh MA; ; (2020) 'Predicting physiological imbalance in Holstein dairy cows by three different sets of milk biomarkers'. Preventive Veterinary Medicine, 179 . [DOI] |
| | 2020 | De Leoz, MLA;Duewer, DL;Fung, A;Liu, L;Yau, HK;Potter, O;Staples, GO;Furuki, K;Frenkel, R;Hu, YL;Sosic, Z;Zhang, PQ;Altmann, F;Grunwald-Grube, C;Shao, C;Zaia, J;Evers, W;Pengelley, S;Suckau, D;Wiechmann, A;Resemann, A;Jabs, W;Beck, A;Froehlich, JW;Huang, CC;Li, Y;Liu, YM;Sun, SW;Wang, YJ;Seo, Y;An, HJ;Reichardt, NC;Ruiz, JE;Archer-Hartmann, S;Azadi, P;Bell, L;Lakos, Z;An, YM;Cipollo, JF;Pucic-Bakovic, M;Stambuk, J;Lauc, G;Li, X;Wang, PG;Bock, A;Hennig, R;Rapp, E;Creskey, M;Cyr, TD;Nakano, M;Sugiyama, T;Leung, PKA;Link-Lenczowski, P;Jaworek, J;Yang, S;Zhang, H;Kelly, T;Klapoetke, S;Cao, R;Kim, JY;Lee, HK;Lee, JY;Yoo, JS;Kim, SR;Suh, SK;de Haan, N;Falck, D;Lageveen-Kammeijer, GSM;Wuhrer, M;Emery, RJ;Kozak, RP;Liew, LP;Royle, L;Urbanowicz, PA;Packer, NH;Song, XM;Everest-Dass, A;Lattova, E;Cajic, S;Alagesan, K;Kolarich, D;Kasali, T;Lindo, V;Chen, Y;Goswami, K;Gau, B;Amunugama, R;Jones, R;Stroop, CJM;Kato, K;Yagi, H;Kondo, S;Yuen, CT;Harazono, A;Shi, XF;Magnelli, PE;Kasper, BT;Mahal, L;Harvey, DJ;O'Flaherty, R;Rudd, PM;Saldova, R;Hecht, ES;Muddiman, DC;Kang, JC;Bhoskar, P;Menard, D;Saati, A;Merle, C;Mast, S;Tep, S;Truong, J;Nishikaze, T;Sekiya, S;Shafer, A;Funaoka, S;Toyoda, M;de Vreugd, P;Caron, C;Pradhan, P;Tan, NC;Mechref, Y;Patil, S;Rohrer, JS;Chakrabarti, R;Dadke, D;Lahori, M;Zou, CX;Cairo, C;Reiz, B;Whittal, RM;Lebrilla, CB;Wu, LR;Guttman, A;Szigeti, M;Kremkow, BG;Lee, KH;Sihlbom, C;Adamczyk, B;Jin, CS;Karlsson, NG;Ornros, J;Larson, G;Nilsson, J;Meyer, B;Wiegandt, A;Komatsu, E;Perreault, H;Bodnar, ED;Said, N;Francois, YN;Leize-Wagner, E;Maier, S;Zeck, A;Heck, AJR;Yang, Y;Haselberg, R;Yu, YQ;Alley, W;Leone, JW;Yuan, H;Stein, SE (2020) 'NIST Interlaboratory Study on Glycosylation Analysis of Monoclonal Antibodies: Comparison of Results from Diverse Analytical Methods'. Molecular and Cellular Proteomics, 19 :11-30. [DOI] |
| | 2020 | Samal J;Saldova R;Rudd PM;Pandit A;O'Flaherty R; (2020) 'Region-Specific Characterization of N-Glycans in the Striatum and Substantia Nigra of an Adult Rodent Brain'. Journal of Analytical Chemistry, 92 (19). [DOI] |
| | 2019 | De Koster J;Salavati M;Grelet C;Crowe MA;Matthews E;O'Flaherty R;Opsomer G;Foldager L; ;Hostens M; (2019) 'Prediction of metabolic clusters in early-lactation dairy cows using models based on milk biomarkers'. Journal of Dairy Science, 102 (3). [DOI] [Full-Text] |
| | 2019 | O'Flaherty R.;Muniyappa M.;Walsh I.;Stöckmann H.;Hilliard M.;Hutson R.;Saldova R.;Rudd P.M. (2019) 'A robust and versatile automated glycoanalytical technology for serum antibodies and acute phase proteins: Ovarian cancer case study'. Molecular and Cellular Proteomics, 18 (11):2191-2206. [DOI] [Full-Text] |
| | 2019 | Reiding K.R.;Bondt A.;Hennig R.;Gardner R.A.;O'Flaherty R.;Trbojevic-Akmacic I.;Shubhakar A.;Hazes J.M.W.;Reichl U.;Fernandes D.L.;Pucic-Bakovic M.;Rapp E.;Spencer D.I.R.;Dolhain R.J.E.M.;Rudd P.M.;Lauc G.;Wuhrer M. (2019) 'High-throughput serum N-glycomics: Method comparison and application to study rheumatoid arthritis and pregnancy-associated changes'. Molecular and Cellular Proteomics, 18 (1):3-15. [DOI] [Full-Text] |
| | 2019 | Grelet C;Vanlierde A;Hostens M;Foldager L;Salavati M;Ingvartsen KL;Crowe M;Sorensen MT;Froidmont E;Ferris CP;Marchitelli C;Becker F;Larsen T;Carter F; ;Dehareng F; (2019) 'Potential of milk mid-IR spectra to predict metabolic status of cows through blood components and an innovative clustering approach'. Animal, 13 (3). [DOI] [Full-Text] |
| | 2018 | O'Flaherty R.;Velasco-Torrijos T. (2018) 'Glycosylated α-Azido Amino Acids: Versatile Intermediates in the Synthesis of Neoglycoconjugates'. Synlett, 29 (7):904-907. [DOI] |
| | 2018 | Colhoun HO;Rubio Gozalbo EM;Bosch AM;Knerr I;Dawson C;Brady J;Galligan M;Stepien K;O'Flaherty R;Catherine Moss C;Peter Barker P;Fitzgibbon M;Doran PP;Treacy EP; (2018) 'Fertility in classical galactosaemia, a study of N-glycan, hormonal and inflammatory gene interactions'. Orphanet Journal of Rare Diseases, 13 (1). [DOI] [Full-Text] |
| | 2018 | Mimura Y;Katoh T;Saldova R;O'Flaherty R;Izumi T;Mimura-Kimura Y;Utsunomiya T;Mizukami Y;Yamamoto K;Matsumoto T;Rudd PM; (2018) 'Glycosylation engineering of therapeutic IgG antibodies: challenges for the safety, functionality and efficacy'. Protein & Cell, 9 (1). [DOI] [Full-Text] |
| | 2018 | Colhoun HO;Treacy EP;MacMahon M;Rudd PM;Fitzgibbon M;O'Flaherty R;Stepien KM; (2018) 'Validation of an automated ultraperformance liquid chromatography IgG N-glycan analytical method applicable to classical galactosaemia'. Annals of Clinical Biochemistry, 55 (5). [DOI] [Full-Text] |
| | 2018 | O'Flaherty R;Trbojević-Akmačić I;Greville G;Rudd PM;Lauc G; (2018) 'The sweet spot for biologics: recent advances in characterization of biotherapeutic glycoproteins'. Expert Review of Proteomics, 15 (1). [DOI] [Full-Text] |
| | 2017 | O'Flaherty R.;Harbison A.;Hanley P.;Taron C.;Fadda E.;Rudd P. (2017) 'Aminoquinoline Fluorescent Labels Obstruct Efficient Removal of N-Glycan Core α(1-6) Fucose by Bovine Kidney α- L -Fucosidase (BKF)'. Journal of Proteome Research, 16 (11):4237-4243. [DOI] [Full-Text] |
| | 2017 | Adamczyk B.;Stöckmann H.;O'Flaherty R.;Karlsson N.;Rudd P. (2017) 'High-throughput analysis of the plasma N-glycome by UHPLC'. Methods in molecular biology (Clifton, N.J.), 1503 :97-108. [DOI] |
| | 2016 | Ramos J.;Arufe S.;O'Flaherty R.;Rooney D.;Moreira R.;Velasco-Torrijos T. (2016) 'Selective aliphatic/aromatic organogelation controlled by the side chain of serine amphiphiles'. RSC Advances, 6 (109):108093-108104. [DOI] [Full-Text] |
| | 2015 | Saldova R;Stöckmann H;O'Flaherty R;Lefeber DJ;Jaeken J;Rudd PM; (2015) 'N-Glycosylation of Serum IgG and Total Glycoproteins in MAN1B1 Deficiency'. Journal of Proteome Research, 14 (10). [DOI] |
| | 2015 | Stockmann, H;O'Flaherty, R;Adamczyk, B;Saldova, R;Rudd, PM (2015) 'Automated, high-throughput serum glycoprofiling platform'. Integrative Biology, 7 :1026-1032. [DOI] [Full-Text] |
| | 2013 | Cao B;Chen X;Yamaryo-Botte Y;Richardson MB;Martin KL;Khairallah GN;Rupasinghe TW;O'Flaherty RM;O'Hair RA;Ralton JE;Crellin PK;Coppel RL;McConville MJ;Williams SJ; (2013) 'Synthesis, structural elucidation, and biochemical analysis of immunoactive glucuronosyl diacylglycerides of mycobacteria and corynebacteria'. Journal of Organic Chemistry, 78 (6). [DOI] [Full-Text] |
| | 2012 | Velasco-Torrijos, T;Abbey, L;O'Flaherty, R (2012) 'A Concise Synthesis of Glycolipids Based on Aspartic Acid Building Blocks'. Molecules, 17 :11346-11362. [DOI] [Full-Text] |
Certain data included herein are derived from the © Web of Science (2023) of Clarivate. All rights reserved.
Committees
| | | | |
| --- | --- | --- | --- |
| | PEACE (Protein Expression in Animal Cells) Conference | Organising Committee | 23/07/2020 - |
| | Carbohydrate Research | Editorial Board Member | 22/09/2022 - |
| | European Federation of Biotechnology, Biopharmaceutical and Medical Biotechnology Division | Organising Committee | 26/04/2021 - |
| | Frontiers in Analytical Science | Review Editor | 06/05/2021 - |
| | Jenner Glycobiology and Medicine Committee | Organising Committee | 02/05/2019 - |