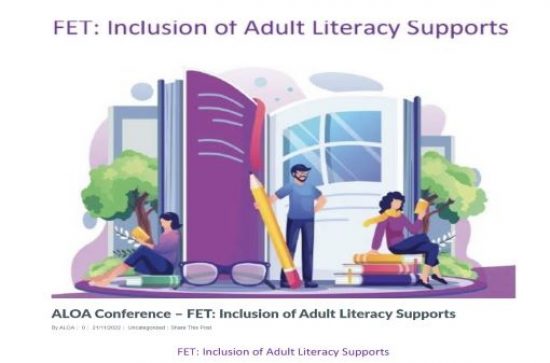 Thursday, November 24, 2022 - 17:15
The Department of Adult and Community Education welcomes the launch of the research report on the inclusion of literacy in FET by Minister Harris at Adult Literacy Organisers Association Conference on 24th November.

The "Inclusion of Adult Literacy support in Further Education & Training in Ireland: A research report" represents the first national research into the support provided by the adult literacy services to FET learners in Colleges of FET, Training Centres, BTEI, VTOS and other programmes. Drawing on national and international literature and the expertise of FET staff, the report details and examines the interactions between literacy and the other FET services within the current policy and legislative context, before making recommendations for the future.
Its lauch at the Adult Literacy Organisers Association annual conference will give an opportunity to explore and discuss best practice for literacy inclusion in Further Education and Training

The research was conducted by Bernie Grummell at the Centre for Research in Adult Learning and Education, Maynooth University on behalf of the National Adult Literacy Organisers Association (ALOA)