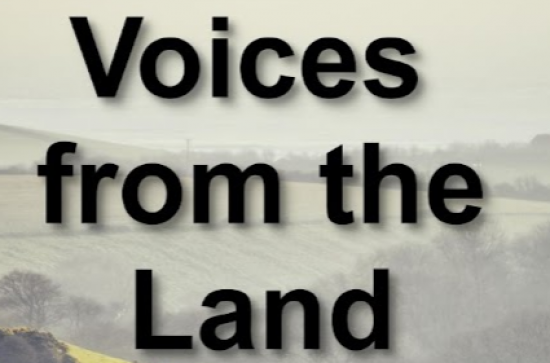 Wednesday, May 18, 2022 -

18:30

to

22:00
Iontas Building
All are welcome to the launch of Voices from the Land, a collection of short stories, essays and poems by Irish farmers. The writing from these 37 contributors is honest and sometimes unrelenting. Some pieces are from writers who farm or have farmed; many are from farmers putting words to paper for the first time. Some of it celebrates Irish farming, while some pieces point to its problems. Together, the work in Voices from the Land puts forth a complex, reflective and thorough consideration of what it means to be an Irish farmer.
Maura McElhone, author of Falling for a Farmer, will be the guest speaker. Voices from the Land was produced as part of Ryan Dennis' writer-in-residence position at Maynooth University, in conjunction with Kildare County Council Arts and Services.
Ryan Dennis explores the dynamics of rural life and those who inhabit it. His fiction, personal essays and poetry have appeared in literary journals in Ireland, New Zealand and The United States. Past publications include Fourth Genre, New England Review, The Cimarron Review, Progressive Dairyman, Fusion, A Modest Review, JMWW, The Oak Bend Review, Poetry Ireland Review, Poetry NZ, Three Times Daily Anthology, Earthwords, Ergo, The Country Folks, The Aberrant Parade, ROPES, Esc, Threepenny Review, Daily Poetry, Stone Canoe, ZQ-287 Press, and other literary journals.
His essay "Tempting the Language of Farming" was nominated for the Pushcart Prize and he was previously a Fulbright Scholar in Iceland, writing a collection of creative essays on Icelandic dairy farming.
In 2019, Ryan completed a practice-in-research PhD in English and Creative Writing at the National University of Ireland, Galway. He is currently the 2021-2022 Writer-in-Residence with the English department at Maynooth University.