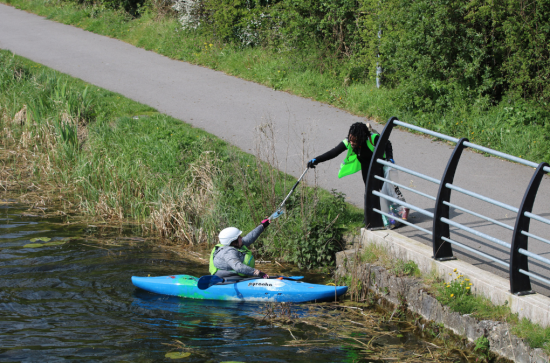 Monday, April 24, 2023 - 13:00
Students, staff and regional community organisations rolled up their sleeves this week to support a clean-up of the Royal Canal, helping to breathe new life into Maynooth Harbour and the historic canal network.
Organised by the Maynooth Green Campus and An Taisce's Clean Coasts, the canal clean-up saw more than 50 volunteers weigh in with kayaks, pickers and stacks of recycling and waste bags to help clear refuse from along the canal banks.
These volunteers came across the community, including Maynooth Tidy Towns, the Maynooth Irish Country Woman's Association, Zero Waste Maynooth, MU EnviroSoc, MU Canoeing & Kayaking Club (MUCK) and members of the Maynooth Student Union. In total, 12 bags of waste were collected and among the items gathered were cans, bottles, footballs, plastic bags and a shopping trolley. The contents of six waste bags went for recycling.
The canal clean-up had been planned for mid-March as part of An Taisce's National Green Week, but it had to be postponed due to freezing temperatures. Rescheduling to mid-April worked out even better, as the milder temperatures brought volunteers out in large numbers.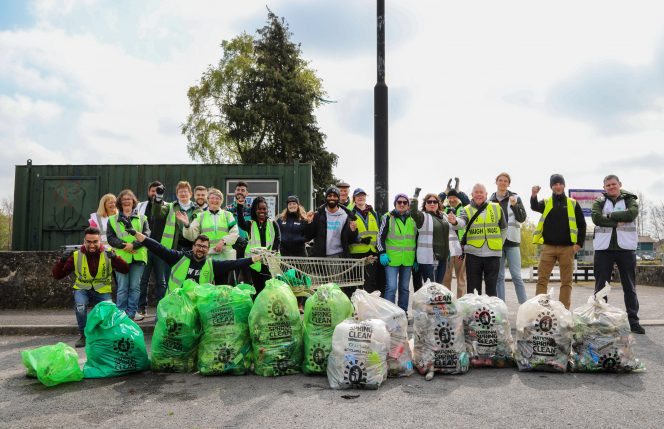 Although there was a lot of work involved in organising the event, MGC Coordinator Mireia Guardino Ferran was delighted with how the day turned out, particularly the cross-community collaboration.
"I would like to thank everyone for their hard work and dedication during the event and to everyone from the wider Maynooth community who took part. We are extremely lucky to have such a fantastic amenity on our doorstep. Thanks to our combined efforts, we have made great steps to improving the canal from an aesthetic and environmental perspective," she said.
"Given the enthusiasm we experienced today and the willingness of people to do something positive for their local environments, we now hope to be able to run the canal clean up as an annual event."
In addition to being a great resource and amenity for the people who live alongside or close by the Royal Canal, it also plays a very important role in sustaining native wildlife, according to Dr Jim Carolan, Maynooth Green Campus Chairperson.
"The Royal Canal itself is home to many species of fish including roach, bream and pike in addition to the vast array of invertebrate and aquatic plant species," said Dr Carolan. "We also find mammals such as otters, badgers, foxes, and birds such as herons, swans, and even kingfishers along the canal. The hedgerows offer bird nesting sites, and the flowering plants found along canals sustain many important pollinator species, including bees, hoverflies and butterflies.
"As we could see today, there is significant biodiversity associated with our canals, highlighting the importance of developing canal greenways in general and improving biodiversity along their routes. Events like today's are crucial for engaging with and educating our communities about the importance of our local environments and appreciating and protecting the biodiversity on our doorsteps, while we still can."
The Maynooth Green Campus is part of An Taisce's Green Campus Network and is made up of staff and students from Maynooth University and St Patrick's College Maynooth and the local community groups. It encourages the community to take action on environmental sustainability through teaching, research, public engagement and other campus activities and beyond. They regularly organise events such as Green Campus Week, Sustainability Expos, and edible garden and biodiversity walks that are open to staff, students, and the public. For more information on the MGC and to see upcoming events, please see https://www.maynoothuniversity.ie/green-campus