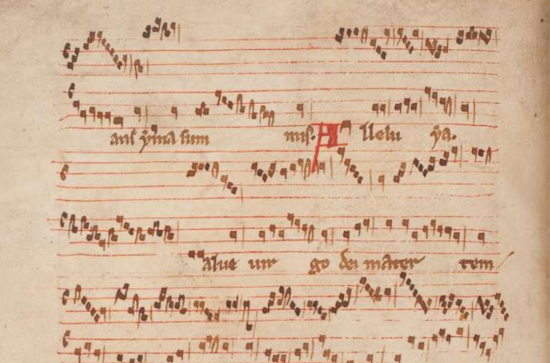 Friday, April 28, 2023 - 09:15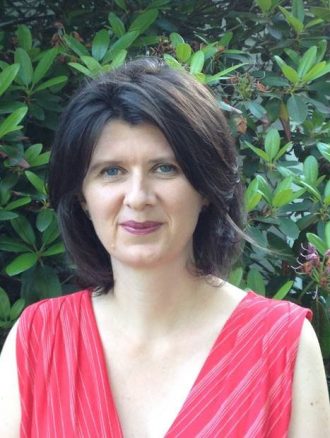 Professor Karen Desmond has received a prestigious European Research Council (ERC) Consolidator award of €2 million to lead research at Maynooth University on medieval music communities in Ireland and Britain, with the aim of revealing the meaning of music and singing in day-to-day life.
Prof Desmond will recruit and lead a research team at Maynooth University's Department of Music that will explore approximately 100 surviving manuscripts of polyphony—songs where two or more melodies are sung at the same time.
Many of these manuscripts are now damaged and fragmentary, and will require significant digital reconstruction and reimagining.
Awarded annually to exceptional individuals to help build research teams and conduct pioneering research across all disciplines, the ERC Consolidator awards, worth up to €2 million, are highly competitive.
Prof Desmond's research project 'BROKENSONG' examines singing in medieval Ireland and Britain during a transformative period of western music history, from about 1150-1350, when there was an exponential growth in the number of manuscripts devoted to polyphony.
Using methods from music and medieval studies, and digital humanities, the project aims to answer the question: What does it mean for a culture to write its music down? The research investigates why medieval singers increasingly used music notation in their creative activities, and what this act of 'writing-down' meant to, and for musical communities and cultural heritage.
Prof Desmond will commence her frontier research project at Maynooth University in July. She is currently Professor of Music at Brandeis University, Massachusetts, US.
President of Maynooth University, Professor Eeva Leinonen extended her warm congratulations to Professor Desmond.
"Maynooth University has a strong history of excellence in research in music, with world-class scholars and innovative projects that have contributed to the advancement of musicology, composition and music technology. I am delighted to congratulate Professor Karen Desmond on her considerable achievement in securing an ERC Consolidator award. I look forward to welcoming Professor Desmond to Maynooth University's Department of Music in July. This is a highly prized funding award for frontier and highly creative research and reflects our University's reputation in advancing global insights into our culture and heritage."
Professor Rachel Msetfi, Vice President Research and Innovation at Maynooth University, said: "The ERC Consolidator grant is a very significant funding award for researchers, strengthening their skills and allowing these exceptional individuals to establish skilled teams and develop as leaders in their field. Maynooth University's Department of Music is a flourishing centre for musicology, composition, music technology and performance. We welcome this opportunity to further extend our research excellence and creative knowledge, and to shed new light on our musical and cultural heritage."
Prof Desmond expressed her gratitude to the European Research Council for her Consolidator award. "I am delighted to accept this grant and look forward to growing a strong team at the Department of Music for this important research project. As an in-depth study, BROKENSONG will provide a breakthrough on fundamental questions regarding processes of and contexts for artistic creation in the later Middle Ages and beyond."
About 'BROKENSONG': Using methodologies from musicology, music analysis, medieval and manuscript studies, practice-based research, and digital humanities, BROKENSONG aims to answer the principal research question: What does it mean for a culture to write its music down? BROKENSONG investigates what this act of 'writing-down' meant to and for musical communities. The insular sources extant from this period—just over a hundred mostly fragmentary sources—hint at stories of music practice and creation different from those suggested by the highly curated continental anthologies of polyphony that survive from continental Europe, and around which the history of western music was constructed. These are mostly broken books transmitting broken songs: yet BROKENSONG proposes that in-depth study of them will provide a breakthrough on fundamental questions regarding processes of and contexts for artistic creation in the later Middle Ages. Tackling the issue of style head-on, BROKENSONG uses it to address the problem of anonymity in medieval cultural products, and develops an innovative methodology for understanding the relationships between cultural products that lack extra-musical evidence for associating them to specific individuals, communities, or regions.
About the ERC: The ERC, set up by the European Union in 2007, is the premier European funding organisation for excellent frontier research. It funds creative researchers of any nationality and age, to run projects based across Europe. The ERC offers four core grant schemes: Starting Grants, Consolidator Grants, Advanced Grants and Synergy Grants. With its additional Proof of Concept Grant scheme, the ERC helps grantees to bridge the gap between their pioneering research and early phases of its commercialisation. The ERC is led by an independent governing body, the Scientific Council. Since 1 November 2021, Maria Leptin is the President of the ERC. The overall ERC budget from 2021 to 2027 is more than €16 billion, as part of the Horizon Europe programme, under the responsibility of the European Commissioner for Innovation, Research, Culture, Education and Youth, Mariya Gabriel.