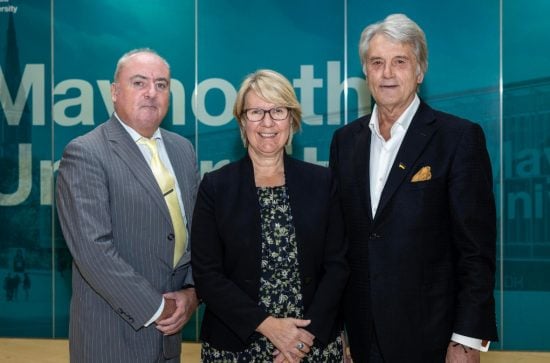 Monday, October 23, 2023 - 16:15
Maynooth University has today welcomed former president of Ukraine Viktor Yushchenko to campus for what was his only speaking engagement in the Republic.

The former Ukrainian president (from 2005-2010) spoke with Professor John O'Brennan at a unique event hosted by the Social Sciences Institute, Department of Sociology and the Centre for European and Eurasian Studies.

Sharing his first-hand experiences and perspectives, the former president of Ukraine offered a remarkable journey through the pivotal moments in the nation's history. He provided illuminating insights into the challenges and triumphs that marked his presidency.
With Professor O'Brennan leading the conversation, the president reflected on Ukraine's past, present, and future. Former president Yushchenko also offered his informed opinions on current affairs in Ukraine, including the ongoing war, providing valuable context to the complex geopolitical landscape. The event was attended by HE Ambassador Larysa Gerasko.
Pictured from left to right are: Pictured from left to right are:Prof John O'Brennan, H.E. Ambassador Larysa Gerasko, President of Maynooth University Prof Eeva Leinonen, former Ukrainian president Viktor Yushchenko, Kateryna Mykhaylivna Yushchenko
The former president also took questions from the audience of almost 200 students and staff, which included a large number of Ukrainian students and citizens. Hosted in the Technology, Society and Innovation Building (TSI), his commentary was translated by his wife, Katherine Mykhaylivna Yushchenko.

"The world understands that it is not just Ukraine that needs victory but that the western world should not lose. If it does, such great evil will win that it generates dozens of other conflicts around the world." the former president stated.

"Security policy does not have borders. If there is a fire in one part of the world, this is not such a time to ask for whom the bell tolls, next time it could be for you."

He posed the question: "How did Vietnam win again the largest army in the world? How did Afghanistan win against the huge Soviet army? The root of our strength or Vietnam's or Afghanistan's or Poland's or Lithuania's is national spirit. National spirit is what wins the war, not AK47s."

Prof John O'Brennan said: "We are delighted to host President Yushchenko at Maynooth University. He is someone who showed exemplary courage in leading the 'Orange Revolution' two decades ago and then put Ukraine on a sustained path towards pluralism and democracy. His time in office was made more difficult by Russia's determination to control Ukraine as a proxy state.

"Over the last 600 days the Ukrainian people have demonstrated remarkable courage and resilience in resisting Russian aggression. In part that resilience is down to the changes made during President Yushchenko's period in office (2005-2010). We were delighted to host the president and his wife, Katherine, and very happy to see the large number of Ukrainian students, staff and citizens who participated in the event."

The former president, his wife Katherine, and HE Ambassador also met with President of Maynooth University, Professor Eeva Leinonen. Mr Yushchenko presented the University a Ukrainian flag folded into a large glass jar that he said should be opened and unfurled when Ukraine is victorious.

| | |
| --- | --- |
| | |