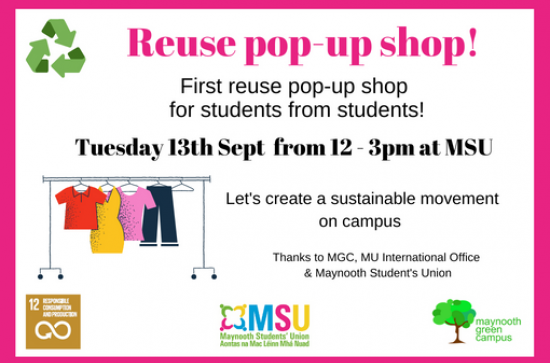 Tuesday, September 13, 2022 -

12:00

to

15:00
Maynooth Student's Union
MU Green Campus 'Reuse pop-up shop' for students + Tea & coffee - come over for a browse and a cup of tea/coffee
The MU Green Campus team realised that international students buy items during their studies here but cannot take them all home at the end. These items were ending up in landfill, despite only being used for a few short months, so we have decided to do something about it!
MGC had collection points at the end of last semester for students to donate their items - from kitchen utensils to winter coats and walking boots - students wanted their items to be reused!
Now students will have the opportunity to shop for free, second-hand items, and contribute to reusing and decreasing waste.
Time: 12pm - 3:00pm
Location: MSU Info Centre (See campus map here)
Go raibh míle maith agat and fáilte to Maynooth Campus!