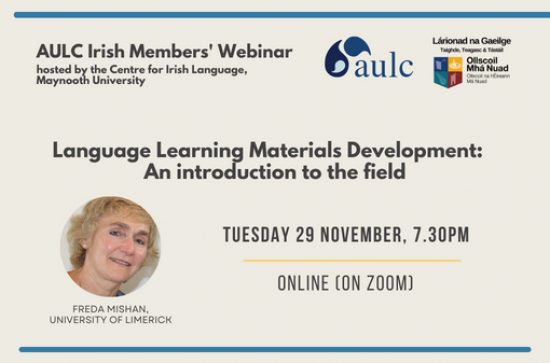 Tuesday, November 29, 2022 - 19:30
Online
Registration
Register in advance at: https://zoom.us/meeting/register/tJwpcuqqrjgtG9NWSljfIbH6Z0dwPoYCyhd-
After registering, you will receive a confirmation email containing information about joining the meeting.
Language Learning Materials Development: An introduction to the field
This talk will offer a brief introduction to the relatively new field of language learning materials development. Materials development is situated within and relates to the broader areas of Applied Linguistics, Second Language Acquisition (L2 acquisition) and TESOL. In this lecture, I will define the scope of materials development which covers the analysis, evaluation, classroom use, design and production of language learning materials. It thus has a dual remit, of monitoring published language learning materials on the one hand, and offering principles and procedures for practitioners to design their own materials on the other. I will argue that materials development is central to language pedagogy, because in language learning, 'materials are the learning', they are the portal to the target language and the target language culture. Hence it is critical for language teachers to be aware of what goes on 'under the bonnet' of their teaching materials, of their role in mediating them and, often, producing them. The relationship between materials development and what we know of L2 acquisition will be discussed, most crucially, that language teaching materials should be informed by L2 acquisition-based principles (such as the importance of cognitive and affective engagement). This nexus also means that materials development is an ideal locus for integrating theory and (classroom) research and practice. The last part of the talk will be a brief 'state of the art of the field': recent publications, current trends and issues in materials development, and future directions. I will suggest opportunities and offer resources for practitioners to participate in research and practice in the field via research clusters, submitting to materials journals and attending conferences.
Freda Mishan lectured on the TESOL Masters and PhD programmes at the University of Limerick, Ireland until 2019. Her research interests and publications are primarily in language learning materials development, including development of intercultural materials, as well as ESOL and blended learning. Her publications include Designing Authenticity into Language Learning Materials (2005), Materials Development for TESOL (co-authored with Timmis, 2015), and edited/co-edited books ESOL provision in the UK and Ireland: Challenges and Opportunities (2019), Practice and Theory for Materials Development in L2 (co-edited with Masuhara & Tomlinson, 2016). Contributions to recent volumes include chapters in Second Language Acquisition Research and Materials Development for Language Learning (Tomlinson, 2016), The Routledge Handbook of Materials Development for Language Teaching (Norton & Buchanan, 2022) and Developing Materials for Language Teaching (3rd Edn) (Tomlinson, forthcoming 2023). She is editor of the Materials Development Association (MATSDA) journal, Folio.