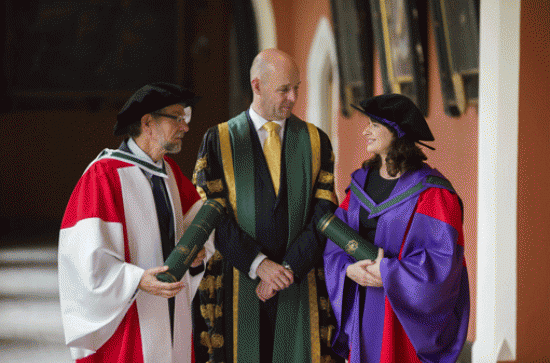 Wednesday, October 28, 2015 - 15:00
Maynooth University today conferred honorary doctorates on two distinguished members of Irish society –internationally recognised philosopher Professor William Desmond and the first Chief Commissioner of the Irish Human Rights and Equality Commission, Emily Logan. They received their honorary doctorates at a ceremony that also conferred more than 1,150 Maynooth University students with undergraduate and postgraduate degrees.
Maynooth University President, Professor Philip Nolan, congratulated all of the graduates on their achievements and noted that the recipients of honorary doctorates reflect the ethos of the conferring institution and how it positions itself in the world.
"Driven by our world-class research and outstanding teaching, an education at Maynooth University prepares our students for both work and life. Our community of researchers are dedicated to expanding the boundaries of knowledge and positively affecting the world in which we live – very much like the two people we honour today. William Desmond has made a valuable contribution to scholarship and contemporary philosophy. He has been a flagbearer for Irish thought on the international stage. Emily Logan, throughout her career, has furthered the causes of the most vulnerable in society. Her work on behalf of children, in particular, has seen their rights greatly enhanced."
William Desmond received the Degree of Doctor of Literature (DLitt), honoris causa, while Emily Logan received the Degree of Doctor of Laws (LLD), honoris causa.
William Desmond's work is primarily in metaphysics, ethics, aesthetics, and the philosophy of religion. He has authored 12 books on philosophy, including the Prix Cardinal Mercier and J.N. Findlay award winning, 'Being and the Between.' Professor Desmond is also internationally regarded for his contribution to Hegelian studies and is a past President of the Hegel Society of America and the Metaphysical Society of America. He is the current Professor of Philosophy and Director of the International Programme in Philosophy at K.U. Leuven in Belgium, and has previously taught at Loyola College in Maryland, where he held the Higgins Chair of Philosophy, and at Maynooth University.
Emily Logan was appointed by President Michael D. Higgins as the first Chief Commissioner of the Irish Human Rights and Equality Commission on 31 October, 2014. Prior to this appointment, Ms Logan served as Ireland's first Ombudsman for Children, a post in which she oversaw the systematic investigation into state compliance with child protection policy. She pushed for the expansion of the rights of children without parental care; in particular, she furthered the causes of children in state care, separated children, and children deprived of their liberty. In 2008, she was appointed by her peers to the position of President of the European Network of Ombudsmen for Children and remained on the executive until September 2011.
With more than 10,000 students, Maynooth University is Ireland's fastest growing university, having doubled in size since 1999. Maynooth University is the top rated Irish university in 2012, 2013, and 2014 in the percentage of publications in the elite 1% most cited academic journals, and is ranked second highest among the seven Irish universities in the number of PhD graduates per 10 academic staff. A recent survey by Study Portals ranked Maynooth University number one in Europe for the level of satisfaction amongst international students with their experience at Maynooth.