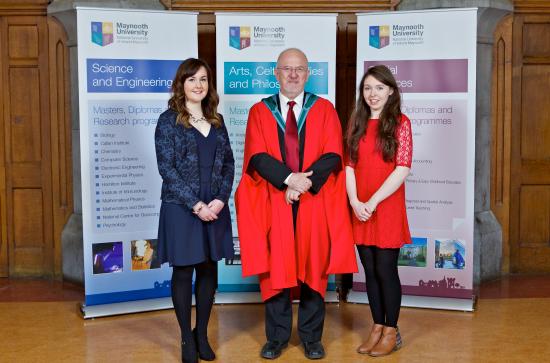 Wednesday, November 5, 2014 - 00:00
June Dennehy, Sorcha Russell and Kieran O'Reilly were awarded their taught masters alumni scholarship tonight at Prizes Night. This is the second year of the Alumni Scholarship programme which is funded by the Alumni Affinity Credit Card - last year we helped Sarah, Alan and Tara with their studies.

You don't have to be an alumnus to take out a card – staff, current students, or anyone supportive of Maynooth University can apply for a card and help more of our graduates like June, Sorcha and Kieran.

Apply online.
Photo caption (l-r); Sorcha Russell, Professor Ronan Reilly (Dean of International & Graduate Studies) and June Dennehy