Events
Each year the Development and Alumni Relations Office hosts a number of events on campus specially for alumni. We also invite alumni to special lectures, staff retirements, departmental anniversaries and to music and cultural events. Working closely with University departments, we ensure that alumni are invited to and are aware of upcoming events.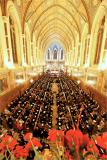 These events are a great way to catch up with former classmates or lecturers, to network or just to return to the University to enjoy the grounds of our ever-changing campus.
Photos and details of previous events
Make sure you know about events at Maynooth by registering with our Online Community.