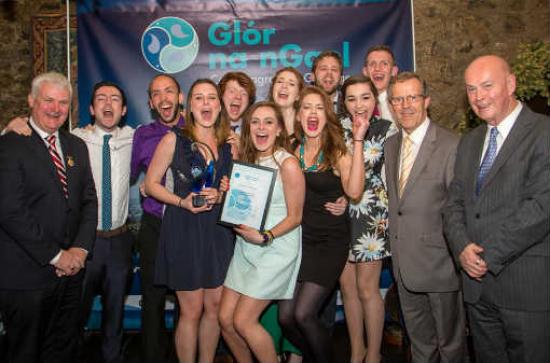 Wednesday, April 29, 2015 - 12:15

An Chéad Áit i gComórtas Ghlór na nGael bainte amach ag Cumann Gaelach Ollscoil Mhá Nuad
Tá an chéad duais sa chomórtas do Chumainn Tríú Leibhéal bronnta ag Glór na nGael ar Chuallacht Cholmcille, an Cumann Gaelach in Ollscoil Mhá Nuad. Ba é seo an chéad uair a bhuaigh mic léinn Ollscoil Mhá Nuad an duais.

"Táimid fíorbhródúil asainn féin tar éis an gradaim seo a bhuachan. Caithfidh muid ár míle buíochas a gabháil le chuile dhuine a bhí páirteach linn tharr na blianta; na seanchoistí, mic léinn na Gaeilge, Roinn na Gaeilge, conradh na Gaeilge agus Aontas na Mac Léinn," arsa ionadaí na Cuallachta.
Tá Cuallacht Cholmcille ar cheann de na cumainn is mó in Ollscoil Mhá Nuad. Tá sé mar aidhm ag an gCuallacht an Ghaeilge a spreagadh ar bhealach taitneamhach. Bronnadh trófaí agus seic ar luach €2,000 ar Chuallacht Cholmcille ag an ócáid a reáchtáladh in Óstán Chaisleán Bhaile an Bharbair, Co. Chill Dara ar an 25 Aibreán.
Ag labhairt ag an ócáid, dúirt Lorcán Mac Gabhann, Ceannasaí Ghlór na nGael, gur thug an oíche agus na duaiseanna a bronnadh aitheantas do choistí atá ag obair go dian dícheallach thart timpeall na tíre i gcur chun cinn na teanga.
"Tá sár-obair ar siúl ag na coistí seo sna pobail lena mbaineann siad. Tá na duaiseanna tuillte go maith acu agus is cinnte go bhfuil cúis bróid agus ceiliúradh acu anocht," a dúirt sé.
Ba iad Paidí Ó Lionard agus Eimear Ní Chonaola ó TG4 Fear agus Bean an Tí na hócáide. Bhí ionadaithe i láthair ó choistí pobail áitiúla ó gach cearn den tír, mar aon le mic léinn ó Chumainn Gaelacha na n-institiúidí tríú leibhéal ó thuaidh agus ó dheas. Bronnadh na duaiseanna tar éis an dinnéir agus cuireadh ceol den scoth clabhsúr le hoíche iontach.
Cumain Gaelacha sna Institiúidí Tríú Leibhéal (urraithe ag an Roinn Oideachais & Eolaíochta)
1ú Duais - €2,000 Cullacht Cholmcille, Ollscoil Mhá Núad
2ú Duais €1,500 An Cumann Gaelach, Coláiste na Tríonóide
3ú Duais - €1,000 An Cumann Gaelach, Coláiste Phádraig
First prize in Glór na nGael competition presented to Maynooth University's Irish Language Society
Glór na nGael has presented first prize in the competition for Third Level Societies to Cuallacht Cholmcille, the Irish language society in Maynooth University. This is the first time that this prize has been won by Maynooth University students.
"We are extremely proud of ourselves for winning this award. We thank everyone who was involved with us over the years; former committees, Irish language students, the Irish Department, Conradh na Gaeilge and the Student's Union," a Cuallacht Cholmcille representative said.

Cuallacht Cholmcille is one of the largest societies in the University. It aims to promote the Irish language in an enjoyable way. A trophy as well as a cheque for €2,000 were presented to the society at the event which was held in Barberstown Castle, Co. Kildare on April 25th.
Speaking at the event, Lorcan Mac Gabhann, head of Glór na nGael said that the night and the prizes gave recognition to the committees that working very hard all around the county to promote the Irish language.
"Great work has been done by these committees. These prizes are well deserved by and is a reason for pride and celebration tonight," he said.
TG4's Páidí Ó Lionáird and Eimear Ní Chonaola were the hosts at the event. Representatives from local community committees as well as students from third level institutes both north and south were in attendance. The prizes were presented after a dinner and excellent music brought a great night to an end.

Irish Language Societies in Third Level Institutes (sponsored by the Department of Education and Science)
1st Prize - €2,000 Cullacht Cholmcille, Maynooth University
2nd Prize - €1,500 An Cumann Gaelach, Trinity College
3rd Prize - €1,000 An Cumann Gaelach, St. Patrick's College