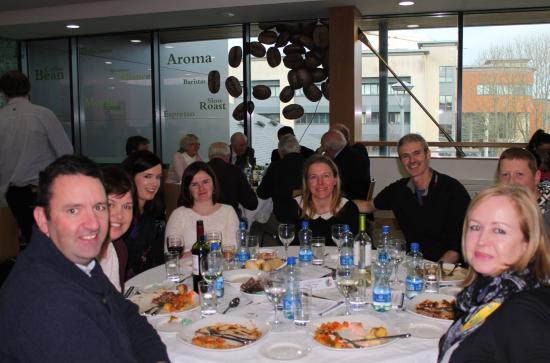 Saturday, November 30, 2013 - 00:00
We invited graduates to apply for tickets to an Alumni pre-match lunch in the new Phoenix Restaurant ahead of the Maynooth University Barnhall versus UCC inaugural rugby colours match on 30th November.
A fantastic win by the home team (17-14) put the icing on the cake of a great day and ensured Maynooth University Barnhall maintained their position in Div 2A. Even the weather was kind as the sun split the sky for an usually pleasant November day.
Pictured at the alumni table (l-r) are David Burke (BA 1988), Helen Burke, Catherine Vallely (BA 2000 ) with her guest Bridget, Breda Brennan (BA 1992), Peter Casey (BSc 1994), Raymond Murphy (BSc 2000) who was joined by his wife Lorraine Fitzpatrick-Murphy (BA 1999) and Karen Kelly, Alumni Officer.