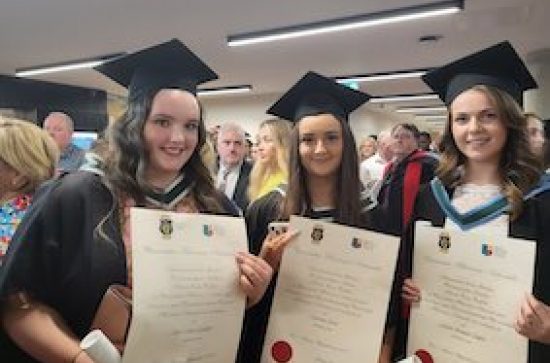 Wednesday, September 6, 2023 - 14:00
On a sunny September 5th we were delighted to celebrate the successes of our most recent graduates. Graduates of the BA double major (Psychological Studies +), BSc. Psychology, BA (International) Psychology, and BA Psychology were conferred with their awards during the three ceremonies on the day. Congratulations to the class of 2023! We celebrate your achievements and look forward with confidence to bright futures ahead.
In the final ceremony, two newly minted Doctors of Philosophy joined the MU Psychology postgraduate alumni, Dr Leo Carroll and Dr Gerard Mesdeu Yélamos. Dr Carroll, supervised by Prof. Fiona Lyddy, was awarded a PhD for his research on 'The effects of message valence and emoji types on processing fluency when reading text messages'.   Dr Mesdeu Yélamos, supervised by Prof. Mac MacLachlan, conferred in absentia, was awarded a PhD for his research on 'An interdisciplinary multi-level approach to advance human rights in and through sport'. We extend our warmest congratulations to Dr Carroll and Dr Mesdeu Yélamos.