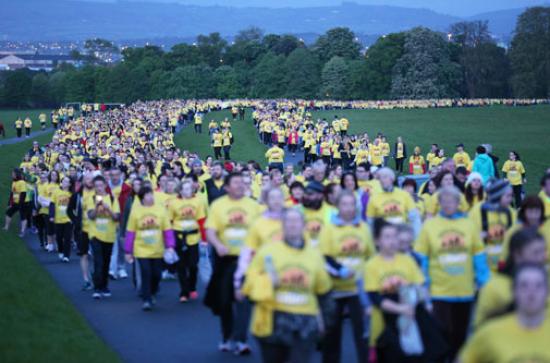 Wednesday, April 15, 2015 - 00:00
Maynooth University is a proud partner in this year's first ever Darkness into Light event in Maynooth. The 5km Walk / Run leaves from the North Campus at 4:15 am on Saturday, 9 May.
More than 50 people came to the Glenroyal Hotel in Maynooth on Monday, 13 April to help Pieta House launch Kildare's Darkness Into Light events. MC for the event, Maynooth University's Director of External Relations, Rebecca Doolin, said the University is delighted to join the community in the organisation of this important event, which is aimed at raising funds and awareness of suicide and self-harm. The speaking programme included Oliver Skehan, Digital Coordinator of Pieta House; Orla Fitzsimons, member of the rugby squad (and a 2003 Maynooth University alumnus) that recently won the Triple Crown and Six Nations titles for Ireland; Bryan Rodgers from Electric Ireland; and volunteers from the local Naas and Maynooth Darkness Into Light committees.
"Darkness Into Light is a people's event organised by local committees all over the country. Although the number of people walking has never been greater, neither has the need. With two venues set to host the event in Kildare this year, including Maynooth for the first time, it's an example of how Darkness Into Light is uniting people across the globe in solidarity with those who suffer," Oliver Skehan said. He added: "While suicide is a devastating tragedy, we must not forget that there is hope, there is help, and Pieta House will be there to provide both."
Darkness Into Light is now in its seventh year. Last year's event attracted 80,000 participants in 39 locations across Ireland, including in London and Sydney. With the number of locations doubling this year, organisers are expecting over 100,000 people to take part. Eighty venues will host the event on both the island of Ireland and in Australia, Canada, England, Scotland and the USA.
Sign-up today for Darkness Into Light Maynooth
For more information on Darkness Into Light in Kildare contact Marie Peelo on 01 6770630
Volunteer at Darkness into Light Maynooth
Volunteers are needed for tasks such as stewarding participants along the course route, registration, parking, clean-up or t-shirt collection. If you would like to volunteer, please email Rebecca Doolin at rebecca.doolin@mu.ie.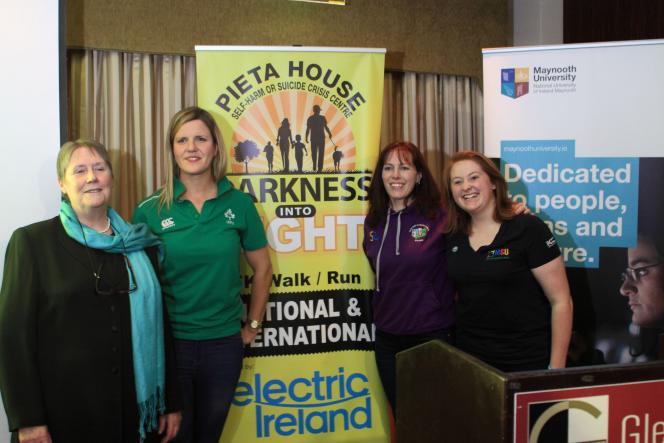 Pictured are Mary Byrne, Maynooth DIL committee; Orla Fitzsimons, International rugby player; Niamh Foley, Maynooth Scout Group and Síona Cahill, Maynooth Students Union at the Kildare launch of Darkness Into Light, Pieta House's flagship fundraising and awareness event.