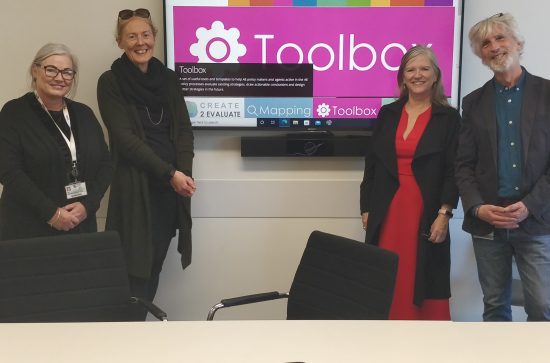 Sunday, October 30, 2022 - 09:45
Twenty-two adult education policymakers and practitioners (Academics, Consultants, and Administrators) attended the CREATE2Evaluate project multiplier event (ME) in the School of Education building, Maynooth University North Campus, on Friday, October 2022.
Attendees heard from speakers on the project mapping report on systems to map adult education effectiveness. The mapping report reported on stakeholder feedback on the experience of systematic evaluation of adult education effectiveness in the participation project consortium counties (eight partners from seven countries: Belgium, Germany, Ireland, Italy, Poland, Romania, and Spain). The project mapping report concluded that the EU lacks a centralised systemic evaluation framework for Adult Education, is highly fragmented, and lacks common definitions and standards.
The attendees then toured the project toolkit and reviewed the draft policy/green paper produced as part of the CREATE2Evaluate project. Attendees were guided to the CREATE2Evaluate project website where they were able to explore the project mapping report, the 42 tools, platforms, and other resources collected by the project consortium to assist policymakers in more effectively assessing adult education policy effectiveness in their setting.
Finally, the attendees reviewed the draft Green Paper presented to stimulate discussion on the increasing use of tools that would enhance coherence in adult education policy-making across the EU as suggested by project stakeholders.
Michael Kenny of the Department of Adult and Community Education was the principal investigator for the CREATE2Evaluate project and Dr. Margaret Nugent was Research Associate. More information at the CREATE2Evaluate project website.