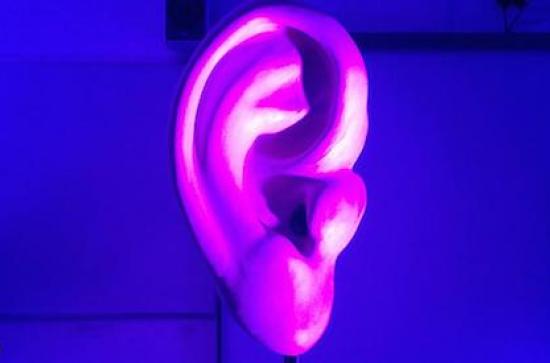 Tuesday, December 9, 2014 - 00:00
Maynooth University doctoral student Shane Byrne and former Maynooth student Simon Kenny have won an award for their Ear Eye Mouth installation at the Creative Tech Fest 2014 in Dublin. In their own words:
"We ran a series of workshops with the Galway Autism Partnership (GAP) Galway youth group. During these workshops we worked with the group to change the sound generated by the installation to broadly suit their tastes in sound. What we found initially was that some of the group reacted very badly to the sounds we came prepared with, the quite intense sounds you can hear on the videos from Culture Night 2014. One girl said it was the frequencies of the music and when asked what kind of sounds she liked she said piano sound! She described this as part of her autism. We felt very grateful to her and others in the youth group for helping us understand a little bit of why certain sensory stimulation can be very unwanted for people with autism.
After working on the sound content with the group, we arrived at a much more tonal and "pleasant" sound. The microphone input was analysed for its fundamental pitch, and notes were triggered when this input was loud enough. In addition, the eye input (directed by waving one's hand above it) activated a low bass pad sound playing a major chord who's frequency content was slightly altered by where exactly the hand was placed. We also had the microphone outside the ear sculpture, instead of inside it, as it was more comfortable for the group to use.
Creative Tech Fest 2014 was held in the Foundary, which is part of the Google headquarters in Dublin. The Ear Eye Mouth installation was set up in an area just beside the main stage so we got plenty of traffic and interest from passers by. To top it off, we were award the Best Stem award for the best installation! This really made the day special for the GAP youth group who are now proudly displaying the award in their club space in Galway at Jigsaw."
Photos of the event can be seen here.
Shane Byrne is an MA and BA graduate in Music Technology at Maynooth University. He is currently a PhD student where he is investigating physical computing as related to music composition with technology.
Simon Kenny is a BA graduate of Music Technology at Maynooth University. Simon is the co-founder of Surface Tension, a new company which makes music apps for tablet computers. His interests are computer programming, especially algorithmic and interactive music and visual media creation and manipulation.