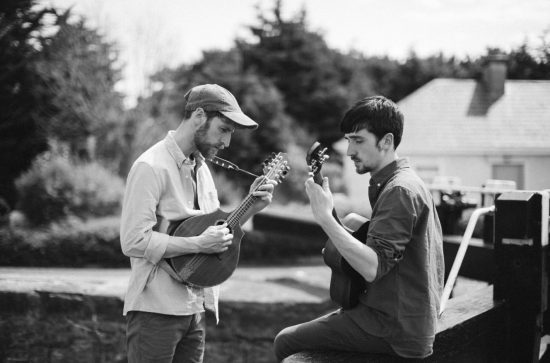 Monday, April 17, 2023 - 09:30

Arts festival features Ye Vagabonds, Irish National Opera, novelists Nicole Flattery and Deepti Kapoor, and unique Irish language hip-hop and rave
Maynooth University is delighted to host the second ever Arts and Minds Festival offering a variety of music, song, literature and exceptional performances over the Festival's four days, from 3 – 6 May. Arts and Minds is Maynooth University's celebration of the best in Irish and international arts and culture, welcoming the wider community, alumni, students and staff to campus for live, in-person arts events.
The Festival features what promises to be a stunning performance by the multiple award-winning Irish folk duo, Ye Vagabonds, on Friday 5 May. A special reception for alumni takes place before this event.
On Thursday 4 May, the Irish National Opera presents "Sisters, Lovers and Traitors" featuring operatic highlights from Mozart's Così fan tutte, Le Nozze di Figaro and La Clemenza di Tito with soprano Anna Devin, mezzo-soprano Sharon Carty, bass-baritone Gianluca Margheri, and pianist Finghin Collins.
The Literary Lounge on Saturday 6 May hosts Nicole Flattery, author of Nothing Special, the acclaimed novel that explores the fascinating world of Andy Warhol's studio The Factory, famed for its wild parties in the 1960s.
This year, the Literary Lounge is also delighted to welcome New York Times bestselling author Deepti Kapoor whose novel Age of Vice set in New Delhi is described as "one of the most anticipated novels of 2013, as psychologically thrilling as The Godfather and as viciously entertaining as Succession". Rights to her novel sold in fifteen territories, with a 20-way bidding war for film rights won by FX and Fox 21.
There will be poetry readings with Seán Hewitt and Lauren Lawler, and for the first time, the festival will partner with Maynooth Film For All for an opening night screening of Aftersun, the internationally acclaimed Paul Mescal movie, on Wednesday 3 May.
Irish language events are to the fore at this year's Festival, with An Fhéile Bheag, featuring a sean-nós singing walk in the lovely campus grounds, an outdoor Irish-language arts picnic, 'Picnic Bheag Ealaíonta', and the Ceardlann Amharclannaíochta Irish-language Theatre Workshop, on Saturday 6 May.
An Irish-language Interdisciplinary Arts Event in honour of the famous Lament for Art O'Leary composed 250 years ago this year, takes place on Saturday 6. Rounding off the final day is a unique Irish language hip-hop, electronic music and rave, 'Tráthnóinín Déanach' with rapper and poet, Súil Amháin, and the audio visual psych collective, Tuath.
The full programme of events and Eventbrite tickets are available on the MU website at https://mu.ie/artsandmindsfestival
Deepti Kapoor, author of Age of Vice