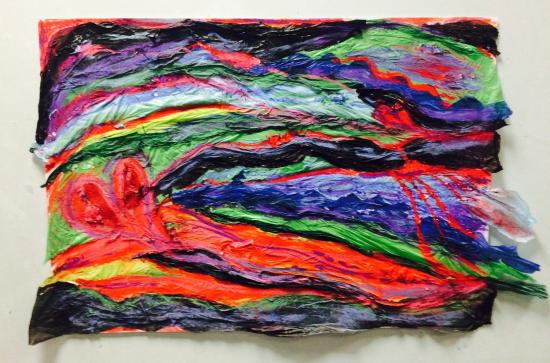 Friday, November 14, 2014 - 00:00
The Department of Education and the Department of Law co-hosted an exciting and unusual public event Thursday, 13th November. Entitled 'Spaces Between: Our Imperfect Responses to Conflict', the speakers were Denis Halliday (Former Assistant Secretary General to the United Nations and Human Rights Activist) and Dr Sharon Todd, Professor of Education and Head of Maynooth University Department of Education. Artist Eva Lindroos (Department of English) created a 'paper-based' visual response to the spoken presentations.
Denis outlined the difficult responsibility facing the world to secure peace, which he says, the UN has failed to meet. Sharon invited us to think not only about the difficulties facing humanity, but the difficulties of facing humanity. Drawing on the performance art of Marina Abramović Sharon's paper discussed the all too human capacity for violence and invoked Abramović's more recent work which challenges us to face the vulnerable other with our own vulnerabilities.

Following the two papers Prof Philip Nolan fulfilled his responsibility to thank the speakers which he did in Irish and proceeded, in English, to give his response to both papers and to Eva's artwork. Philip cited, among others, Martha Nussbaum who asks why love matters in justice. Indeed an atmosphere of emotion and vulnerability permeated the evening just as Dr Grace O'Grady (Education) had predicted it could in her opening remarks when she reminded us of the difficult themes that we would encounter: war, conflict, violence. Yet we left the Education Lecture Theatre feeling inspired, refreshed and empowered. The two papers along with Eva's artistic response gave us rich food for thought about our responsibilities as educators. This idea was captured in the closing comments given by Prof Michael Doherty (Department of Law).