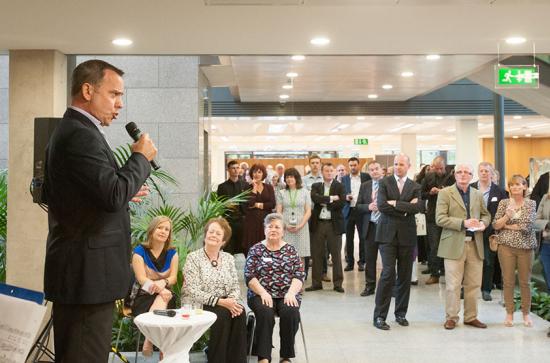 Thursday, May 29, 2014 - 00:00
Music, Memories and Sporting Heroes
Following the successful 2013 soirée formula, alumni were treated to an evening of memories and song from alumni Mary O'Rourke (1967) and Emmanuel Lawler (1988) in the beautiful setting of the University library.
Athlone native and former minister Mary O'Rourke regaled alumni and university staff with her often humorous anecdotes from her student days at Maynooth to her exploits in the Irish political arena. Following Mary onto the soiree stage, Emmanuel entranced the audience with a polished performance of old favourites, O Sole Mio, Nessun Dorma and Phil the Fluter's Ball. Answering the many calls for an encore, Emmanuel provided a poignant end to his programme with his performance of Danny Boy.
Setting the soirée tone for the evening, the BAM Trio (Department of Music graduates Patrick McGlynn, Seán Kenny and Aidan Guilfoyle together with James McGlynn) created the perfect ambiance with a varied selection of jazz classics.
Acknowledging the sporting achievements of the University and the role sport played for our alumni during their student days here, the 2014 winning Collingwood Cup (inter varsity soccer) team consisting of students Niall Conran, Jamie Airey, Eoghan Markey, Karl Cleary (President), Seamus Doherty and Conor Mahoney were joined by Barry Prenderville (FAI Soccer Development Officer), a sparkling Collingwood Cup and Collingwood alumni players from the 1970s.
Alumni from every decade since the 1960s attended including alumni who had travelled as far afield as Boston and Cork! Returning alums who took advantage of the University tours on offer before the soirée, saw firsthand the vast changes at Maynooth over the decades – a point which was highlighted further by university president, Professor Philip Nolan, in his welcoming address.
Photo caption: Professor Philip Nolan (far right) surrounded by alumni and library staff enjoying Emmanuel's performance