Simon Hanratty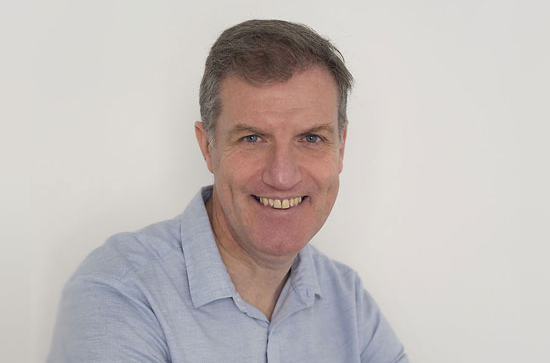 Head Of Information Technology
Banking, insurance and financial services
2019
Simon Hanratty saw design thinking as a methodology that would support him in his then-new role as group head of information technology with Irish Life in 2019. While researching potential courses, he found information about Maynooth University's MSc in Design Innovation. "Within 30 seconds I thought, that's exactly what I'm looking for," he says.

"I knew, coming from the IT background I had, there was a danger that I was solution-led rather than customer need-led, so I wanted techniques to cope with that change and I wanted the language to see how I could apply design thinking in my own role," he recalls.

Design thinking, a core focus of the MSc in Design Innovation, is a methodology that involves taking time to understand the customer, challenge assumptions, and define problems more precisely. Simon explains: "It's having the discipline and the tools and the techniques to say: 'hang on a second', and spend some real time understanding the problem. I also like the way it links to the national strategy: we're a knowledge economy, the country wants to innovate and that resonated with me as well."

It's a skill that's needed more than ever. Harvard Professor Clayton Christensen estimates that 95% of product launches fail. According to the Project Management Institute, 14% of all projects fail outright and 31% don't meet the original goals. The top reason for the failure? Inaccurate requirements – or to put it another way, they're not solving a real problem.

Irish Life had already been moving away from a product-led culture. In 2017 it set up an innovation hub called ExO (short for 'exponential organisation') which experiments with strategic thinking, new ways of working like agile and lean startup methods, and design thinking.

The company has already come a long way on this culture change, according to Simon. "Rather than start with the product, we say: let's do customer research, build prototypes, bring people in, and have feedback loops. As a company, we're trying to figure out how to serve the next generation of people. How do we offer things that might not make us money now but potentially create a relationship that lasts long into the future?"

He had considered courses in areas like digital transformation, but he found they focused on the technology aspect, or on organisational change, which felt too narrow as a definition. "Design innovation starts with a deep understanding of the human, the user, the wants, the needs, and the contextual environment. That was what drew me," he says.

Simon took the two-year part-time MSc option, spending two days a month on campus. He appreciated the "deep focus" of having two modules per day, one in the morning and the other in the afternoon, to spend more time on human-centred topics ranging from design ethnography, anthropology, and psychology to visualising concepts and prototyping.

He is also positive about the diversity of the group in terms of backgrounds, perspectives, and demographics, and the fact that it mixed recent graduates and mature students like him. "To me, it is one of the selling points of the course. I really liked the challenge and learning from each other. Most of the projects are group-based so you feed off that energy," he says.

Simon has already been able to apply the learning from the course in his work. "I don't go in and bang the drum that everyone has to learn design thinking; it's a little bit more organic than that. It's about being able to say: 'how sure are we that it's the right product'? It's being able to ask the right questions at the right time," he says.

Sometimes there's as much value in knowing when to stop a project as there is in pushing ahead when the outcome is uncertain. Reaching a decision to halt, or pivot in a new direction, can make a big difference to a company's bottom line. Simon finds design thinking is critical to that decision-making process. "In business, everyone wants results: it's about timelines, project plans, deadlines and budgets. But a lot of businesses are starting to ask: 'are people going to buy this'?" Or to put it another way, they're asking the right questions.