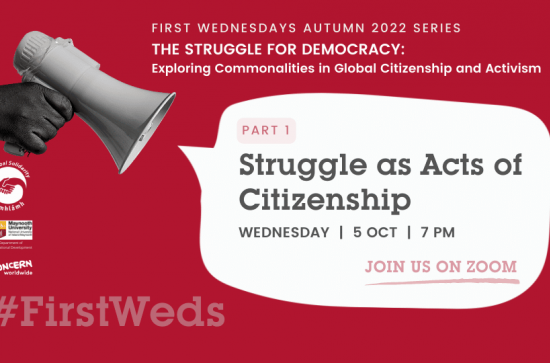 Wednesday, October 5, 2022 -

19:00

to

20:30
Online
THE STRUGGLE FOR DEMOCRACY: Exploring Commonalities in Global Citizenship and Activism
Join us in partnership with Comhlámh this Autumn for the new First Wednesdays series, a set of three interlinked conversations with those currently involved in real-world struggles in Ireland and beyond. We will take a closer look at commonalities 'in struggle' across campaigning and activism movements, and explore what it would mean to consider these struggles as part of a process of 'acts of global citizenship' and 'democratising democracy'.
PART 1: Struggle as Acts of Citizenship
Date: Wednesday, 5 Oct, 7PM
What 'acts of citizenship' could we point to in struggles here in Ireland? At our opening October session, we will take a closer look at how these examples might extend our understanding of citizenship, its role in affirming and securing more justice, and helping us to imagine alternative futures.
Visit the Comhlámh website for more details and registration links