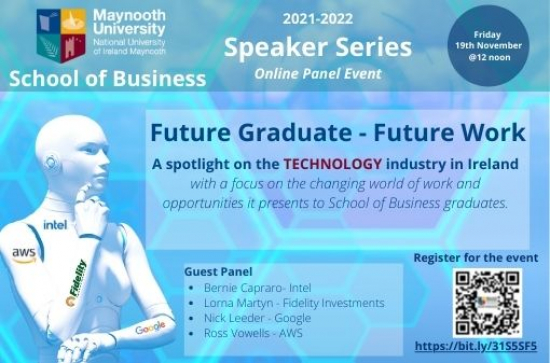 Friday, November 19, 2021 -

12:00

to

13:00
MS Teams Webinar - Register https://bit.ly/31S5SF5
The 2021- 2022 Industry Speaker Series has been designed by the School of Business in partnership with our Industry Advisory Council for students of Maynooth University School of Business.
The series offers of a unique mix of industry guest speakers and industry panel sessions which have been scheduled over the course of the 2021- 2022 academic year.
The theme for our 2021 - 2022 Speaker Series is "Future Graduate - Future Work".
Our industry panels series focuses on the changing world of work across different industries and the opportunities it presents to School of Business graduates.
There are five industry panel speaking events scheduled for the 2021- 2022 academic year, each of which will shine a spotlight on a different industry. Each panel will comprise industry experts who will offer valuable insight and advice on their featured industry.
Our first panel session showcases the Technology Industry in Ireland, and this event is scheduled for Friday 19th November at 12 noon.
The panel for this event sharing valuable insight and advice to the students of Maynooth University School of Business includes:- Bernie Capraro- Silicon Technology Research Manager from Intel, Nick Leeder – Head of Google Ireland, Lorna Martyn SVP & Head of Technology from Fidelity Investments and Ross Vowells - Recruitment Manager from Amazon Web Services.
Brian Donnellan (VP Engagement & Innovation) from the School of Business will moderate the event.
The event will take place over MS Teams Webinar.
To register for the event please either scan the QR code or follow the link https://bit.ly/31S5SF5