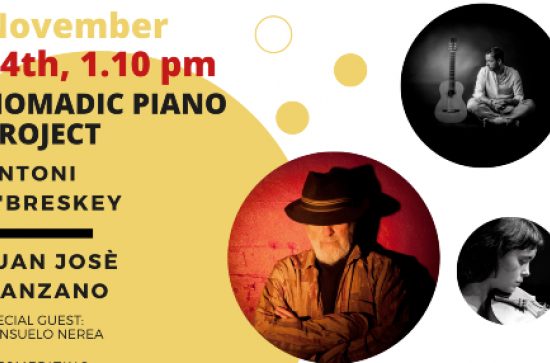 Thursday, November 24, 2022 -

13:00

to

14:00
Riverstown Hall
The Nomadic Piano Project brings its unique blend of music to Maynooth. Headed by composer, pianist, singer, trumpet player, writer and music educator Antoni O'Breskey, the group is celebrated for its pioneering approach to world music.

Born in Italy with Argentine roots, O'Breskey introduced improvised-style piano into Irish and Flamenco music during the early 1980's, blending it with blues and creating a positively new and original jazz piano style.

Oliver Sweeney (HOT PRESS), wrote of him: "He is a man for whom the notion of borders means very little, a genius whose music is without frontiers, and whose originality makes him one of the most
innovative artists in the varied musical genres of today."

He has been breaking barriers between many different kinds of music: "The categories of "World" and "New Age" music did not exist when O' Breskey began his trailblazing journey, yet he was the first to combine Flamenco, Basque, Arabic, Latin and Irish elements, his virtuoso jazz-styled piano uniting these traditions in remarkably original compositions." (Fiona Ritchie)

For this special appearance, Antoni O'Breskey is joined by Flamenco guitarist and composer Juan José Manzano, and the singer, fiddle- and bodhran-player Consuelo Nerea.
For more information about the Nomadic Piano Project, see: nomadicpiano.com