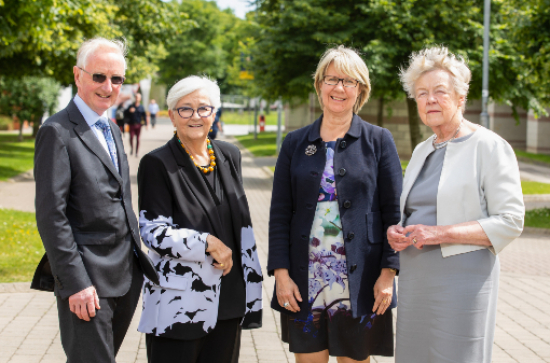 Thursday, June 16, 2022 - 09:45
Maynooth University today marks 25 years as an independent university by hosting a celebratory event for staff attended by former Education Minister Niamh Bhreathnach.
The Labour Party TD served as Minister for Education from 1993 to 1997. During her time as minister, Ms Bhreathnach heralded the foundation of the National University of Ireland, Maynooth with the introduction of the Universities Act 1997. Tracing its origins back over 200 years to the foundation of St Patrick's College Maynooth in 1795, the University today is one of the fastest growing and most diverse institutions in the country with enrolment soaring from 4,000 in 1997 to more than 15,000 students today. In 2014, the University changed its name to Maynooth University to strengthen its brand identity internationally.
The Maynooth campus has doubled in size to encompass a state-of-the-art Library linking the South Campus and North Campus, student accommodation, teaching and research buildings, such as Eolas (ICT), Iontas (Humanities and Social Science) and John Hume (Education and Research). A €57 million Technology Society and Innovation Building is due for completion shortly.
The University is today home to world-class researchers and some of Ireland's most innovative research centres, including ICARUS Climate Research Centre; RadioSpace, National 5G Test Centre; MaynoothWorks Business Incubator; Hamilton Institute; Kathleen Lonsdale Centre for Health Research; Innovation Value Institute (IVI); Maynooth Arts and Humanities Institute; Maynooth University Social Sciences Institute; All-Ireland Research Observatory (AIRO) and National Centre for Geocomputation.
Maynooth was ranked the #1 Best Young University in Ireland in the 2022 Times Higher Education (THE) Rankings and in the top 7% universities in THE Global Equality Rankings for its research on the study of gender equality, policies on gender equality and commitment to recruiting and promoting women.
The University has played an outsized role in widening participation in higher education across Irish society. Its student population is richly diverse, with 11% of students coming from the most disadvantaged areas of the country—the highest percentage in the university sector—and 17% coming from areas identified as affluent.
MU has helped meet the educational needs created by rapid demographic growth in west Dublin and north Kildare in particular, but also across Ireland. In 2016 it launched sector-leading undergraduate curriculum reforms that proved popular with students seeking more flexibility, unique subject combinations, and more time to decide where to focus their studies. The Maynooth Arts degree became the most popular degree in the country in recent years.
Among the University's milestones was the merging of Froebel College of Education in Sion Hill with Maynooth University, establishing the Froebel Department of Primary and Early Childhood education in 2013.
Ms Bhreathnach, a graduate of Sion Hill, commended Maynooth's support of the legislative changes in the Universities Act, which included structural reforms and promoted gender equality on the boards and in all activities of the universities. She paid special tribute to the University's first president, Professor William J Smyth (1997-2004), and the late John Coolahan, former Head of the Department of Education at Maynooth.
"It is with great pleasure that my visit to Maynooth University today is at the invitation of a woman, your newly appointed President, Professor Leinonen. It has taken some years to reach a time where we have visible equality in the top levels of our third-level institutions, and I hope we can continue to grow and build not only gender equality but social equality throughout the sector," she said.
Welcoming Ms Bhreathnach's return to Maynooth, Professor Eeva Leinonen, President of Maynooth University, paid tribute to staff and retired staff who have worked so hard over the years to put students at the heart of the Maynooth educational experience.
"Maynooth University is celebrating 25 years of remarkable achievement as an independent institution. On a day that Leopold Bloom embarked on his odyssey across Dublin's landmarks, I am delighted to celebrate our journey from a newly established independent university in 1997 to one of the fastest growing third-level institutions in the country.
"I hope to continue to build on the many achievements of all the former presidents, staff, students and alumni, many of whom have joined us to celebrate this day.
"Maynooth University's student profile and growth over the years reflects an overall increase in the desirability for a Maynooth education taught by world-class researchers in their fields and a truer representation of a diverse educational environment from which all students benefit.
"We are now embarking on a new Strategic Plan to guide us into the future. I believe we must look to our strengths -- intellectual curiosity, ingenuity, creativity, our scholarly and student-focused underpinnings, and a close-knit community that has endured over the years. If we look to our strengths we will be guided on what to take with us into the future."
A silver birch tree has been planted to mark Maynooth's silver anniversary, and an 'Ideas Tree' has been erected by Maynooth University Innovation Lab (Mi:Lab) to help with suggestions and ideas for the next Strategic Plan.
Dr Mary Canning, Chair of Maynooth University Governing Authority said:
"I'm delighted to be here today to celebrate the 25th anniversary of Maynooth University as an independent institution created by the enactment of the Universities Act in 1997, and I'm honoured to meet with the former Education Minister Niamh Bhreathnach who presided over its passage. Maynooth is distinguished in its academic excellence, innovation and diversity, and its reputation has grown nationally and internationally over the past 25 years. I wish President Eeva Leinonen, staff, students and alumni of this wonderful institution the very best in the next phase of its journey."