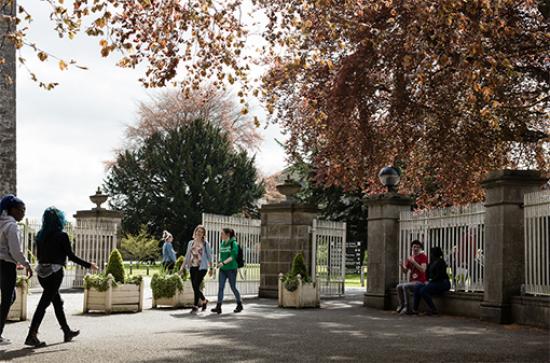 Thursday, May 7, 2020 - 15:15
Maynooth University is delighted to congratulate the 18 recipients of the New Foundations Awards announced by the Irish Research Council. Maynooth University researchers received a combined €190,883 to conduct research on a range of projects under the IRC New Foundations Awards scheme.

New Foundations supports researchers to pursue research, networking and dissemination activities within and between all disciplines. It provides seed funding for small-scale research actions; the development of networks, consortia and workshops; and creative approaches to the communication of scientific concepts or complex societal challenges for a lay audience.

MU Awardees and research projects:
Dr Ciara Bracken-Roche: Big Data Governance: The adoption of surveillance technologies by policing and security agencies
Dr David Doyle: On the Brink: The Legal and Cultural Implications of Extinction and De-Extinction
Dr Eilish Dillon: Communicating International Development for Public Engagement – Understanding IDNGO development representations and the challenges and opportunities provided by the Dóchas Code of Conduct on Images and Messages for improved practice
Dr Eithne Dempsey: Electrocoagulation and Electro-Fenton based approaches to Mitigation of Emerging Conta
Dr Etain Quigley: Juvenile Sexual Offending: An EU Prevalence and Criminal Justice Response Study
Dr Iain Macdonald: HPV Immunity Community - raising HPV awareness
Dr Joanna McHugh Power: Spousal CaregIver Loneliness during the Nursing Home Admission of a Person with Dementia
John Regan: Engaging Europe with Enzo-E
Joseph Robinson: Geographies of Carceral Systems: Ireland in Comparative Perspective
Dr Lynsey Black: Living Borders: Cattle Smuggling on the Ireland/Northern Ireland Border
Dr Marion Butler: Evaluating the efficacy of a novel targeted treatment strategy for platinum-resistant Ovarian Cancer
Dr Neil Maddox: Regulating Fertility Preservation Treatment for Children with Cancer: Medical, Legal and Ethical Challenges
Dr Pauline Cullen: Assessing Supports for the Political Inclusion of Racial and Ethnic Minority Women in Ireland
Dr Rebecca Maguire: Framework for Multiple Sclerosis Ireland Service Evaluation
Dr Richard Roche: Age-Inclusive Maynooth: Walk and Recall Memories
Dr Rory Hearne: Understanding Ireland's Hidden Homelessness Crisis: A New Approach to Defining and Measuring Homelessness and Housing Exclusion in Ireland
Dr Thi Thuy Do: Citizens and Science Workshops on Antimicrobial Resistance in Private Drinking Water in Ireland
Dr Treasa Kenny: Engaging the Community in Developing a Public Policy Framework for Mediation in Ireland

Maynooth University also congratulates Dr Jon Gruda, Assistant Professor in the School of Business, who is one of six early career researchers selected by the IRC to represent Ireland in the 7th Lindau Nobel Laureate Meeting in Germany, which has been postponed to 2021 due to the Covid-19 crisis.