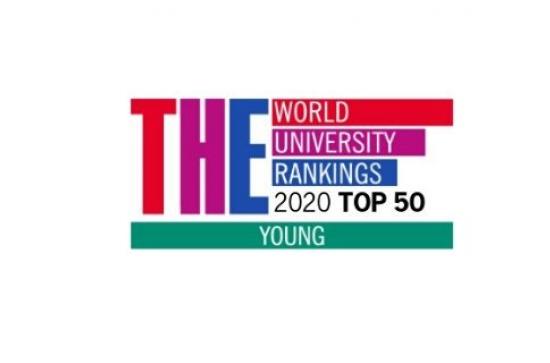 Wednesday, June 24, 2020 - 11:30
Maynooth University has moved up the 2020 Times Higher Education (THE) Young University Rankings of leading young universities globally. For the second year running, Maynooth University has risen in the rankings, today climbing seven places to 43rd worldwide among leading young universities and retaining its position as #1 young university in Ireland.
Maynooth is the only Irish university in the top 100 THE Young University Rankings.
Last year, Maynooth ranked at 50th among global young universities, moving up from its position of 80th in 2018. The international Young University Rankings are based on a range of criteria including research income achieved; reputation for teaching and research; numbers of PhDs awarded; the number of quality scholarly papers and citations from staff, and numbers of international staff and students.
Commenting on the 2020 ranking, President of Maynooth University, Professor Philip Nolan, said: "We are delighted to take our place again among the top young universities in the world. This is a valuable indicator of Maynooth University's commitment to constant innovation, the quality of our research and the global reputation of our teaching and scholarship.
"The Irish university sector has faced serious financial constraints in recent years, a situation further compounded by the COVID-19 pandemic and its many challenges, which has highlighted the value of expertise and evidence-based research. Maynooth University remains committed to working together to safeguard our students' quality of education in these difficult times as we strive to enhance our global reputation.
"I'm delighted with THE Young University Rankings because they reflect the progressive, ambitious and innovative place that is Maynooth University. Today's ranking among the top young universities in the world is a testament to the hard work of all across our University."
"We look forward to welcoming our new students for the academic year 2020-2021. In choosing Maynooth University, they will join one of the leading universities in the world, with strong international connections and a lively, dynamic and rapidly-growing campus."
In addition to being named 43rd worldwide in THE Young University Rankings, Maynooth University is recognised among the top 350 universities in the world. Maynooth University this year ranked 1st in Ireland for Quality Education by THE Global Impact rankings 2020 and 2nd in Ireland for Gender Equality and Reduced Inequalities.
Tá Ollscoil Mhá Nuad tar éis bogadh suas i Rangú na n-Ollscoileanna Óga atá ag Times Higher Eduction (THE) do na hollscoileanna is rathúla ar domhan. Don dara bliain as a chéile, tá Ollscoil Mhá Nuad ardaithe sa rangú agus is ag 43 i measc na n-ollscoileanna óga is rathúla ar domhan atá sí anois. Ní hamháin sin ach tá a stádás ag #1 do na hollscoileanna óga in Éirinn fós aici agus is í Ollscoil Mhá Nuad an t-aon ollscoil Éireannach amháin taobh istigh den chéad 100 i Rangú na n-Ollscoileanna Óga.

Anuraidh, bhí Ollscoil Mhá Nuad rangaithe ag 50 i measc na n-ollscoileanna óga ar domhan, ag bogadh óna háit ag 80 sa bhliain 2018. Tá rangú idirnáisiúnta na n-ollscoileanna óga bunaithe ar réimse de chritéir lena n-áirítear maoiniú taighde atá tar éis teacht isteach, an cháil atá bainte amach don teagasc agus don taighde, líon na ndochtúireachtaí a bronnadh, líon na bpáipear scolártha agus na luanna ar ard-chaighdeán ó fhoireann na hollscoile agus líon na mac léinn agus na foirne idirnáisiúnta.

Ag trácht ar an rangú don bhliain 2020, dúirt Uachtarán Ollscoil Mhá Nuad, an tOllamh Pilib Ó Nualláin: "Ta ríméad orainn bheith i measc na n-ollscoileanna óga is rathúla ar domhan. Is táscaire luachmhar é seo dár dtiomantas in Ollscoil Mhá Nuad do nuálaíocht gan stad gan staonadh, do chaighdeán ár dtaighde agus don cháil dhomhanda atá bainte amach ag ár dteagasc agus ag ár scoláireacht.

"Tá an earnáil ollscolaíochta sa tír seo tar éis bheith thíos le sriantachtaí airgeadais ollmhóra le blianta beaga anuas, sriantachtaí atá éirithe i bhfad Éireann níos measa ó tháinig paindéim Covid-19 agus na dúshláin ar fad a bhaineann leí ar an bhfód, rud a shoiléiríonn an luach le saineolas agus le taighde atá bunaithe ar fhianaise. Tá sé mar phríomhsprioc ag Ollscoil Mhá Nuad leanúint ar aghaidh ag obair as lámha a chéile chun caighdeán oideachas ár mac léinn a chosaint na laethanta deacra seo agus muid ag iarraidh ár gcáil dhomhanda a fhorbairt.

Is údar áthais é Rangú na n-Ollscoileanna Óga atá ag THE mar tugann sé le fios gur áit fhorásach, uaillmhianach agus nuálach í Ollscoil Mhá Nuad. Teistiméireacht atá sa rangú seo i measc na n-ollscoileanna óga is rathúla ar domhan ar an obair dhian a chuirtear isteach thar timpeall na hOllscoile.

"Táimid ag súil le fáilte a chur roimh mhic léinn nua le linn na bliana acadúla 2020 – 2021. Agus Ollscoil Mhá Nuad á roghnú acu, beidh siad mar chuid de cheann de na hollscoileanna is rathúla ar domhan, le nascanna idirnáisiúnta láidre aici agus campas beomhar, bríomhar a bhfuil borradh nach beag ag teacht uirthi."

Anuas ar an ainmniú ag 43 ar domhan i Rangú na n-Ollscoileanna Óga, tá Ollscoil Mhá Nuad aitheanta i measc an 350 ollscoil is rathúla ar domhan. Tá Ollscoil Mhá Nuad sa chéad áit in