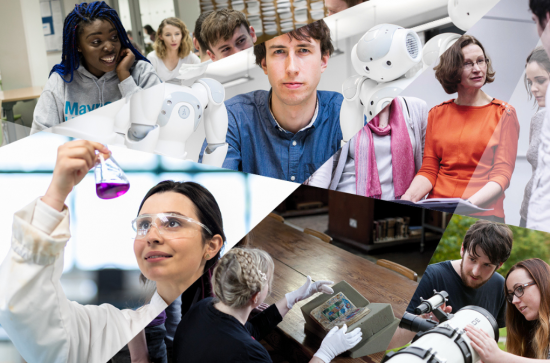 Thursday, October 19, 2023 - 10:30
Maynooth University invites members of the public to engage with the rich body of research and discoveries during Research Week from 12th-26th October.
In a week-long series of events and exhibitions, Maynooth University's academics and students will host a mix of exciting round table talks, Q&As, interactive experiences and competitions to spark curiosity across all age groups.
The events planned for 2023 reflect on issues affecting Irish communities but also delve into the future global challenges that lie ahead.
Maynooth's research teams will explain some of their most important discoveries from the past year, on topics such as climate change, the benefits of digital technologies for health and well-being, and latest discoveries on the health benefits of fungi.
On Thursday, 26th October, the Aula Maxima will be the venue of a two-hour gala concert All Changed: Changed Utterly: A Decade in Words and Music presented by the Maynooth University Decade of Commemorations 1912-1923 Committee, celebrating the literature and music that inspired and reflected the transformative world events that took place between 1912 and 1923. Hear the world-renowned Maynooth University Chamber Choir, traditional airs, song and music of the period, and readings from the work of WB Yeats, Augusta Gregory, JM Synge, Francis Ledwidge, Vera Brittain, TS Eliot, Muriel Spark, Seán O'Casey, James Joyce, Pádraic Ó Conaire, Peadar Ó Laoghaire, Máire Mhac an tSaoi, Elizabeth Bowen and Eva Gore-Booth. This will be a concert to remember.
Some exciting events during Research Week include:
Come and witness a new science outreach project on campus, the Circus of Climate Horrors. This interactive display is designed to highlight major challenges climate scientists are grappling with in their research. For all the family, it includes a Big Top Tent and three interactive games: the 'Wheel of Global Warming' (spinning wheel), the 'Great Wall of Atmospheres', an interactive and competitive ball game, and a flood map of the UK and Ireland under a 2°C warming scenario. Hosted by the Geography department.
As healthcare continues to focus minds, this interactive experience will allow visitors explore new technologies in healthcare and discuss how to create the digital health environment of the future for health and wellbeing. Hosted by Dr Marco Alfano, of the Innovation Value Institute (IVI).
Fungal researchers from Maynooth University's Biology Department will uncover the secrets of fungi in a variety of talks on the health implications of fungi, their influence on food safety and their potential for use in future food innovations.
In what promises to be a thought-provoking lecture, Professor of Philosophy Michael Cronin will explore where the island of Ireland is situated in the post-Brexit world, and also in the context of rising sea levels, flooding and coastal erosion. The Dean's Lecture is hosted by the Department of Arts Celtic Studies & Philosophy, and will argue for the need to place our 'islandness' at the heart of cultural and political thinking.
As part of Research Week, Professor Eeva Leinonen, President of Maynooth University, will launch the University's Strategic Plan 2023-2028.