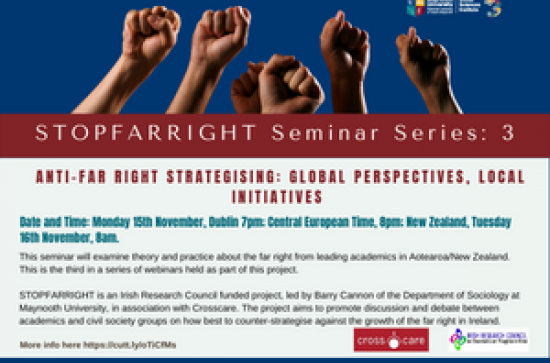 Monday, November 15, 2021 -

19:00

to

20:30
Online
STOPFARRIGHT is an Irish Research Council funded project, led by Barry Cannon of the Department of Sociology at Maynooth University, in association with the Crosscare Migrant Project. The project aims to promote discussion and debate between academics and civil society groups on how best to counter-strategise against the growth of the far right in Ireland. As part of its activities, STOPFARRIGHT is holding a series of online seminars with leading Irish and International academics and civil society members working on the theme of resisting the Far Right. This is the third in a series of webinars held as part of this project. For access to recordings of the other webinars please go to this link, scrolling down to STOPFARRIGHT Seminars.

Date and Time: Monday 15th November, Dublin 7pm; Central European Time, 8pm; New Zealand, Tuesday 16th November, 8am.

This seminar will examine theory and practice about the far right from leading academics in Aotearoa/New Zealand.
Emily Beausoleil is a Senior Lecturer of Political Theory at Te Herenga Waka-Victoria University of Wellington, New Zealand. Her research focuses on obstacles to and strategies to foster listening among advantaged groups. She is Editor-in-Chief for Democratic Theory Journal, co-founder of the national Tauiwi Tautoko online anti-racism project, and Associate Investigator for the current Australian Research Centre grant 'Democratic Resilience: The Public Sphere and Extremist Attacks.' She has published widely including in Political Theory, Contemporary Political Theory, Constellations, Conflict Resolution Quarterly, and Ethics & Global Politics, as well as various books.

Chamsy el-Ojeili is Associate Professor at Te Herenga Waka-Victoria University of Wellington, New Zealand. His research is centred around classical and contemporary theory, and ideology and utopia. His recent book, The Utopian Constellation (Palgrave, 2020) explores future-oriented political and social thought today and includes a chapter on the far-Right. His most recent journal article (co-authored with Jack Foster), in Journal of Political Ideologies, considers the fragmentation of centrist liberal ideas following the global financial crisis and how this contributes to the rise of the far right.

Sean Phelan is a communication and media scholar who is an Associate Professor at Massey University, New Zealand and currently working as a Marie Curie Fellow at the University of Antwerp, Belgium. His publications include the monograph Neoliberalism, Media and the Political (Palgrave, 2014) and the edited book Discourse Theory and Critical Media Politics (Palgrave, 2011). His current research examines far-right politics from two angles. One project examines the relationship between online culture, social justice and far right cultures that disparage "social justice warriors", the second examines the relationship between critique and reactionary politics, particularly in a context where "the media" has become a potent object of political critique for far-right actors. He is originally from Tipperary and completed his PhD at Dublin City University in 2003.

Moderator: Barry Cannon, is Assistant Professor in Politics at Maynooth University Sociology Department.

To register please click on this link

For more information on STOPFARRIGHT please contact Barry Cannon (barry.cannon@mu.ie) or Joseph Munnelly (joseph.munnelly@mu.ie).