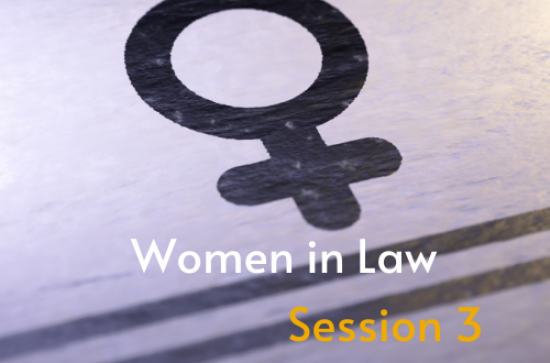 Wednesday, April 21, 2021 -

17:00

to

19:00
Zoom
Women in Law Month
Maynooth University Department of Law
Equality, Diversity and Inclusion Committee
Session 3
Wednesday the 21st of April 2021 – Chair Prof Claire Hamilton
5:00pm Maura Butler, Association of Criminal Justice Research and Development
5:30pm Ursula Fernee: Assistant Principal Probation Officer, Probation Service.
6:00pm Liz Grace Partner Matheson and Tara Doyle Chairperson of Matheson
Places are limited so registration is advised.
To register click here***
***Please use your MUMAIL email address when registering
Speakers
Maura Butler, Association of Criminal Justice Research and Development
Maura Butler BA (Legal Science), LL. B, MSc IT in Education is a solicitor with 35 years post qualification experience in a combination of practice, academic and professional training roles, as a criminal trial lawyer, lecturer, author, editor, legal practitioner trainer, Board member and conference speaker.
She has proactively volunteered that commitment and associated skills in civil society environments, to facilitate the dissemination of best practice in criminal justice and to champion parity democracy for women in all aspects of their lives.
Those organisations include:
Association for Criminal Justice Research and Development (ACJRD)
Irish Women Lawyers Association (IWLA)
National Women's Council
European Women's Lobby
European Women Lawyers Association
Ursula Fernee: Assistant Principal Probation Officer, Probation Service.
Ursula Fernée is a graduate of University College Dublin and subsequently completed a professional qualification in Social work in the UK. Her varied and lengthy work experience in both the English and Irish Probation Services reflect her interest in and commitment to social work practice in a criminal justice context. This experience encompasses work, both as a practitioner and as a manager in the community, as part of multi-disciplinary projects and in custodial settings.
Ursula spent a number of years working in the Research, Learning and Development Unit of the Probation service researching and providing programmes to inform and support core Probation competencies in the areas of assessment and supervision. This was an exciting change period in the organisation. Ursula embraced opportunities to further programmes for continuing professional development on a national basis. These included a "Learning for Leadership" modular programme and a tailored coaching programme for all managers. Her personal engagement with "on the job" and lifelong learning is visible from her participation in a range of cross sectoral training programmes and her completion of a Diploma in Leadership and Management. Ursula was privileged to be nominated as a member of the first Social Work Registration Board (CORU).
As national lead for the recently established Restorative Justice and Victim Services Unit in the Probation Service, Ursula and her team inform and support the continuing integration of restorative justice within organisational practice. That integration both recognises and responds to the increased participation and role of the victim in criminal justice. This work requires collaboration with the judiciary, other criminal justice agencies, community based organisations and victim advocacy groups. Ursula has contributed to the development of a number of recent legislative and policy changes in this area and has delivered papers on the subject at national and international gatherings.
In her earlier years Ursula was the Probation Officer assigned to work in the Womens Prison, an experience that informed her understanding of the complexity of women's pathways in to crime. Working with a small strategy group, she is currently reviewing the scope and range of Probation interventions with women who offend.
Ursula is joint editor of Irish Probation Journal, now in its 18th year of publication. Widely respected in the criminology community, including papers from practice, policy and research, IPJ enjoys a large national and international readership.
Liz Grace, Partner at Matheson
Liz Grace is a Partner at Matheson with a background in financial services law. Liz was appointed Communications Strategy Director at the firm in 2016 and focuses on strategic communications at the firm.
Liz's background in investment funds law stems from several years of practice in the area, working from early on in her career in 2000 with Matheson's global asset management client base in the establishment, operation and re-structuring of Irish domiciled investment funds.
Following on from that, she established the first dedicated knowledge management function at practice level with the Asset Management and Investment Funds team in Matheson, focusing on the law and regulation of investment funds and asset managers - in particular in relation to emerging European and Irish legal and regulatory developments affecting asset managers and investment funds.
Liz wrote the first university Funds Law syllabus in Ireland for Maynooth University.
Liz's postgraduate qualifications include a master's degree in law from Oxford University. She holds an LLB from Trinity College, Dublin.
Further information:
Appointed Ambassador for Gender Diversity 2018 – 2020
Women Mean Business
"At university level there are more and more female undergraduates choosing to study law, and it is really important for these female students to be able to see examples of success such as Liz Grace, a Partner in Matheson's Asset Management Group, who has reached the very top of her profession. It is a huge boost for female students to see this. Liz is fantastic at working with and engaging with the students, and for many of our female students she is an inspiring role model. It is hugely significant for students to interact with and work with leading female partners".
Professor Michael Doherty, Head of the Law Department, Maynooth University