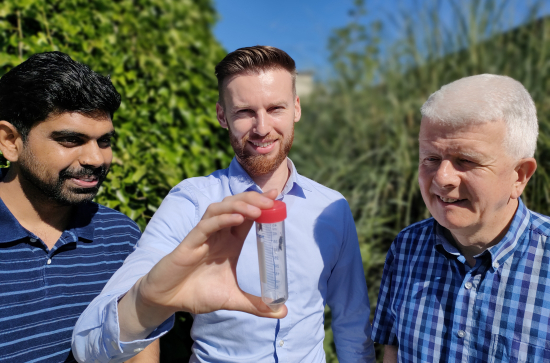 Thursday, August 25, 2022 - 09:15
Maynooth University and Irish SME Hexafly BioTech have pioneered a sustainable insect-based soil enhancer that boosts soil health and significantly reduces greenfly on cereal plants.

Prof Kevin Kavanagh, of the Department of Biology at Maynooth University, and Hexafly, are pioneering the use of insects and insect-based products for inclusion in feeds and as plant nutrients.

Barley aphids or greenfly are particularly difficult to control with traditional chemical insecticide, wreaking havoc in farms and causing substantial economic loss in agriculture. However, new research shows that an insect-based soil enhancer Hexafrass, is proving highly effective in fighting the pest.

The soil enhancer Hexafrass, derived from the waste product of black soldier flies, boosts soil health and actively promotes root development and plant growth. The research, funded by SSPC the Science Foundation Ireland Research Centre for Pharmaceuticals, has found that plants growing in treated soil had reduced aphid infestation numbers and enhanced natural defence against disease.

Investigating the cause for the reduction in aphid numbers, Prof Kavanagh and Dr Anatte Margalit, a post-doctoral researcher at the Department of Biology, used proteomic analysis (a form of genetic analysis of proteins) to reveal that aphids feeding on plants cultured in Hexafrass were rendered infertile due to changes in their internal biology.

Commenting on his findings, Prof Kavanagh said: "This discovery creates the possibility of a highly effective and environmentally sustainable method of controlling aphid populations using Hexafrass. By feeding on the sap of plants, aphids reduce the nutrient supply needed by the plant, effecting growth and development, and enhancing the risk of viruses that can lead to plant disease and death. Control of aphids is essential to ensure healthy plant growth and food production, but many aphids have developed resistance to conventional insecticides therefore the development of alternative, effective and environmentally sustainable treatments is essential."

Alvan Hunt, CEO of Hexafly, said: "The findings of this research are highly significant for us. Funding from SSPC, the SFI Research Centre for Pharmaceuticals and our collaboration with Maynooth University has allowed us to co-develop novel applications for our products that will have commercial value in the coming months and years. We look forward to continuing our partnership with Professor Kavanagh as we continue to advance our research and development program and bring more discoveries to market."

Through MaynoothWorks, MU's knowledge transfer and commercialisation unit, Hexafly Biotech have solidified their relationship with the University, and Prof Kavanagh and his team, recently signing a licence agreement to collaborate and commercialise the outputs of this project and to develop novel applications of Hexafrass.
Dr Paul Tyndall, MaynoothWorks Commercialisation Executive at Maynooth University, welcomed the potential commercialisation opportunities from this collaboration. "It has been a real pleasure to bring this project full circle and successfully complete this licencing agreement with Hexafly, which is focused on a strong research and sustainable development agenda. This discovery serves as a clear demonstration of the benefits of industry and researchers working together, something that we prioritise facilitating here in Maynooth University. We look forward to working with the Hexafly team in the future as they build on the success of this project in collaboration with Prof Kavanagh."

MaynoothWorks captured the Intellectual Property (IP) generated during the research project, initiated licence negotiations and supported the successful licensing agreements. They also led discussions for further development of the IP with Hexafly, which continues to pursue company-funded collaborative research projects with the University.

Commenting on their role as the funding body, Dr Sinéad O'Doherty, Head of Strategic Development at SSPC, said: "SSPC has a strong commitment to supporting research excellence though our industry funding model, in particular with our Irish SMEs, a crucial element of our economy. This work investigated the antimicrobial effects of an identified antimicrobial peptide, which was then characterised, and its activity against a wide range of pathogens established. We look forward to future engagement with Hexafly Biotech, and supporting their commitment to research for future market opportunities."