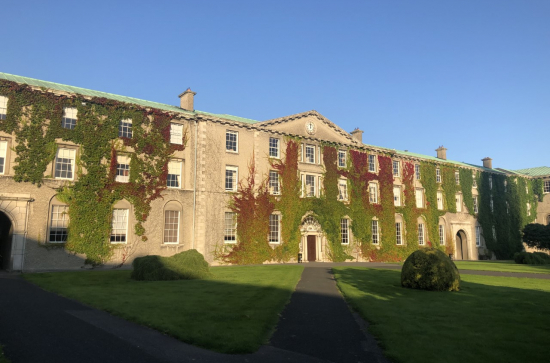 Tuesday, November 29, 2022 - 09:30
Christina Blacklaws, former President of the Law Society of England & Wales and innovator in the legal field, is to deliver a lecture to launch Maynooth University's new Technology Law & Policy Centre. Entitled Policy options and challenges in law and technology, the lecture draws on Christina's vast top-level experience in policy-making in the UK and internationally.
Now running her own consultancy business providing strategic advice, Christina is a non-executive director for 3 large law firms, chairs a regtech start up and is the Head of Faculty of the Legal Technology and Innovation Institute. She holds a range of public appointments including chairing Lawtech UK, being appointed to the Kings Counsel Selection Panel, and chairing the Judicial Pensions Board.
As President of the Law Society of England and Wales, she chaired a Commission which reported on the use of algorithms in the justice system and spearheaded the largest ever global research on women in law, resulting in three reports and a UK government backed Pledge. Christina is the UK representative on the International Bar Association Council and sits on the Bar Issues Commission. Domestically, Christina chairs the Civil Liberties Trust.
Dr David Cowan of Maynooth University has organized the event and arranged for Christina to share her insights with students and staff, as well as visitors form the legal profession. Dr Cowan said, "It is a privilege to have Christina address us and launch the new centre. She has long been a champion in lawtech as well as an impressive advocate on gender issues. Students will find her engaging and informative, and her lecture will add greatly to their module work at Maynooth. We are pioneering law and technology at the undergraduate level, and it is wonderful that we can hear from a true pioneer in Christina."
The Centre provides a forum for the development and promotion of existing research and teaching in the field of Law and Technology (broadly conceived) at the School of Law & Criminology, Maynooth University locally, nationally, and internationally. Maynooth is fortunate to have a number of active researchers and teachers in this area of growing importance.
Dr David Mangan of Maynooth University leads the new centre. Dr Mangan said, "Colleagues in the Technology Law & Policy Centre are taking on a pivotal task for society. They study: the role of technology in contemporary society; how technology challenges the orthodox legal framework; and how law and policy may be adapted to suit contemporary needs. Our Centre's launch event offers members of the university community and the public an example of this work."
The Centre enhances these activities by: establishing a central location for the promotion of this work and its impact; augmenting the case for successful competition in national and international funding bids within the Centre's scope; providing a means through which Centre members may co-operate/partner with European and global research centres in the same area; enhance the profile of Maynooth's School of Law & Criminology for post-graduate recruitment; and foster collaborated outreach and engagement on matters of crucial societal importance related to the field of Law & Technology.
Researchers in the Technology Law & Policy Centre study the role of technology in contemporary society, how technology challenges the orthodox legal framework (facilitated by continuously evolving technological innovations) and addresses how law and policy may be adapted to suit contemporary needs. Centre members' work takes technology as a central focus of their work, and study technology through a legal and policy lens in a way that benefits society. Evidence of the impact of Centre members on the field of Law and Technology includes: multiple monographs, textbooks, and edited collections in the field, publications in leading Law and Technology journals, representation on Government councils as well as national and international working groups grappling with pressing Law and Technology issues, success in attracting funding supporting Law and Technology projects, and speaking invitations at Oireachtas committees.
The Centre offers research-led teaching on matters related to Law and Technology that brings students at undergraduate and postgraduate levels into close contact with the legal issues presented by innovations in technology. Several of our Ph.D students are actively working on projects exploring Law and Technology issues ranging from Artificial Intelligence, online disinformation, and the sharing of indecent images without consent. Most recently the Law MA Placement module has linked up to Trilateral Research, a multidisciplinary consulting and technology development company, to take on students studying data, privacy, and surveillance. Engagement with wider society extends beyond our members' research and policy efforts to our teaching offerings as demonstrated by new placements established for postgraduate students with partners such as Privacy Engine and the AI developer, Altada. At undergraduate level, the Law and Technology module has established partnerships with large law firms.
The Centre's Irish locale means that it is based in the European Union (and often European, Middle East, and Africa) home for the majority of the world's largest technology companies. This has previously facilitated member engagement with both technology and regulatory leaders. As such, it is a strategic priority for the Centre's members to expand its research, teaching, and leadership in Law & Technology, including advancing understanding of the internet as well as automation and their impacts in society. The Centre is also involved in interdisciplinary collaborations with other departments, universities, and organisations.

Current Course Offerings
Undergraduate
Law & Technology LW121
New Perspectives on Law and Technology LW222
An Introduction to Cyber/Crime & Technology LW226
Advanced Perspectives on Law and Technology LW321
Media Law LW360
Law and Biotechnology LW426
Intellectual Property Law LW457
Labour Law and the Digital Economy LW495
Contemporary Issues in Medicine and Law LW469
Intellectual Property and Disruptive Technologies LW499
Postgraduate
Patents, Health and Biotechnology LW610
Bioethics, Health and Human Rights: Contemporary Issues LW668
Information Privacy Law LW647
Information Technology Law LW685
Introduction to Surveillance Studies LW689
There are also postgraduate placement and dissertation opportunities.

Centre Members
The Centre is home to researchers and instructors specialising in the legal and policy aspects of information technology, intellectual property, and technological innovations as found in multifarious settings, including the workplace, the home, in healthcare, in business, in citizen-state interactions, and in public. This work touches on myriad facets of Law & Technology including: artificial intelligence, automation/robotics, 'big data', biotechnology, cybersecurity, data protection, digital commerce and virtual currencies, digital rights, intellectual property, mobile surveillance technologies, emerging health technologies, as well as the regulation, governance, and dispute resolution of online telecommunications, privacy
Centre members (alphabetically) are:
Dr. Ciara Bracken-Roche
Dr. David Cowan
Dr. David Doyle
Dr. Neil Maddox
Dr. David Mangan
Professor Aisling McMahon
Dr. Maria Murphy

Current projects can be seen on the Centre's webpages.