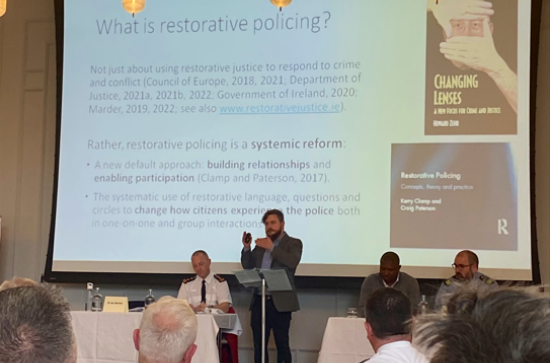 Friday, November 4, 2022 - 09:30
On Tuesday 18 October 2022, Dr. Ian Marder spoke about restorative policing at a conference in Naas, Co. Kildare. The conference, organised by Kildare's Joint Policing Committee and attended by around 70 senior and junior Gardaí, parliamentarians and councillors, and local service providers, focused on the topic of improving community relations through community policing and restorative policing. The three other speakers included Superintendent Padraic Jones (An Garda Síochána, National Community Engagement Bureau), Gary Cogan (An Garda Síochána, Co. Kildare) and Jermaine Harris (Chicago Police Department, Community Policing Sergeant).

In Ian's presentation, he discussed police culture and cultural change, restorative policing as a concept and the practical tools that Gardaí could use to embed restorative policing in one-on-one interactions with victims of crime and other citizens, to facilitate group dialogue, and internally within the force.

Focusing primarily on the use of restorative circles to build understanding and relationships between the police and marginalised communities, Ian drew on published case studies in which the police spoke with members of the Traveller community, with residents in a direct provision centre, and with young Black adults in Blanchardstown. He also made reference to cases in which Gardaí had facilitated circles to heal communities after a gas explosion in a residential area, and where external practitioners were invited to facilitate circles among senior Gardaí to discuss the force's culture back in 2017.

This was the first time Ian had spoken publicly about the work in Blanchardstown. Funded by the Irish Research Council, this work is currently being evaluated. Related to this project, Ian has now published a short briefing (in collaboration with the project's research assistant, Katharina Kurz), a press release, an article for RTÉ, and a pre-publication journal article which outlines the dialogue process and shows an annotated version of the script that was used (in collaboration with Kurz and with the co-facilitators of the dialogue process, Isreal Ibeanu and Dáire O'Neill).

In Maynooth, Ian teaches restorative policing in LW687 Restorative Justice on the MA in Comparative Criminology and Criminal Justice, and in LW269 Policing on the BCL in Law and Criminology and on the Arts degree, in which students can major or minor in criminology.