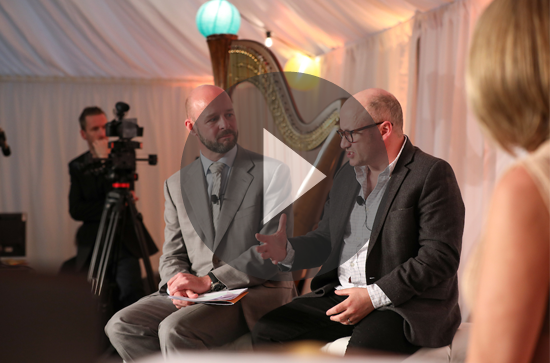 Saturday, June 16, 2018 - 18:45
Maynooth University celebrated its 21st birthday as an institution by honouring some of Ireland's leading voices in arts and culture at a gala Summer Soirée and awards ceremony on Saturday, 16 June.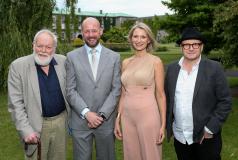 The event fell 21 years to the day that the Universities Act was signed, creating Ireland's newest university—then known as the National University of Ireland, Maynooth—a university independent from St Patrick's College, Maynooth, whose history dates to 1795.
The highlight of the evening was the presentation of two new sets of inaugural awards: The Maynooth University President's Medal and the Maynooth University Award for Arts and Culture.
This year's recipients include: Oscar-nominated Irish film director Lenny Abrahamsom, presented with the 2018 Maynooth University President's Medal; acclaimed Irish poet Michael Longley and 1996 Eurovision song contest winner and a graduate of Maynooth University, Eimear Quinn, both of whom were presented with the 2018 Maynooth University Award for Arts and Culture.
Director and screenwriter Lenny Abrahamson is well known for his work on critically acclaimed independent films such as Adam & Paul, What Richard Did, and Frank. In 2015, he received widespread praise for his film adaptation of the novel Room, which led to his first Oscar nomination as Best Director.
Born in Belfast, poet Michael Longley, CBE, is recognised as one of Ireland's foremost poets. With a literary career that spans decades, some of his best-known works, such as 'Ceasefire' and 'Wounds', offer emotive insights into life during The Troubles, alongside his finely-tuned sensibility to the beauty of the natural world.
Holding an honours degree in music from Maynooth University, Eimear Quinn is one of the most celebrated Irish voices of her generation, fusing a genre of folk and classical, sacred and medieval. She won the Eurovision for Ireland in 1996 with her performance of Brendan Graham's composition The Voice. Since then, Quinn has collaborated with a number of international composers on a range of projects, and has performed in Australia, America and all over Europe in venues, including The Royal Albert Hall, The Sydney State Theatre and the Vorst National Brussels.
Maynooth University's Summer Soirée included a full programme of exciting performances and cutting-edge, interdisciplinary installations and lightning talks by Maynooth University lecturers, post-graduate students, and alumni.
President of Maynooth University, Professor Philip Nolan, announced plans for a new arts and cultural centre at Maynooth University, part of the next phase of the rapidly growing university's campus master plan.
Commenting on the proposed development, Prof Nolan said: "Our plan is to bring a new, much- needed hub for arts and culture to the West-Dublin/North Kildare region. We believe an arts and cultural centre will serve as an integral resource for both traditional academic learning and the learning that students experience through co-curricular activity. The centre also will be an important resource to the wider community and region, providing a space to host everything from musical and theatrical performances to art exhibitions and talks."
Speaking about the awards Prof Nolan added: "Maynooth University is an institution with a strong reputation for research and teaching in the arts and humanities. The institution has always placed a premium on what literature, film, and music can teach us. Tonight's awardees reflect that institutional value.
Not only have tonight's awardees all found extraordinary levels of success on the global stage, but more importantly, they have helped us understand Ireland, and indeed, ourselves, through their artistic endeavours. We are proud to welcome them to campus and recognise their many contributions and achievements.
Today at Maynooth, academics are reimagining how the public engages with the arts, by collaborating with colleagues across the sciences and social sciences to come up with new and innovative ways to understand and think about the world. That's something we tried to reflect with tonight's event, the spirit of youth and dynamism of Maynooth University at 21."
About Maynooth University
On 16 June, 2018, Maynooth University celebrates its 21st birthday, having been formally established as an autonomous university in 1997.
Maynooth University is among the top 100 global universities under 50 years old, in the latest Times Higher Education (THE) Young University Rankings.
Today, Maynooth University is Ireland's fastest growing university with more than 12,000 students, including almost 1,600 taught postgraduate and professional students and more than 400 research students.
Tugann Ollscoil Mhá Nuad onóir d'aíonna speisialta ag Soirée an tSamhraidh agus í ag ceiliúradh 21 bliain a bunaithe
Rinne Ollscoil Mhá Nuad ceiliúradh ar 21 bliain a bunaithe mar institiúid trí onóir a thabhairt do chuid de na glórtha is tábhachtaí i gcúrsaí ealaíon agus cultúir in Éirinn ag Soirée an tSamhraidh agus ag searmanas bronnta ar an Satharn, 16 Meitheamh.
Reáchtáladh an ócáid seo 21 bliain go díreach ó síníodh Acht na nOllscoileanna, lenar cruthaíodh an ollscoil is óige in Éirinn – Ollscoil na hÉireann, Má Nuad mar a tugadh uirthi ag an am – ollscoil a bhí neamhspleách ó Choláiste Phádraig, Má Nuad, a bunaíodh sa bhliain 1795.
Bhí bronnadh dhá sheit nua de ghradaim thionscnaimh: Bonn Uachtarán Ollscoil Mhá Nuad agus Gradam Ealaíon agus Cultúir Ollscoil Mhá Nuad 2018, mar bhuaicphointe na hoíche.
Bhí Lenny Abrahamson, stiúrthóir scannán Éireannach a bhfuil ainmniúchán do ghradam Oscar gnóthaithe aige, i measc na ndámhachtaithe. Bronnadh Bonn Uachtarán Ollscoil Mhá Nuad air. Bronnadh Gradam Ealaíon agus Cultúir Ollscoil Mhá Nuad 2018 ar an bhfile Éireannach, Michael Longley, agus ar Eimear Quinn, céimí de chuid Ollscoil Mhá Nuad a bhuaigh Comórtas Amhránaíochta Eoraifíse sa bhliain 1996.
Tá cáil ar an stiúrthóir agus ar an scríbhneoir scripte scannáin, Lenny Abrahamson, as a chuid oibre ar scannáin neamhspleácha ar nós Adam & Paul, What Richard Did agus Frank, scannáin a bhfuil moladh na léirmheastóirí faighte acu. Sa bhliain 2015, d'éirigh leis moladh forleathan a fháil dá chóiriú scannáin den úrscéal Room, tionscadal a bhain a chéad ainmniúchán do ghradam Oscar (An Stiúrthóir is Fearr) amach dó.
Rugadh Michael Longely, CBE, i mBéal Feirste agus aithnítear go bhfuil sé ar dhuine de na filí is iomráití in Éirinn. Tá gairm liteartha aige a mhair thar na blianta agus tugann cuid de na saothair is cáiliúla dá chuid, mar shampla 'Ceasefire' agus 'Wounds', léargas corraitheach ar an saol mar a bhí sé le linn na dTrioblóidí agus tá cáil air freisin as an léiriú mothálach a dhéanann sé ar an áilleacht a bhaineann leis an domhan nádúrtha.
Tá céim onóracha sa cheol bainte amach ag Eimear Quinn ó Ollscoil Mhá Nuad agus tá sí ar cheann de na glórtha Éireannacha is iomráití dá glúin. Éiríonn léi seánra tíre agus clasaiceach, diaga agus meánaoiseach a thabhairt le chéile. Bhain sí an comórtas Eoraifíse amach ar son na hÉireann sa bhliain 1996 nuair a chas sí The Voice, saothar de chuid Brendan Graham. D'oibrigh sí le cumadóirí idirnáisiúnta éagsúla ó shin ar réimse de thionscadail agus tá taispeántais tugtha aici san Astráil, i Meiriceá agus san Eoraip in ionaid éagsúla lena n-áirítear Amharclann an Royal Albert, Amharclann Stáit Sydney and in Amharclann Náisiúnta Vorst sa Bhruiséil.
Mar chuid de Soirée an tSamhraidh, bhí clár lán de thaispeántais iontacha agus de thaispeántais spreagúla, cuir i láthair ceannródaíocha agus idirdhisciplíneacha, agus cainteanna gearra ó léachtóirí, ó mhic léinn iarchéime agus ó alumni de chuid Ollscoil Mhá Nuad.
D'fhógair Uachtarán Ollscoil Mhá Nuad, an tOllamh Pilib Ó Nualláin, na pleananna atá ann d'ionad ealaíon agus cultúir nua in Ollscoil Mhá Nuad, ar ionad é a bheidh mar chuid den chéad chéim eile de mháistirphlean campais na hollscoile, ollscoil atá ag fás go sciobtha.
Agus é ag caint faoin bhforbairt atá beartaithe, dúirt an tOllamh Ó Nualláin: "Tá sé i gceist againn mol do na healaíona agus don chultúr a chur ar fáil do réigiún Bhaile Átha Cliath Thiar / Chill Dara Thuaidh. Creidimid go bhfeidhmeoidh ionad ealaíon agus cultúir mar acmhainn lárnach don fhoghlaim acadúil traidisiúnta agus don fhoghlaim a dhéanann mic léinn trí ghníomhaíochtaí comhchuraclaim. Beidh an t-ionad ina acmhainn thábhachtach don phobal i gcoitinne agus don réigiún, mar go mbeidh spás ann chun gach cineál taispeántais a chur ar fáil – idir thaispeántais cheoil agus amharclannacha agus thaispeántas ealaíne agus cainteanna."
Agus é ag labhairt faoi na gradaim, dúirt an tOllamh Ó Nualláin: "Tá clú ar leith ar Ollscoil Mhá Nuad mar institiúid atá láidir ó thaobh an taighde agus an teagaisc de sna healaíona agus sna daonnachtaí. Bhraith an institiúid i gcónaí go raibh luach ard ag baint leis an méid is féidir le litríocht, scannáin agus ceol a mhúineadh dúinn. Tá an luach institiúideach sin á léiriú ag dámhachtaithe na hoíche anocht.
"Ní hamháin gur éirigh le dámhachtaithe na hoíche anocht a bheith an-rathúil ar an ardán domhanda ach níos tábhachtaí fós, chabhraigh siad linn tuiscint níos fearr a fháil ar Éirinn agus fiú orainn féin trína gcuid n-iarrachtaí ealaíne. Tá bród orainn cuireadh a thabhairt dóibh teacht chuig an gcampas agus aitheantas a thabhairt don mhéid atá déanta agus bainte amach acu.
"Tá athshamhlú ar bun ag na hacadóirí in Ollscoil Mhá Nuad ar an teagmháil a bhíonn ag an bpobal leis na healaíona trí obair a dhéanamh le comhghleacaithe ar fud na n-eolaíochtaí agus na n-eolaíochtaí sóisialta le bealaí nua agus nuálacha a cheapadh chun tuiscint a fháil ar an domhan agus ar an gcaoi a smaoinímid faoi. Rinneamar iarracht an méid sin a léiriú san ócáid anocht; spiorad na hóige agus dinimiceas Ollscoil Mhá Nuad agus í ar an bhfód le bliain is fiche anuas."

Mar gheall ar Ollscoil Mhá Nuad
Ar an 16 Meitheamh 2018, rinne Ollscoil Mhá Nuad ceiliúradh ar 21 bliain a bunaithe. Bunaíodh í mar ollscoil fhéinrialaitheach sa bhliain 1997.
Tá Ollscoil Mhá Nuad i measc an 100 ollscoil is fearr ar domhan faoi 50 bliain d'aois dar leis an rangú is déanaí atá déanta ag Times Higher Education (THE) ar ollscoileanna óga.
Is í Ollscoil Mhá Nuad an ollscoil is gasta fás sa tír i láthair na huaire. Tá breis agus 12,000 mac léinn ag freastal uirthi faoi láthair lena n-áirítear 1,600 mac léinn a bhfuil iarchéim teagaisc ar bun acu nó ar mic léinn ghairmiúla iad, chomh maith le breis agus 400 mac léinn taighde.