In medieval Ireland, Christmas was not as big a festival as Easter but was still considered a time of feasting and rest, writes Dr Niamh Wycherley, Department of Early Irish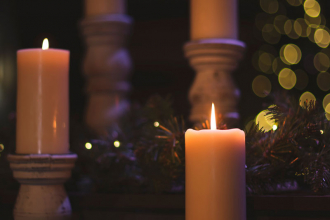 Contrary to claims by some modern 'Celtic' druids on the internet, it is, unfortunately, not possible to reconstruct what any Christmas, winter festival, or pagan traditions and rituals may have looked like in pre-Christian Ireland.
But even if we cannot know what pre-Christian religion in Irish history looked like, we do have a few tantalising snippets in the written sources which offer insight into how other faiths were perceived by Christians, from whom most of written sources come.
St Patrick, for example, writing in the fifth century, criticized sun worship, proclaiming that believers in Christ adore him who is 'the true sun'. In a particular early Irish chant for the first hour of Christmas Day, there is no mention of the birth of Christ. The antiphon instead focusses on the joy of the monks at the prospect of shrinking hours of darkness following the winter solstice and the promise of increasing light each day. Even though we now enjoy the benefits of electricity, illuminating the diminishing daylight hours, I am sure we can all empathise with the clerics' anticipation of brighter days ahead (and given '2020', I mean that both literally and metaphorically!).

While we brighten the winter gloom with a seemingly ever-increasing abundance of twinkling Christmas fairy lights, our medieval ancestors relied on candlelight. In the ninth century Irish text, the 'Voyage of St Brendan' (Navigatio sancti Brendani), Brendan and his monks celebrate Christmas on the island of St Ailbe, 'during which they observe the altar lamps being magically set alight by a flying arrow, the candles burning without being consumed because the light is of a spiritual kind'. This tale has been termed a medieval bestseller on account of its popularity across medieval Europe and was the inspiration for Tim Severin's famous Atlantic voyage in 1976.

Christmas, of course, by definition, is a Christian celebration. In medieval Ireland, Christmas was not the big festival that it is today, and it receives much less attention in texts like the 'Voyage of St Brendan' than Easter, which marked the pinnacle of the liturgical calendar. There are enough references in the written texts, however, to indicate that it was a special time, marked by feasting and rest.

According to early Irish law, for example, commoners were allowed a certain type of bread (most likely wheaten) on Easter, Christmas and Sundays. Similarly, Dublittir (d.796), abbot of Finglas, a church which observed a strict ascetic lifestyle, permitted a relaxation of the rules during the feasts of Christmas, Easter, and Whitsun, while another set of monks' rules laments the drunkenness of some clerics during these same holy festivals. Brennu-Njáls Saga, a later medieval Icelandic literary tale, provides an evocative depiction of a lavish Christmas feast slash political summit attended by Sitric Silkenbeard, 'Hiberno-Norse' king of Dublin (and my candidate for top Dubliner of all time), in 1013.

While this account is perhaps a dramatic fiction, it does convey how Christmas was a time for significant political events and displays of hospitality. There are a number of references in the sources of the kings spending Christmas in important monasteries such as Clonmacnoise and that taxes and dues were also to be paid at that time. According to Brennu-Njal's Saga, Sitric of Dublin was at the court of fellow so-called 'viking' leader Earl Sigurd of Orkney to drum up support against Brian Boru in what became the Battle of Clontarf. Recently acknowledged as 'Emperor of the Irish', Dublin was resisting the overlordship of the man from Munster (nothing new here then!). According to another literary account of the events surrounding the Battle of Clontarf, the 'War of the Irish against the foreigners' (Cogadh Gaedhel re Gallaibh), Brian Boru tired of his siege of Dublin in the winter of 1013 and returned home to Munster for Christmas, to rest and regroup. He returned East in January, according to the story, rested after the break, and intensified his efforts to bring the Dubs to heel, ultimately culminating in the Battle of Clontarf, at Easter 1014.

The word for Christmas in medieval Irish was Notlaic (modern Nollaig), derived from the Latin natalicia meaning 'birth'. While Notlaic Mór designated Christmas Day, the big day itself, the Feast of the Epiphany on the 6th of January was referred to as Notlaic Becc, 'Little Christmas'. The language reflects the understanding in medieval Ireland of this time as a defined, bookended period. The Annals of Ulster, for example, record that in the year 1234 there was a heavy fall of snow eter dá notlaic 'between the two Christmases'. https://www.ria.ie/news/publications-focloir-stairiuil-na-gaeilge/history-ireland-100-words-christmas-special
We too might take the opportunity to rest up 'between the two Christmases' before tackling whatever is ahead of us with renewed energy in 2023. Nollaig shona daoibh go léir!