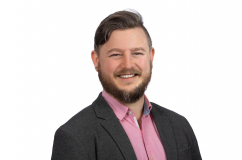 Sentencing guidelines can help create a smarter criminal justice system writes Dr Ian Marder, MU School of Law and Criminology
People generally appreciate that crime has societal causes, rehabilitation should be a core goal of justice, and we can reduce crime by helping people solve problems they face in their lives. In this regard, Ireland has come a long way in recent years. We still largely avoid assuming that harsh punishment makes us safer, a trap some neighbours have succumbed to. We know that punishment does not deter people from offending. Instead, contact with the criminal justice process is too often a dead-end road off which there are few opportunities to turn.
While much more can be done, we are investing cautiously in common sense pathways out of crime, including education, drug treatment, housing and employment. A High-Level Taskforce is considering the mental health and addiction challenges of persons interacting with the criminal justice system. We are finally seeing new resources for victim services and support. Unlike court processes, which often retraumatise victims, these services can help people cope and recover from what happened. Again, more is needed here. But policies such as paid leave for victims of domestic abuse represent a growing recognition that supporting victims requires out-of-the-box thinking.
Still, our criminal justice system is outdated. For example, we could update and expand procedures for resolving crimes without going to court. This will help us deal with enormous court backlogs, and make it more likely that we reduce crime and meet victims' needs. More broadly, we should rethink how justice can help everyone – given that most people have been both a victim and a perpetrator of crime at some point in their lives – to reach their full potential and contribute positively to communities.

The role of sentencing guidelines
Simply put, sentencing guidelines are documents that contain guidance, beyond that which exists in law, for judges to follow when sentencing a person who is found guilty or who pleads guilty at court. In Ireland, judges have considerable freedom, or discretion, when selecting the sentence they think is appropriate. This permits judges to individualise sentencing based on each case's unique factors. Two cases that look similar on paper can be different enough to warrant different responses, if the goal is to keep society safe and meet individual needs. Yet, discretion has also led to accusations of inconsistency: that 'like cases' are not being treated alike. Guidelines can include sentencing principles, lists of aggravating and mitigating factors, and ranges within which sentences should fall. Theoretically, they tackle inconsistency, while permitting judges to address individual circumstances. But guidelines also provide an opportunity to pivot our justice system in a common sense direction.
Sentencing guidelines in Ireland
The Judicial Council Act 2019 created a Sentencing Guidelines and Information Committee (SGIC), composed of judges and lay members. The SGIC's functions include drafting sentencing guidelines, monitoring their operation, and collating information on sentences in Ireland. Recognising that we lack the data on current sentencing practices on which to base new guidelines, the SGIC has rightly begun by studying how other countries collect and analyse sentencing data. The SGIC is correct not to rush into writing guidelines while basic questions about current practice remain unanswered. This pause creates an opportunity for civil society to have a conversation about what sentencing guidelines should say, and what their goals and focus should be.
Priorities for sentencing guidelines
Before we draft offence-specific guidelines, there must be guidelines on the principles and purposes of sentencing. This would allow us to start by clarifying what sentencing should aim to achieve. We could begin by providing a core principle of sentencing: sentences should be fair, proportionate and contribute towards the safety, health and connectedness of our communities.
Later guidelines can then encourage sentences that support these aims, and discourage those that do not. In practice, the core principle stated above requires that more people serve their sentence in the community. This would permit victims and communities to have a say in how they make amends in a tangible way and allow for better access to services that prevent reoffending. It would also avoid the stigma, isolation and disconnection from society that explain why imprisonment likely increases reoffending.
This aligns with an evidence-based approach to sentencing that reduces reoffending. Many people are sent to prison for offences stemming from addiction or mental health issues, when we know that our money is better invested in health and preventative services that address these issues directly.
Further, hundreds of people are given short prison sentences of three months or less. This is long enough to destroy such social bonds as family, housing, employment and education that prevent crime, without enabling meaningful treatment and intervention.
Smart justice requires bravery
On smart guidelines, Scotland took a large step in its recent guideline for sentencing young people. This aligns with research by recognising that young people under 25 have a 'lower level of maturity', which judges must take into account to avoid sentences that inhibit young people from contributing positively to society in the future. It explicitly prioritises rehabilitation as a 'primary consideration' when sentencing this age group.
Ireland, too, can be forward thinking and evidence-led in developing its sentencing guidelines. Why follow some countries down a path that makes us less safe, when others – such as the Netherlands and Norway – take a different approach that corresponds with what we know about how to reduce reoffending, and is more humane at the same time? Sentencing guidelines provide an opportunity to look at justice through a new, smart lens – if we have the courage to do so ourselves.
Dr Ian D. Marder of MU School of Law and Criminology. This article originally appeared in RTE Brainstorm, August 2022