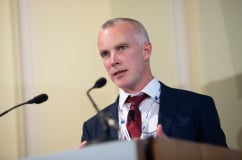 AIRO's databank of publicly accessible information has become a 'pulse' of how Ireland is operating across a wide range of sectors, writes Justin Gleeson, Director of the All-Island Research Observatory (AIRO)
For over a decade, the All-Island Research Observatory (AIRO) research team and consulting unit based at MU's Social Science Institute (MUSSI) has been focused on bringing our analytical expertise to the heart of planning and policy decision making in Ireland.
AIRO specialises in socio-demographic analysis, spatial analysis (GIS), spatial planning, and data analytics. For us as a team, knowledge of, and access to an increasingly wide range of social, economic, and environmental data is always at the forefront of our research interests. The growing databank of publicly accessible information has become a 'pulse' of how Ireland is operating across a wide range of sectors.
However, a vital element in the 'data for decision-making' approach is not simply about access and availability to the data. It's a far more nuanced and qualitative understanding of what the data is actually about, and how it can be used to inform and shape some of Ireland's most pressing social issues.
Combining this expert understanding of Ireland's data with state-of-the-art mapping and data visualisation toolkits has allowed AIRO to assist in a series of diverse national planning and policy projects in recent years.
Working with national and regional planning authorities, AIRO provided detailed analytical and spatial analysis inputs to both the National Planning Framework (NPF) and the three Regional Spatial and Economic Strategies (RSES). In collaboration with the Irish Research Council and the Oireachtas, AIRO developed a report on the socio-economic status of Gaeltacht Areas across the State.
More recently, the team worked with TUSLA on a review of the provision of accommodation for victims of domestic violence. This important geographic analysis of the existing provision of refuges and safe accommodation in Ireland helped with identifying service gaps and the major challenges in provision for both our existing and future population.
For many years, AIRO has also had a Memorandum of Understanding with Ordnance Survey Ireland (OSi) and has used OSi mapping products as the backbone to its research work. Most significantly, AIRO uses the GeoHive platform, developed by OSi, to make its data and research available to public sector organisations and the general public.
To date, this excellent example of public sector partnership has launched the Dublin Housing Observatory (DHO) mapping portal and the Environmental Protection Agency (EPA) funded Environmental Sensitivity Mapping (ESM) toolkit.
The experience of this 'data analytics' and 'infrastructure' partnership was also central to Ireland's response to the COVID-19 pandemic and the development of their Covid-19 hub became the go-to information hub for anyone following the spread of the disease in Ireland.
Over the coming months, AIRO and OSI will be launching two new infrastructures: the Regional Development Monitor (RDM) which will be international best practice and a showcase of how to provide access to and monitor regional planning data, and in collaboration with Women for Election, the team will launch a portal on female participation in all levels of politics in Ireland.
The team at AIRO is now also working closely with a range of Maynooth University administrative units to bring their skill-set and analytical approach to assist in internal decision-making. For instance, AIRO has been working with the Maynooth University Access Office on the HEA funded College Connect project.
Working in collaboration with Maynooth University, DCU, TUS-Athlone, and DkIT, this project aims to increase HEI participation for potential students from a range of socio-economically disadvantaged communities. The work of AIRO is central to the overall project data strategy and they have developed a series of analytical tools for reporting on and visualising community engagement with the four HEIs.
In parallel to this project, AIRO is also working with the Equality, Diversity, and Inclusion Office (EDI) on various Athena Swan applications and the development of a new EDI Data Hub for the University. A key action from the Maynooth University Athena Swan Action Plan was the work of AIRO on the establishment of the National Gender Equality Dashboard for Higher Education Institutes (HEIs). The team is also supporting the Admissions Office in the mapping and visualisation of student enrolment flows from schools across the country.
Photo courtesy of Myriam Jessier on Unsplash