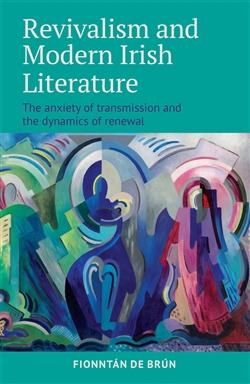 As we commemorate a decade of centenaries, we hear a lot about the 'Irish Revival' – Yeats, Gregory, the Gaelic League – and its importance to the movement which brought about an independent Irish state in 1922.
Yet, was this the only revival in Irish history? Weren't there other revivals which predate the 'Irish Revival' of the 1890s to 1920s?
Nua-Ghaeilge Professor Fionntán de Brún
has traced the phenomenon of revivalism and finds, that it is more appropriate to speak of a
tradition
of revivalism which, in the case of the Irish language for example, goes back to at least the seventeenth century.
"Rather than concentrating solely on specific historical revivials we need to examine revivalism, in Ireland and elsewhere, as part of the broader history of ideas," Prof de Brún explains.
"My research begins by locating revivalism within ideas expressed in philosophy, religion, psychology and other discourses, and shows how these ideas have been developed in Irish literature over the past four centuries."
His research is published in Prof de Brún's new book,
Revivalism and Modern Irish Literature: The anxiety of transmission and the dynamics of renewal (Cork University Press).
Among his various conclusions is that the revival and renewal of culture in Ireland was not a phenomenon exclusively associated with the nationalist movements of the 19th and 20th centuries.
For example, religious movements and their adversaries have often sought to harness a revival of literacy in Irish to their own particular aims.
"Irish authors of the Catholic Counter-Reformation in the seventeenth century, brought about the first sustained printing of books in Irish, all of this being initiated in various Irish colleges in mainland Europe," Prof de Brún says.
"In the eighteenth century, the freethinker and radical, John Toland, sought to uncover the tradition of ogham writing, which, he argued, had been repressed by the introduction of Christianity to Ireland with its 'book burning and letter-murdering humor'.
"In the nineteenth century, Protestant evangelical societies travelled as far as New York to hawk their religious publications in Irish in a movement dubbed the Second Reformation.
"In the twentieth century, the Gaelic Leaguer and leader of the 1916 Rising, Patrick Pearse, encountered the remnants of this movement in the form of one of the 19th-century Connemara Bible-society colonies, of which one old man read his Irish Bible to him and argued with him for an hour.
Each of these examples, over consecutive centuries, shows how the contestation of religious beliefs has intersected with and influenced the progress of revivals of literacy and literature in Irish.
"In other words, far from being an invention of cultural nationalism, revivalism has spanned a variety of discourses and spheres of influence," he says.
This research addresses an important gap in our understanding, in that we tend to speak of specific revivals but not about revivalism itself.
Such an omission, de Brún argues, prevents us from recognising revivalism as a critical cultural practice which spans geographical and historical boundaries, de Brún argues.
Prof de Brún's book is the culmination of a number of years of research, for which he received the award of a Leadership Fellowship from the UK's Arts and Humanities Research Council in 2016-17, for his work titled
'Rethinking Revivalism: a conceptual case study in Modern Irish literature'.
Prof de Brún's
book will be launched at this year's Léachtaí Cholm Cille conference on Friday 26th April at 8pm, in Renehan Hall.