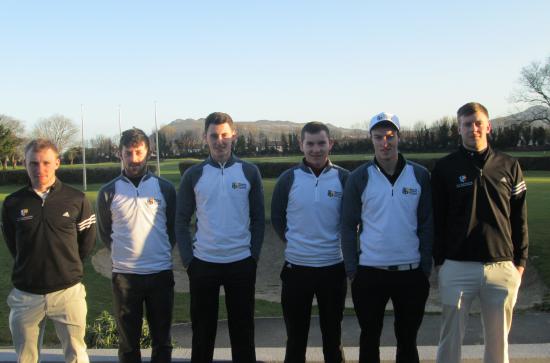 Friday, March 13, 2015 - 00:00
CHAMPIONHSHIP FINAL - Maynooth University 1.5 University College Dublin 3.5
Maynooth University (b) was defeated by a strong UCD side in the final of the Irish Colleges Match Play Championship at Woodbrook Golf Club. ​Maynooth (b) was unable to emulate theeroic performance against Maynooth (a) in the semi-finals and struggled to keep up their spirited momentum in the final.
Maynooth's Daragh Congdon continued his solid form into the afternoon and beat UCD's Ted Collins on the 17th to strike first blood to Maynooth. Congdon proved to be Maynooth's leading point's scorer with three points from three matches in the finals. Second year Jack McDonnell was drafted back in to the team for the final and found himself four holes down through five holes. McDonnell battled back into the match to close the gap to two holes through twelve holes but was eventually beaten on the 16th.

At one point a piece, the momentum shifted to UCD who had a significant leads in matches four and five entering the closing holes. Maynooth's team captain Stephen Kinch looked in pole position to clinch his match on the 17th but failed to get up and down for par and then halved the 18th to force his match into extra holes.
Final year Eoghan O'Donovan, struggled to settle into his rhythm on the opening holes and couldn't overturn Jonathan Yates, a former
Maynooth player who won on the 15th. In the final match, Sean Walsh from Carton House faced the recently crowned Irish Inter varsity champion Alex Glesson. The former boys international built a significant lead against Walsh and kept the pressure on the back nine to win on the 15th. Glesson's match clinched the victory for UCD while team capatain Kinch was called in on the 20th where he was still battling to seal a point.

A superb campaign for the Maynooth (b) team who have improved greatly since their victory in the Match Play Plate competition last year. Maynooth University has been beaten in the final of the last three championship finals and will have to wait until next March to seal the elusive match play championship last won in 2011.
Maynooth University 1.5 University College Dublin 3.5
Stephen Kinch halved with John Conroy
Darragh Congdon beat Ted Collins 2/1
Jack McDonnell lost to John McCarthy 4/2
Eoghan O'Donovan lost to Jonathan Yates 4/3
Sean Walsh lost to Alex Gleeson 4/3

SEMI- FINALS - Maynooth University (a) 2 Maynooth University (b) 3

Maynooth University (b) edged Maynooth University (a) by winning the deciding match in extra holes in a thrilling semi-final encounter. Maynooth (b) revelled in being the underdogs and produced a brilliant performance to beat there (a) team counter parts.

Maynooth (a) bagged an early point as Robin Dawson defeated fellow Munster player Kieran Lynch on the 11th in match one. The senior international continued his winning form as he built an early lead over Lynch and finished it off with some excellent birdies around the turn. First year scholar, Jack Walsh went down early on against Daragh Congdon who played solidly and and closed out the match on the 15th. The third match was a dual of the team captains which went to Maynooth (a) talisman Gary Hurley on the 15th. Maynooth's leading scholar Hurley was in no mood to let his side down after captaining Maynooth (a) to a final defeat in 2014 and a runner - up in 2013.

Maynooth (a) had the advantage leading by two points after wins by Dawson and Hurley and looked favourites to clinch the match towards the closing holes. In match four, international Stuart Grehan overturned a three holes deficit to lead by one with three holes to play against local Carton House man Sean Walsh. In the final match, senior development player Eoghan O'Donovan maintained a two hole lead against former boys international Flanagan for most of the back nine. Flanagan recently finished second at the Irish Intervarsity Championship an despite his good form of late he couldn't overturn and determined O'Donovan who won on the 17th.

At two points each, it was down to the deciding match between Grehan and Walsh. Grehan made some poor errors on the 16th by chipping his third shot well past the pin and then proceeded to three putt for a double bogey six to lose the hole to Walsh's bogey five. On the 17th, Walsh hit the better tee shot to eight feet but took three putts for a bogey four to lose the hole to Grehan's par. Grehan now one hole ahead playing the 18th could only watch as Walsh produced a superb approach shot to two feet which he had to concede for a birdie. Grehan proceeded to hit the back of the green and failed to convert his putt which meant the match was back to all square and had to go to sudden death extra holes.

On the 19th both players found the par five in regulation and had long putts for birdie. Grehan putting down the green edged his putt two feet past the cup while Walsh putting from the front of the green rolled his putt to the hole which was conceded for par. Unfortunately for Grehan his short par putt lipped out of the cup to the surprise of his on looking teammates which saw Walsh win the match and seal the victory for Maynooth (b).

Maynooth University (a) 2 Maynooth University (b) 3
Robin Dawson beat Kieran Lynch 9/7
Jack Walsh lost to Darragh Congdon 4/3
Gary Hurley beat Stephen Kinch 4/3
Stuart Grehan lost to Sean Walsh 19th
Sean Flanagan lost to Eoghan O'Donovan 2/1

QUARTER FINALS -IADT Dun Laoghaire 0.5 Maynooth University (a) 4.5 / Waterford IT 1 Maynooth University (b) 4
Maynooth (a) was quick out of the blocks against IADT Dun Laoghaire and managed to seal an early victory winning the first three matches comprehensively. Irish international Robin Dawson, came in with the first point of the morning after just 12holes with a 7&6 victory. Dawson was closely followed by fellow international teammate Stuart Grehan who also won his match on the 12th. Maynooth's Jack Walsh got the important third point on the board at the 15th hole which sealed victory for Maynooth. In the fourth match, first year Ronan Mullarney sealed a win just after Walsh on the previous 15th. Former boys international Sean Flanagan was called in on his 12th hole and was two holes ahead.

The B team also had a comprehensive victory over Waterford IT. Maynooth's Jack McDonnell went down early on in the first match but couldn't overturn his opponent and was beaten on the 15th. Maynooth's first point came from Eoghan O'Donovan in the final match who won on the 12th. First year, Sean Walsh continued his winning streak and won convincingly on the 14th. Maynooth had the upper hand with the remaining two matches all ahead entering the closing holes and needing just one point, Daragh Congdon closed out his match on the 16th.

IADT, Dun Laoghaire 0.5 Maynooth University (a) 4.5
Conor McGowan lost to Robin Dawson 7/6
Ian Bentham lost to Jack Walsh 4/3
Conor Nolan lost to Stuart Grehan 7/6
Marcus Looby lost to Ronan Mullarney 5/4
Marc Nolan halved with Sean Flanagan

Waterford IT 1 Maynooth University (b) 4
Dylan O'Connor beat Jack McDonnell 5/4
Niall Kennedy lost to Sean Walsh 5/4
Derek Power lost to Stephen Kinch 2/1
Glenn Austin lost to Darragh Congdon 3/2
Warren DeCourcy lost to Eoghan O'Donovan 7/6
Please click on the links below for more information:
Full results
News:
Scholars following Harrington's footsteps
UCD clinch Colleges Match Play tiltle
UCD, Maynooth and UCC domiante colleges Match Play