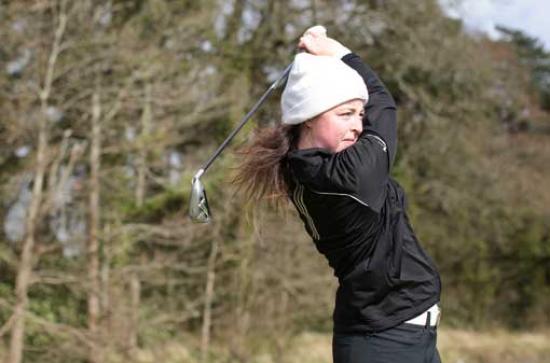 Tuesday, July 8, 2014 - 00:00
Maynooth University 's Declan Loftus (2nd Year Business & Management), Conor O'Rourke (2013 Alumnus) & Sinead Sexton (3rd Year Business & Management) recently competed for Ireland at the 15th World University Golf Championship's at Crans-sur-Sierre Golf Club in Switzerland.
Loftus & O'Rourke joined University of Ulster's Tiarnon McLarnon and Ohio based University of Toledo's Chris Selfridge to make up the four players in the Irish Men's team. Current Irish Intervarsity champion Loftus, got off to a solid start firing a level par 72 but struggled to keep up this form following up with rounds of 78, 77 & 81 to finish in tie for 50th place. O'Rourke shot an eleven over 83 on day one but managed to bounce back with solids rounds of 73, 72, and 71 to finish in a tie for 33rd place alongside teammate McLarnon. Selfridge, who earned a bronze medal with Team Ireland at 2012 championship, was the best placed Irish player finishing in 10th place on a one over total.
In the men's team event, Ireland got into a medal position after day three to lie in third place on a score of two over but unfortunately, couldn't produce on the final day shooting a team score of ten over to finish on twelve over and 8th place overall.
In the women's event, Sexton joined Dublin City University's Amy Farrell and University College Cork's Jean O'Driscoll to make up the three person Irish women's team. Sexton fired rounds of 77, 75, 71, and 82 for a ten over total to finish in 33rd place. The Ladies team posted a final score of fifteen over to finish in seventh place overall.
For full results - see here: http://www.pccaddie.net/realtime/scoring.php?event=8
The Paddy Harrington Golf Scholarship at Maynooth University has helped produce a total of fourteen Irish University athletes who have competed at World University games and championships since 2008.
In 2012, Gary Hurley (2nd Year Business & Management) won bronze with team Ireland at the 12th Word University Golf Championship in Czech Republic which was managed by Maynooth University golf manager Barry Fennelly. Other Maynooth University athletes include; Kelan MacDonagh (China, 2011) (Spain, 2010) & (South Africa, 2008), Barry Anderson (China, 2011), Louise Mernagh (China, 2011), Lucy Simpson (China, 2011) & (Spain, 2010), Ciara Butler (Spain, 2010), Sarah Cunningham (Spain, 2010), Tommy McGowan (Spain, 2010) , Richard Bridges (Spain, 2010), Brendan Walton (South Africa, 2008) and Danielle McVeigh (South Africa, 2008)