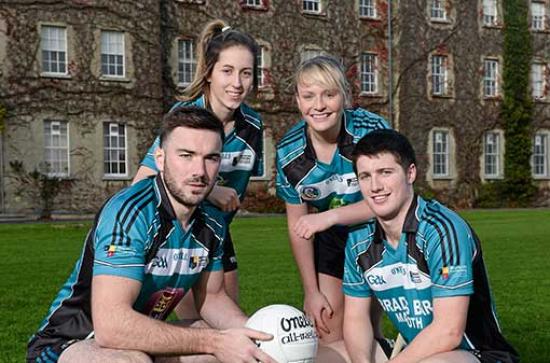 Friday, December 19, 2014 - 00:00
It has been a rollercoaster first semester for the GAA Club with plenty of excitement and top class action packed into the last few months.

With the business end of the season rapidly approaching in the new year, all four branches of the club have tasted success of one kind or another as they prepare for their respective championship battles in 2015.

Camogie

The Camogie club put up an excellent showing in Division One of the league before going on to defeat IT Carlow comprehensively in a Purcell Cup Qualifier in November. They will enter the group stages of the tournament proper with high hopes of progression to the weekend of the competition early next year. The league campaign in Division One started on a misty night in Belfield where they looked to have stolen the points with a late rally to snatch the lead with just two minutes remaining. UCD hit back though and they managed to find the net and eke out a 3-9 to 3-8 win in dramatic fashion. Buoyed by the performance against UCD, Maynooth went into their next round against DCU full of confidence and they took the honours 1-9 to 0-11 to record their first win of the season. Although they lost to DIT in the final group game, (after a walkover against UUJ), they managed to return to winning ways when they took on IT Carlow in the Purcell Cup qualifiers. Despite a less than convincing first half they turned in a goal-laden second period to grab a 6-4 0-8 win and a place in the group stages of the Purcell Cup.
Ladies Football

The Ladies Footballers began the season with a semi-final placing in the All Ireland Freshers Blitz in NUIG. The season proper began with a league game at home to UUJ which was won in emphatic style, a resounding 9-28 to 1-4. They continued their free scoring form away to St Pats of Drumcondra, winning comprehensively 7-19 to 1-8. In the third and final game of the group they fell behind to Trinity in Clann na Gael, before storming back with three goals in the closing minutes to grab a stunning smash and grab 6-8 to 5-9.
In the league semi final they hosted Mary I of Limerick, their conquerors in last year's Championship decider. This time Maynooth were too strong for their Munster rivals, bursting out of the blocks to build up a comfortable half time lead before easing to a 3-12 2-6 victory in the fog in Maynooth.
The Division 2 final saw a rematch with rivals Trinity but this time it was the Dublin college who gained the upper hand early on and it was a case of trying to play catch up for Maynooth in the second half. In the end despite a spirited fightback it was not enough to deny their visitors 4-11 2-11 the final score.

There was better news for the Division 4 side who had a walk-over against St Pats Thurles, before running up a big total (3-19 to 3-5) against Mary I's second team in the pouring rain in Maynooth. In the quarter finals they travelled to Galway and came away with a very impressive 3-14 to 1-7 victory. The winning run continued against UCD, in Belfield, sweeping in seven goals in in a high scoring battle, prevailing 7-14 3-12 at the final whistle.
They saved their best for last however as they ventured to Carlow for the league final and hammered the hosts 6-19 0-2 on a frosty evening, five goals coming in a resounding first half display which all but put the game to bed and end the season in style.

Men's Football

The Men's senior footballers season began with a home game against GMIT and in a closely contested affair they prevailed by three points, 1-10 to 1-7 on a tough night for football on the North Campus. Next up was an away game against University of Limerick in a pre-cursor to their Sigerson Cup meeting. On this occasion UL had the upper hand, taking the win, 2-9 to 0-11.
The final group game was a showdown with Sligo IT in the West, and despite a very encouraging opening half from Maynooth the home side clawed back the half-time deficit to edge through 2-11 to 0-12. That defeat left Maynooth out of the running for the league quarter-finals but they avoided a relegation battle by virtue of results elsewhere.
They bounced back from the disappointment of the league with a brilliant 3-13 to 1-16 victory in the O'Byrne Cup qualifier, grabbing a place in the group stages of the competition for the first time ever. They will face Dublin, Offaly and Laois in January.

The Intermediates beat GMIT in their first game of the season but the campaign ended away to UCC in the quarter-finals 0-20 to 1-7. The Juniors had a victory over GMIT and a defeat to UCD to their name but the Freshers had an excellent run all the way to the semi-finals of Division One of the league before succumbing to eventual champions UCD.
In the first match of the season they beat GMIT 3-18 0-12, (the second Freshers lost out the same day to the same opposition, 1-14 1-16). A defeat to Athlone IT (2-8 0-7) was followed by an excellent away win against Sligo IT 2-16 0-9, (Seconds won 1-9 0-7). Although they lost to NUIG 2-7 1-8, there was still a place in the quarter-finals where they faced DIT in Parnells. A superb team display saw them overcome the Dublin college 3-16 to 1-9 to make the last four, where they faced UCD. Unfortunately the Belfield side had too much for Maynooth on the evening, taking victory by 2-14 to 1-5. after an improved second half showing from the home side.

Hurling

There was a chastening but educational return to the top tier of hurling for the Senior side as they competed in Division One of the Senior league. A first round home loss to DCU by 8-17 0-9, was followed by an impressive rebound win over St Pats of Drumcondra by 2-7 0-9. There were two more away defeats to follow against DIT (4-21 0-11), and UCD in a free scoring encounter, 6-28 to 3-15, but the year ended on a high when they took down Trinity in an crucial Kehoe Cup qualifier. In a combative clash in Ringsend, Trinity sent the game to extra time (1-12 1-12) with a couple of late frees but Maynooth proved too strong in the additional time to run out 2-16 to 1-14 winners and set up a trio of New Year games against Kildare, Fingal and Wicklow in the Leinster preseason tournament.
There was a league final for the Intermediate Hurlers in the Leinster regional section after a win over DCU (4-20 1-13) among their victories and despite a final round loss to Carlow IT (2-9 0-9), they took their place in the final against DIT at the home of Ballymun Kickhams. A good first half was undone by DIT's goal rush in the second half and Maynooth lost out at the finale 2-15 6-13.
The fresher hurlers had a good league campaign defeating UCD, DIT and narrowly losing out to DCU in the final Division 2 group game. In 2015 it will be the first year that the Maynooth University Fresher hurlers will compete in the Division One all Ireland Championship, with a strong contingents of up and coming hurlers, there should be an interesting championship ahead.

O'Byrne Cup 2015:
All games away
Dublin v Maynooth University (Sunday Jan 4th, Parnell Park)
Laois v Maynooth University (Wednesday Jan 7th, Portarlington)
Offaly v Maynooth University (Sunday Jan 11th, Tullamore)
Semi-final (Sunday Jan 18th)
Final (Sunday Jan 25th)

Kehoe Cup 2015:

All games away

Kildare v Maynooth University (Sunday Jan 18th Newbridge)

Fingal v Maynooth University (Sunday Jan 25th)

Wicklow v Maynooth University (Sunday Feb 1st)

Final v Winners Group 1 (Sunday Feb 8th)


SIGERSON CUP

Round 1 – Jan 27th/28th, Feb 3rd/4th 2015:

Maynooth University v UL

Quarter-Finals – 11.02.15/12.02.15

Maynooth University/UL v IT Carlow/IT Tralee

Semi Finals - 20.02.15 – (hosted by UCC)
Maynooth University/ UL/ IT Carlow/ IT Tralee v UCC / Cork IT/ Queens / IT Sligo


FITZGIBBON CUP

Group C
1. IT Carlow 2. WIT 3. Maynooth University 4. Mary I Limerick

Round 1 29.01.15
Maynooth University v Mary I

Round 2 5.02.15
Maynooth University v IT Carlow

Round 3 10.02.15
Waterford IT v Maynooth University

Quarter finals 17.02.15/18.02/15

Semi-final 27.02.15 (hosted by Limerick IT)

Fixtures for the Intermediate and Freshers Championships can be found at http://www.he.gaa.ie/

Ladies fixtures not announced as yet.