ALL Institute virtual Seminar in association with the Lonsdale Institute, Tuesday, 2nd March 2021
The second instalment of the ALL Institute Virtual Seminar Series in association with the Kathleen Lonsdale Institute for Human Health Research, took place Tuesday, 2nd March 2021. Entitled 'Public and Patient Involvement in Research' , the Virtual Seminar ran from 2pm – 4.30pm.
You can view the itinerary below or above in PDF format., as well as the PowerPoint presentation from some of our presenters:
Robert Joyce_PPI in the COB-MS Trial
Johanna O'Shea_Service User Involvement in Social Work Education and Research
Marie Ennis O'Connor_Embedding patient voices at the heart of healthcare systems and values
Edel Murphy_PPI Ignite NUIG_Maynooth Presentation

Please view the presentations below by Dr Mark Robinson, 'What is PPI?' and the Panel Discussion, Dr Mark Robinson, Dr Rebecca Maguire & Dr Johanna O'Shea, ' Benefits of PPI Across Academic Disciplines'.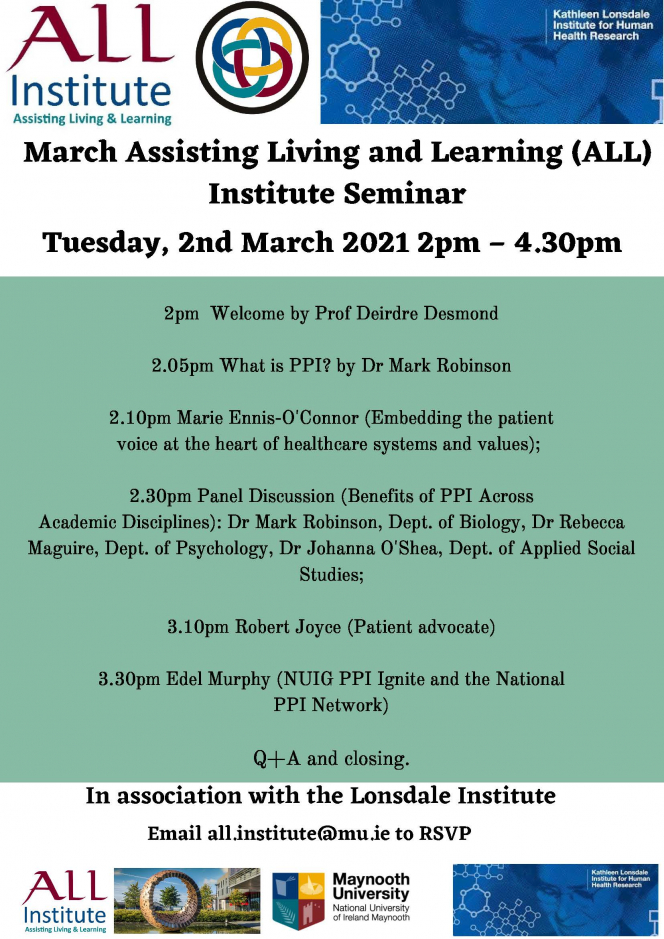 The ALL Institute Virtual Seminar in association with the International Disability Alliance took place, Tuesday, 26th January 2021, running from 3pm – 5pm.

You can view the itinerary below, as well as the PowerPoint presentation for our two presenters Priscille Geiser Presentation: People with Disability influencing policy and practice and Rebecca Daniel Presentation: Results from The First Global Survey . There is also a recording below of the presentation given by Rebecca Daniel 'entitled 'Results from The First Global Survey and Ideas for the next'.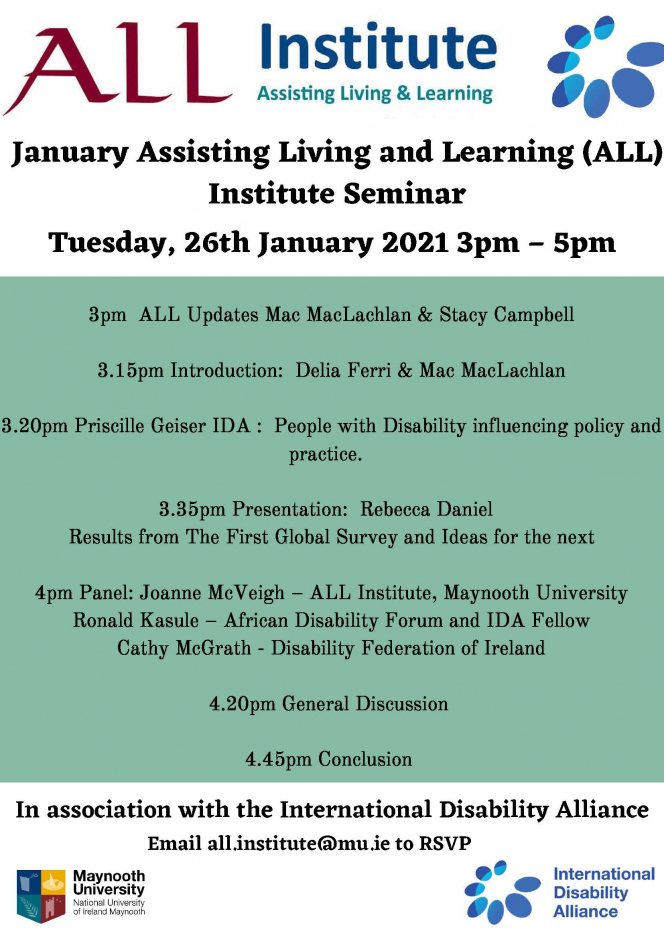 ​
For more info see:
ALL Institute virtual Seminar in association with the IDA, Tuesday, 26th January 2021.
PDF file format.
Building an Inclusive Society through Accessibility: International Perspectives, Challenges and Lessons.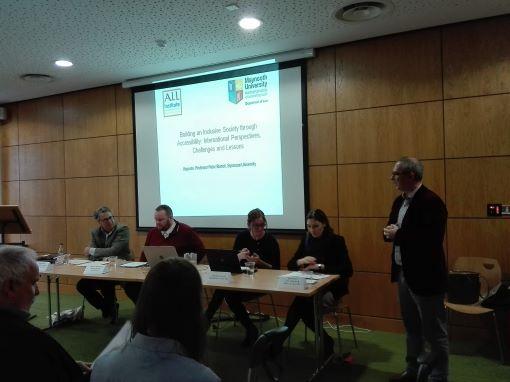 Keynote: Professor Peter Blanck, Syracuse University
When: Thursday 21st Nov., 2:30-5:00pm
Where: Phoenix Boardroom, North Campus, Maynooth University
Prof. Blanck is University Professor at Syracuse University, which is the highest faculty rank granted to eight prior individuals in the history of the University. He is Chairman of the Burton Blatt Institute (BBI) at Syracuse University. Blanck received a Bachelor of Arts from the University of Rochester, a Juris Doctorate from Stanford University, where he was President of the Stanford Law Review, and a Ph.D. in Social Psychology from Harvard University.
Blanck has written articles and books on the Americans with Disabilities Act (ADA) and related laws, and received grants to study disability law and policy. Blanck is Chairman of the Global Universal Design Commission (GUDC), and President of Raising the Floor (RtF) USA. He is a former member of the President's Committee on Employment of People with Disabilities, a former Senior Fellow of the Annenberg Washington Program, a former Fellow at Princeton University's Woodrow Wilson School, and has been a Mary Switzer Scholar. Prior to teaching, Blanck practiced law at the Washington D.C. firm Covington & Burling, and served as law clerk to the late Honorable Carl McGowan of the United States Court of Appeals for the D.C. Circuit.
3rd ALL Symposium on Sustainable Assistive Technology Provision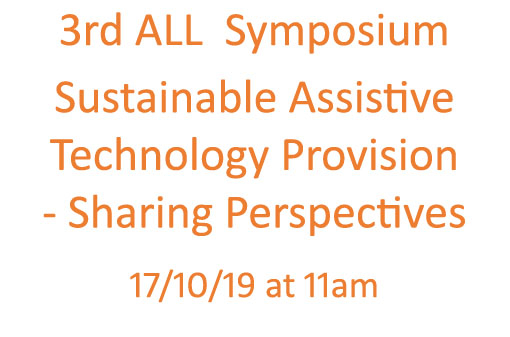 Sustainable Assistive Technology Provision - Sharing Perspectives
11.00-1.00 on Thursday 17th October '19,
Hume Boardroom, 3rd Floor, John Hume Building, Maynooth University
Schedule
11:00 – Welcome and Review

11:10 - Keynote Presentation: Dr. Rosie Gowran - Occupational Therapy, School of Allied Health, University of Limerick

11:45 – Tea/ coffee

12:00 - Round Table Discussion:
Prof. Mac MacLachlan – Psychology, Chair
Dr. Linzi Ryan – Design Innovation
Dr. Rudi Villing – Electronic Engineering t.b.c.
Dr. Rebecca Maguire – Psychology
More information see: 3rd ALL Symposium Poster
A Symposium for & by ALL Institute "Inclusion 2.0: Addressing Inequity & Exclusion within Inclusive Policies & Practices"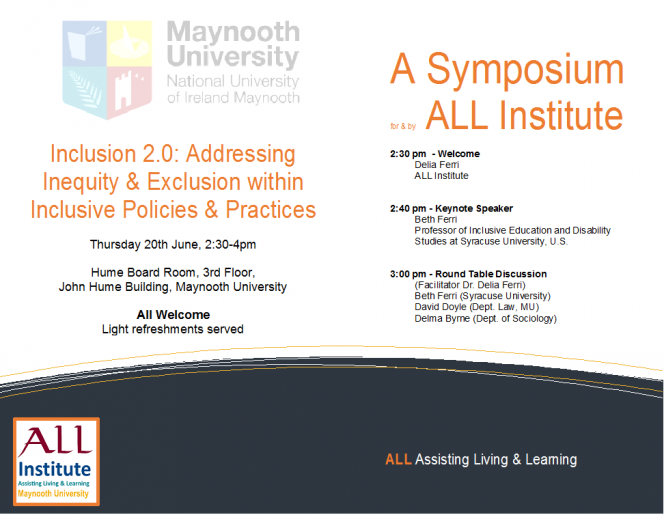 Symposium for & by ALL Institute
Inclusion 2.0: Addressing Inequity & Exclusion within Inclusive Policies & Practices
Thursday 20th June, 2:30-4pm
Hume Board Room, 3rd Floor,
John Hume Building, Maynooth University