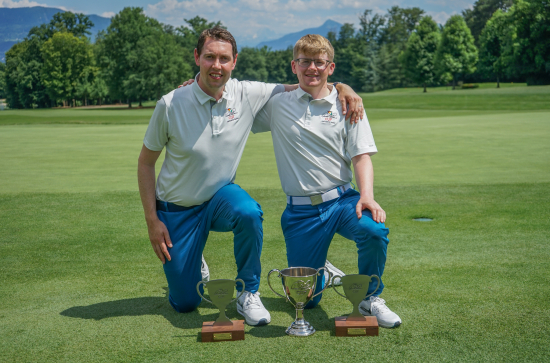 Tuesday, July 5, 2022 - 15:00
David Kitt, Maynooth University Paddy Harrington golf scholar and 3rd Year Business Management student, was part of the International Golf team that defeated the USA to win the prestigious Arnold Palmer Cup (APC) at Golf Club de Geneve in Switzerland this week. The International Team had 13 singles wins during the final day matches to secure a 33-27 victory. David was the only Irish player on the International Team that featured golfers from 18 different countries. He earned his place on the international side as Europe's leading male student golfer after winning the R&A Student Tour Series (Europe's elite student golf tour) men's order of merit title last April. David becomes the sixth representative from the Paddy Harrington golf scholarship programme at Maynooth University to compete in the Arnold Palmer Cup with University students compet in a remarkable eight Arnold Palmer Cups in the last ten years, a feat not matched by any institution outside of the United States.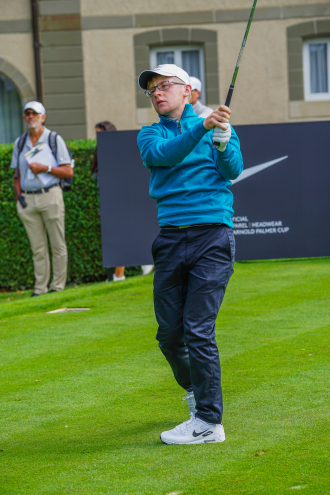 Barry Fennelly, Manager of the Paddy Harrington Golf Scholarship at Maynooth University Office of Sport, and assistant men's coach with International Team, was on hand with David and the rest of the the team throughout the event highlighed the accoplishment, commenting:
"I was an honor to work with such talented rising stars of the game at the APC this week, including our own David Kitt. His contribution and level of playing at such a high profile International tournament is something he should be very proud of, he showed great sportsmanship throughout the week and is a credit to Maynooth University and our golf scholarship programme".
David, who arrived home from Switzerland today, recognised the support he has recieved from the University and wider community:
"Being chosen for the Arnold Palmer Cup International Team has been a huge honour for me and an amazing experience, topped off by our success in wining the tournament. I can't thank Barry and the Maynooth team enough for the opportunity that the Scholarship programme has given me, along with the support of my family and friends at Athenry Golf Club."
The event is a Ryder Cup-style tournament featuring the top men's and women's university/college golfers.