Maynooth Alumni Advisory Board (MAAB)
MAAB held its inaugural meeting on 3rd February 2011. Acting as ambassadors for the University, the role of this board is to assist the Development and Alumni Relations Office in raising the profile of and increasing the reach of Maynooth alumni nationally and internationally. Meeting three to four a year on campus, board members share their time and expertise with the Development and Alumni Relations Office and assist with alumni events and initiatives.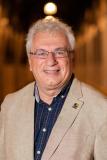 Photo: Peter Finnegan, current chairman of the Maynooth Alumni Advisory Board
The board members are;
Chairperson - Peter Finnegan, Chief Executive, Léargas Úr Consultancy, 1976 BA
Gráinne Hope - Music & Health Ireland (formerly Kids' Classics), 1997 BMus
Rebecca Doolin, Vice-President External Affairs, Maynooth University
Karen Kelly, Alumni Engagement Manager, Maynooth University, 2009 BA
Síona Cahill, Account Director, DHR Communications, 2014 BA Civil Law
John Gallagher, Public Affairs & Media Relations Consultant, 1976 BA, 1977 HDip Ed. (First full-time President of MSU)
Pat O'Meara, Woods & Associates, 1980 BA, 1981 HDip Ed
Marie Taylor-Ghent, Director, Data & Analytics at PwC Ireland, 2001 BSc
Philip O'Callaghan, Deputy Chief of Staff to An Taoiseach, Leo Varadkar TD, 2011 BA, 2012 PDE, 2014 HDip
Bríd O'Connor, Radiation Oncologist, Beth Israel Deaconess Medical Centre in the Greater Boston Area, USA, 1985 BSc
Róisín Dockery, Executive Director of "Association belle & bien", 1987 BA
Treasa Keegan, Manager ALMT Markets, BNP Paribas, 2004 BSc
Markis Duggan, Manager, Product Solutions, UK&I, AuditBoard, 1997 BSc
MU Faculty of Arts, Celtic Studies and Philsophy - Dr Anne O'Brien, Department of Media Studies, 1994 BA, 1997 MA, 2008 PhD
MU Faculty of Science and Engineering - Dr Andy Hogan, Department of Biology, 2004 BSc, 2010 PhD
MU Faculty of Social Sciences - Dr Rose Dolan, Department of Education,1994 HDipEd, 2001 MEd
Former board members include Mark Greville, 1996 BA Economics, Finance & Accounting; Bernie Coyne, 1987 BA, HDip 1988; Aengus Ó Maoláin, 2009 BMus, 2010 MA; Hayleigh McCann, 2007 BA, 2010 PG Dip in Ed, 2014 HDip in Innovative Teaching & Learning, 2017 PG Diploma in Educational Leadership; Flor Madden, 1988 BA; John Weafer, 1977 BA, MA 1981; Gareth McLaughlin, 2006 BA, 2007 MA, 2008 HDip in Irish History, 2015 MSc; professor emeritus Vincent Comerford, 1965 BA, 1972 MA; Ciarán Mac an Bhaird, 1998 BSc, 2001 MSc, 2004 MLit, 2007 PhD; Ronan O'Flynn 1988 BA; Ambassador Geraldine Byrne Nason 1980 BA, 1981 MA; Derek Maher 2012 BSc, 2014 Cert Counselling Skills; Eugene Magee, 1964 BA, 2013 M.L.S.; Ann Marie Brennan, 1995 BA
We are sincerely grateful for the contribution these alumni have made to the University.