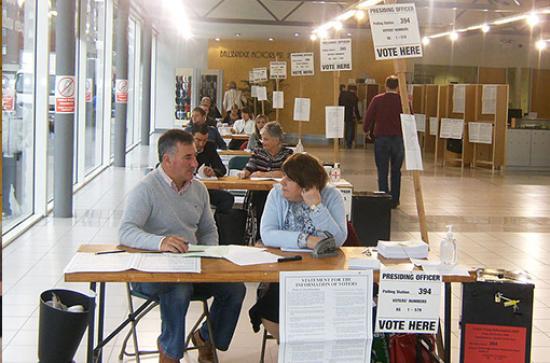 Wednesday, February 24, 2016 -

18:30

to

20:30
Dublin City Council's Wood Quay venue
The latest addition to the *Maynooth University Alumni Lecture Series will take place in Dublin City Council's Wood Quay venue on the evening of Wednesday 24 February 2016.
With only two days to go to the General Election, we will put the spotlight on the mechanics of this election (e.g. boundary changes, political/vote trends, gender quotas, etc.) as well as exploring the key issues that are driving the debate and the electorate. Join us for a panel discussion by our very own political experts Professor John O'Brennan and Dr Mary Murphy from the Department of Sociology and Dr Adrian Kavanagh and lecturer, Claire McGing from the Department of Geography. Our moderator for the evening will be Shane Coleman (Irish Independent, Newstalk).
Beginning at 6.30pm with registration and refreshments and finishing at 8.30pm, this free event is open to all alumni. Given the venue capacity, there will be constraints so register now to avoid disappointment.

*Maynooth Alumni Lecture Series: The Alumni Office has designed a series of lectures, by faculty, geared specifically for alumni. The inaugural alumni history (Faculty of Arts, Celtic Studies & Philosophy) lecture took place in March 2014. https://www.maynoothuniversity.ie/alumni-office/news/inaugural-history-alumni-lecture . A second annual history alumni lecture followed in March 2015. https://www.maynoothuniversity.ie/alumni-office/events/history-alumni-lecture .The subject of Climate Change was the topic in May 2015 of the inaugural Faculty of Social Sciences lecture which was delivered by key members of the Department of Geography. Held in the prestigious Wood Quay Dublin City Council venue, this lecture saw the launch of a BOI sponsored Taught Masters Alumni Scholarship in Climate Change. https://www.maynoothuniversity.ie/alumni-office/events/2015-alumni-geography-lecture .
The next lecture in this series is the Alumni History Lecture which will take place on 6 April 2016 in Maynooth University's Renehan Hall.