School of Law and Criminology Alumni
Welcome to the School of Law and Criminology Alumni website. Below is key information on how to stay informed of all Alumni events.
To keep up-to-date on information from the School of Law and Criminology, including current news, events and opportunities, please click here.
We are very proud of our Law and Criminology graduates, and we want to support you in your career and showcase your achievements. If you would like to share your career journey, we'd love to hear from you. You can share yours online here
Alumni In-Person Event - July 2022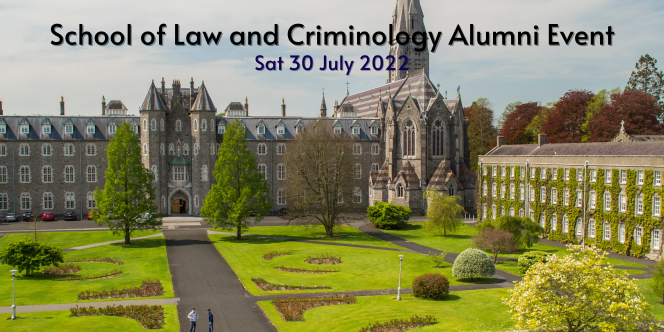 The first School of Law and Criminology alumni event took place on campus July 2022.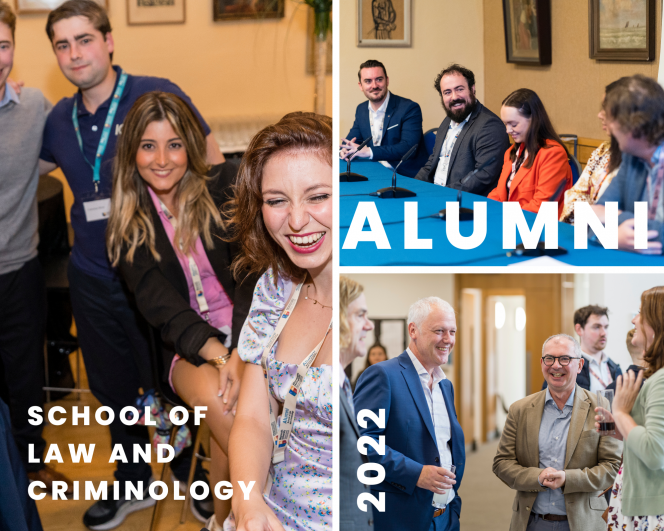 We were delighted to welcome back our alumni from the past 13 years and, in particular, the 1st (2011) and 10th (2020) cohorts of graduates. Mr Derek Foran and Prof Tomas D Russell, who both travelled from North America, offered engaging keynote lectures on the day. In addition, our alumni contributed to panel discussions where they explored a range of topics from their time at the School to how their studies have fed into their careers over recent years.
Panel discussants included: Dr Emma McEvoy; Mary Patricia Acom; John MacManus; Conor Duff; Naoise O Cearuil; Dr Liam Sunner; Christine O' Mahoney; and Kelly Rennick. The evening came to a close with a presentation by the incoming Acting Head of School, Dr Fergus Ryan, to Prof Michael Doherty to thank him for leading the School to great success over the last decade and to mark his upcoming sabbatical.
We wish to thank all who contributed and attended on the day and we look forward to welcoming our alumni back to campus again in the near future. The event was kindly sponsored by KOD Lyons; William Fry; and McCann Fitzgerald.
You can view photographs from the day here.
Celebrating our Alumni on International Women's Day 2023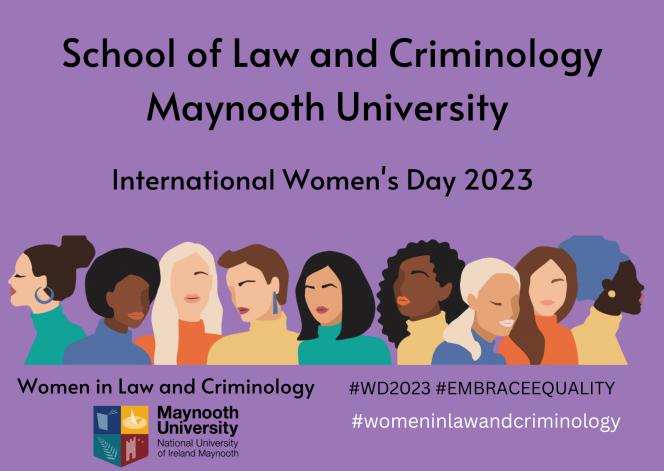 Click here
to view Alumni profiles.
Alumni Spring Newsletter 2022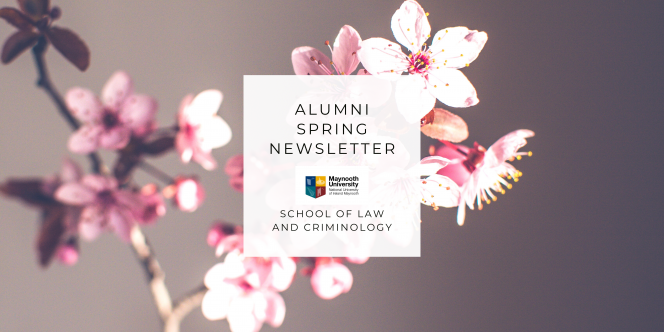 Alumni Spring Issue (Published February 2022) - click here to read
Alumni Coffee Morning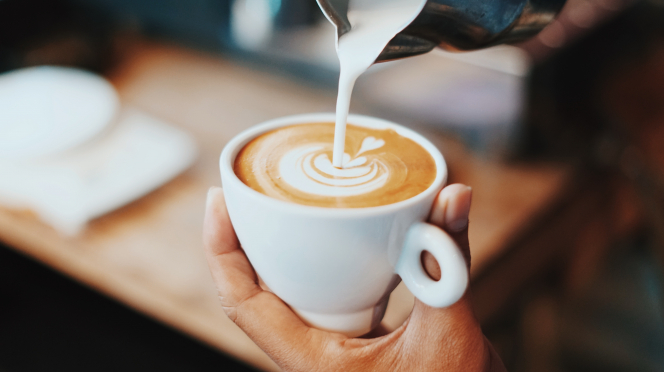 Our fist Alumni coffee morning took place on Friday 25 Feb 2022 10.30-11.00.
Deatils of the event: The aim of the session is to get to know each other and to build connections. It's a great opportunity to meet your fellow Alumni and to discuss topical Law/ Criminology related issues. Prof Michael Doherty (Head of School) and Dr Ian Marder (Lecturer in Criminology) will also join us. The session will be informal. I will be there to facilitate the discussion and to ask you how we in the School of Law and Criminology can support you in your career and how you can get involved with the School. Your feedback will support the development of new programmes, events and opportunities for Alumni. Looking forward to seeing you virtually at the end of the month.
Alumni Mentoring Programme 2022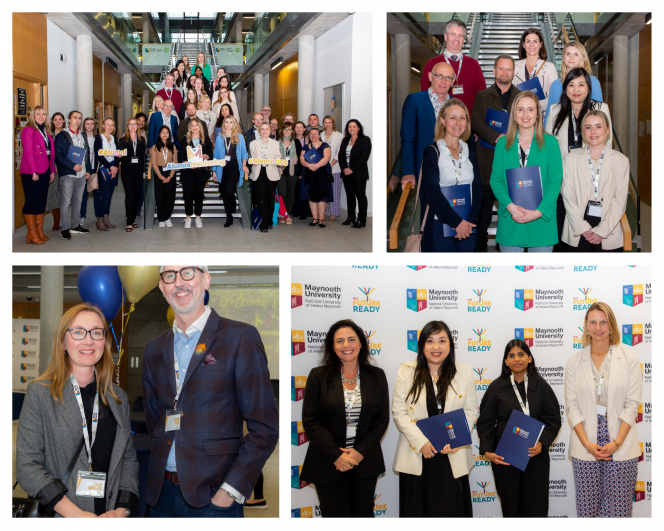 On 12 May 2022, the "Future Ready" team at Maynooth University hosted an evening celebration for the Alumni Mentoring Programme. As part of this programme, mentors (who are former students with professional experience) provide career-focused support, inspiration and guidance to mentees (current Maynooth University students). This year five Law and Criminology students and five Law and Criminology alumni took part in the programme.
The purpose of the programme is to support the development of student preparedness for work, life and engaged citizenship through informed career insights and empowering students to achieve their career aims. It also seeks to advance the networking propensity of Maynooth University students from underrepresented groups with 30% places prioritized for students from underrepresented groups.
Congratulations to all of the mentors and mentees involved this year. If you would like to take part in this programme, further information is available here