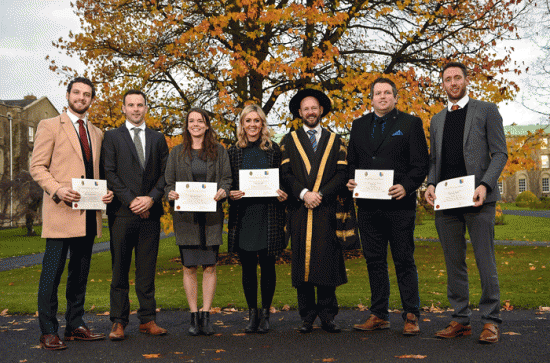 Friday, December 1, 2017 - 14:00
Ten of Ireland's finest male and female inter-county stars graduated from the Accreditation Pathway for the Jim Madden Gaelic Players Association (GPA) Leadership Programme at a special ceremony in Maynooth University today.
The programme is designed to develop crucial leadership skills among inter-county Gaelic football, hurling, ladies football and camogie players which they can draw on in their personal, sporting and professional lives.
This is the first year students from this programme have had access to formal accreditation via Maynooth University and this year's graduates include many of the GAA's leading lights such as eight-time All-Ireland senior hurling medal winner Michael Fennelly, Waterford's three-time hurling All-Star Noel Connors as well as Mayo football duo Tom Parsons and Jason Doherty and Derry dual star Chrissy McKaigue.
The Jim Madden GPA Leadership Programme is tailored to athletes performing at an elite level with each student working with a professional life coach, to address their individual development needs and help them reach their personal goals.
Those participating in the Maynooth accreditation pathway have access to academic staff and resources, and qualification leads to the awarding of a Level 9 Postgraduate Certificate in Professional Leadership. As part of the accreditation pathway with Maynooth, university staff work with students to further develop their leadership capabilities and to explore the role of sustainable leadership within communities.
Students are required to engage with local communities through work with primary schools as part of the Réalta Programme while also taking part in workshops that focus on personal development, interpersonal and group skills in which they identify their strengths and weaknesses and find their own personal style of leadership.
Leadership masterclasses also are provided, allowing students to explore the critical behaviours, attributes and capabilities required to unlock their full potential as future leaders. These masterclasses are taught by experts from the business and sporting world and community activists.
GPA CEO Dermot Earley said at today's graduation: "We are delighted with the continued success of the Jim Madden GPA Leadership Programme Accreditation Pathway. The young men and women graduating today have already demonstrated exceptional leadership qualities both on and off the pitch and we all look forward to seeing them carry that success forward into the future.
"We are also very pleased to be working with Maynooth University as part of the Accreditation Partnership between Maynooth and the GPA and it has allowed the Programme to offer students more benefits than ever before while receiving a qualification in professional leadership. This qualification will undoubtedly be helpful for these future leaders as they launch their careers and pursue further education. In fact, two course graduates have already embarked on a programme of doctoral studies at Maynooth University."

The 2016/2017 Graduates of the Jim Madden GPA Leadership Programme are:
Stacey Cannon (Kildare)
Michael Fennelly (Kilkenny)
Noel Connors (Waterford)
Anna Conlan (Leitrim)
Stephen McDonnell (Cork)
Lorcán McLoughlin (Cork)
Darragh Egan (Tipperary)
Tom Parsons (Mayo)
Jason Doherty (Mayo)
Chrissy McKaigue (Derry)

About the Jim Madden GPA Leadership Programme
The Programme was made possible by the support of Michael Madden and his family who dedicated the new curriculum to the memory of their late father, Jim, a tireless grassroots GAA and community activist in Tipperary. Jim was actively involved in the Portroe club all of his life and was a selector on the famous Tipperary three-in-a-row All Ireland winning camogie team of 1999 – 2001.

About the Gaelic Players Association
The GPA, the official representative body for inter-county hurlers and footballers, is a not-for-profit organisation that represents over 2,200 current players and an increasing number of past players. The Jim Madden GPA Leadership Programme is part of the GPA's Education Programme. Since 2010 the GPA has distributed over 3,000 education and training scholarships for players participating in undergraduate, post-graduate and further training programmes.

About Maynooth University
Maynooth University boasts a GAA playing population of 400 members across five clubs. The Maynooth University GAA scholarship has been running for nearly 20 years and includes recipients such as 2013 Footballer of the Year Michael Darragh Macauley and David McInerney, an All-Ireland SHC winner with Clare in 2013.
Pas le moladh mór bainte amach ag na céimithe ar réaltaí idirchontae iad, ó Chlár Ceannaireachta Jim Madden, CIG, in Ollscoil Mhá Nuad

Sa ghrianghraf, ó chlé: Tom Parsons, Peileadóir Mhaigh Eo, David Collins, Uachtarán CIG, Anna Conlon, peileadóir na mban le Liatroim, Stacey Cannon, iarpheileadóir na mban le Cill Dara, an tOllamh Pilib Ó Nualláin, Uachtarán Ollscoil Mhá Nuad, Darragh Egan, iariománaí Thiobraid Árann agus Michael Fennelly, iománaí Chill Chainnigh, in Ollscoil Mhá Nuad.
Bronnadh teastas ón gConair Creidiúnaithe do Chlár Ceannaireachta Jim Madden, Cumann Imreoirí Gael (CIG), ar dheichniúr de na réaltaí idirchontae, fireann agus baineann is fearr in Éirinn ag searmanas speisialta in Ollscoil Mhá Nuad inniu.
Dearadh an clár seo le deis a thabhairt d'imreoirí contae a imríonn peil Ghaelach, iománaíocht, peil na mban agus camógaíocht, scileanna ceannaireachta riachtanacha a fhorbairt, scileanna ar féidir leo leas a bhaint astu ina saol pearsanta, spórtúil agus gairmiúil.

Seo é an chéad bhliain a bhí fáil ag céimithe ón gclár seo ar chreidiúnú foirmeálta trí Ollscoil Mhá Nuad agus tá cuid de na himreoirí CLG is fearr i measc na gcéimithe – Michael Fennelly, duine a bhfuil Bonn Iomána Sinsear na hÉireann bainte amach aige ocht n-uaire, Noel Connors, imreoir Phort Láirge a bhfuil gradam do Shárimreoir Iománaíochta na Bliana buaite aige trí huaire, chomh maith le beirt pheileadóirí ó Mhaigh Eo,Tom Parsons agus Jason Doherty, agus Chrissy McKaigue, imreoir peile is iomána le Doire.

Le freastal a dhéanamh ar scoth-lúthchleasaithe, cuirtear Clár Ceannaireachta Jim Madden, CIG, in oiriúint don duine aonair. Oibríonn gach mac léinn le hoide gairmiúil saoil le tabhairt faoina chuid riachtanas forbartha féin agus le cabhrú leis nó léi a spriocanna pearsanta a bhaint amach.

Bíonn fáil acu siúd atá páirteach i gconair chreidiúnaithe Ollscoil Mhá Nuad ar fhoireann acadúil agus ar acmhainní, agus bronntar Teastas Iarchéime sa Cheannaireacht Ghairmiúil, Leibhéal 9, mar thoradh. Mar chuid de chonair chreidiúnaithe Mhá Nuad, oibríonn foireann na hOllscoile le mic léinn le forbairt a dhéanamh ar a gcumas ceannaireachta agus an ról atá ag ceannaireacht inbhuanaithe laistigh de phobail a fhiosrú.

Bíonn ar mhic léinn teagmháil a bheith acu le pobail áitiúla trí obair a dhéanamh le bunscoileanna mar chuid den Chlár Réalta chomh maith le páirt a ghlacadh i gceardlanna a dhíríonn ar fhorbairt phearsanta, scileanna idirphearsanta agus scileanna grúpa. Sna ceardlanna seo, aithníonn siad na láidreachtaí agus na laigí atá acu agus tagann siad ar a stíl ceannaireachta féin.

Cuirtear máistir-ranganna ar fáil freisin a thugann deis do mhic léinn plé a dhéanamh ar an iompar, ar na tréithe agus na cumais chriticiúla atá riachtanach chun ligean dóibh barr a gcumais mar cheannairí na todhchaí a bhaint amach. Saineolaithe ar chúrsaí gnó agus spóirt chomh maith le gníomhaithe pobail a chuireann na máistir-ranganna seo ar fáil.

Agus é ag labhairt ag bronnadh an lae inniu, dúirt Dermot Earley, Príomhoifigeach Feidhmiúcháin ClG:

"Tá ríméad orainn go bhfuil rath leanúnach ar Chonair Creidiúnaithe Chlár Ceannaireachta Jim Madden, CIG. Tá scileanna ceannaireachta ar leith léirithe ag na fir agus ag na mná óga seo ar an bpáirc peile agus lasmuigh di agus táimid ag súil go mór go dtabharfaidh siad an rath sin leo amach anseo.

"Tá áthas an domhain orainn freisin a bheith ag obair le hOllscoil Mhá Nuad mar chuid den Chomhpháirtíocht Chreidiúnaithe idir Ollscoil Mhá Nuad agus CIG. Cuireann an Clár seo níos mó buntáistí ná riamh ar fáil do mhic léinn chomh maith le deis a thabhairt dóibh cáilíocht sa cheannaireacht ghairmiúil a bhaint amach. Níl aon amhras faoi ach go mbeidh an cháilíocht seo cabhrach do na ceannairí seo amach anseo agus a ngairmeacha á seoladh acu agus iad ag dul i mbun breisoideachais. Is é fírinne an scéil go bhfuil beirt chéimithe ón gcúrsa tosaithe cheana ar chlár dochtúireachta in Ollscoil Mhá Nuad."


Céimithe Chlár Ceannaireachta Jim Madden, CIG, 2016/2017:

Stacey Cannon (Cill Dara)
Michael Fennelly (Cill Chainnigh)
Noel Connors (Port Láirge)
Anna Conlon (Liatroim)
Stephen McDonnell (Corcaigh)
Lorcán McLoughlin (Corcaigh)
Darragh Egan (Tiobraid Árann)
Tom Parsons (Maigh Eo)
Jason Doherty (Maigh Eo)
Chrissy McKaigue (Doire)

Mar gheall ar Chlár Ceannaireachta Madden, CIG
Cuireadh an Clár ar fáil an chéad lá riamh mar thoradh ar thacaíocht ó Michael Madden agus óna theaghlach. Thiomnaigh siad an curaclam nua in ómós dá n-athair, Jim, atá ar shlí na fírinne. Ba ghníomhaíoch CLG agus pobail é Jim a d'oibrigh gan stad gan staonadh leis an bpobal i dTiobraid Árann. Bhí ról gníomhach ag Jim i gCumann an Phoirt Rua ar feadh a shaoil agus ba roghnóir é ar fhoireann camógaíochta Thiobraid Árann a bhain cáil amach nuair a d'éirigh leo Cluiche Ceannais na hÉireann a bhuachan trí huaire i ndiaidh a chéile, idir 1999 agus 2001.
Mar gheall ar Chumann Imreoirí Gael (CIG)
Is é CIG an comhlacht ionadaíoch oifigiúil d'imreoirí contae. Eagraíocht neamhbhrabúis atá inti a dhéanann ionadaíocht ar bhreis agus 2,200 imreoir reatha agus ar líon iarimreoirí, líon atá ag dul i méid an t-am ar fad. Tá Clár Ceannaireachta Madden, CIG, mar chuid de Chlár Oideachais CIG. Ó bhí 2010 ann, tá breis agus 3,000 scoláireacht oideachais agus oiliúna curtha ar fáil ag an CIG d'imreoirí a ghlacann páirt i gcláir fochéime agus iarchéime agus i gcláir bhreisoideachais.
Mar gheall ar Ollscoil Mhá Nuad
Tá cúig chumann CLG ag Ollscoil Mhá Nuad agus tá 400 ball ag na cumainn sin san iomlán. Tá scoláireacht CLG Ollscoil Mhá Nuad ar an bhfód le thart ar 20 bliain. I measc na ndaoine ar bronnadh an scoláireacht seo orthu , tá Michael Darragh Macauley, Peileadóir na Bliana in 2013, agus David McInerney, Buaiteoir Sinsear na hÉireann san Iománaíocht le Co. an Chláir in 2013.