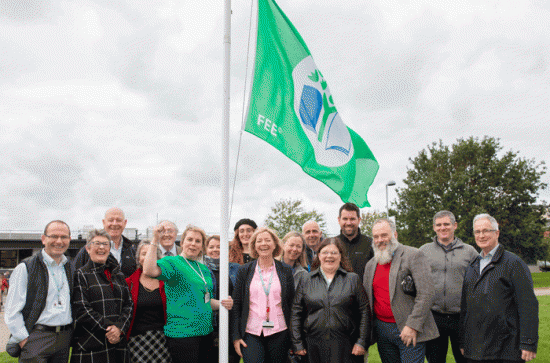 Tuesday, September 25, 2018 - 12:00
Irish Version
Maynooth Green Campus has been awarded the prestigious Green Campus Flag by An Taisce and the International Foundation of Environmental Education.

The Green Flag Award is given for work undertaken to promote best practice in sustainability across five themes, including energy, water, waste, travel and transport, and biodiversity. Maynooth Green Campus added an innovative sixth theme, Climate Justice, in its bid to get the award.
Maynooth Green Campus is a committee which brings together Maynooth University, Saint Patrick's College Maynooth (SPCM) and Trócaire in an environmental partnership,

Chairperson of the Green Campus Committee, and lecturer in Social Policy at Maynooth University, Dr Joe Larragy commented: "This award is a hugely important recognition of the depth and range of the hard work and innovative spirit of the several working groups that tackled each of the thematic areas – each of which posed its own unique challenges, but were essential in ensuring that our campus can meet critical environmental and sustainability needs for today and into the future."

Gradam na gCampas Glas cáiliúil bronnta ar Champas Glas Mhá Nuad ag An Taisce

Tá an brat cáiliúil Gradam na gCampas Glas tar éis bheith bronnta ar Champas Glas Mhá Nuad ag An Taisce agus ag an bhFondúireacht Idirnáisiúnta um Oideachas Timpeallachta.

Bronntar Gradam na gCampas Glas nuair a thugtar faoin obair chun dea-chleachtas a chur chun cinn thar na cúig téamaí seo a leanas; fuinneamh, uisce, dramhaíl, taisteal agus iompar, agus bithéagsúlacht. Chuir Campas Glas Mhá Nuad séú téama nuálach isteach ina straitéis chun an gradam a bhaint amach agus is é Ceartas Aeráide an séú téama sin.

Tháinig ionadaithe ó Ollscoil Mhá Nuad, Coláiste Phádraig Mhá Nuad agus Trócaire le chéile i gcomhpháirtíocht chomhshaoil chun bheith ar an gcoiste, Campas Glas Mhá Nuad.

Dúirt Uachtarán Choiste Champas Mhá Nuad agus léachtóir i mBeartas Sóisialta, an Dochtúir Joe Larragy: "Is aitheantas fíor-thábhachtach é an gradam seo ar an doimhneacht agus ar an réimse san obair dhian agus sa spiorad nuálach atá curtha isteach ag a lán grúpaí oibre agus iad ag dul i ngleic le gach aon cheann de na téamaí áirithe. Bhí dúshláin aonaránacha ag baint le gach aon cheann acu ach bhí géarghá leo ar fad chun go gcomhlíonfadh ár gcampas na riachtanais chriticiúla timpeallachta agus inbhuanaitheachta don lá atá inniu ann agus don todhchaí."

Le feiscint sa ghrianghraf ag bronnadh na ngradam agus ardú na mbrat tá baill de Choiste Champas Glas Mhá Nuad, Caoimhe De Barra, Príomhoifigeach Feidhmiúcháin Gníomhach in Trócaire, an Dochtúir Joe Larragy, Cathaoirleach Choiste Champas Mhá Nuad agus an Dochtúir Michael John O'Mahony, Stiúrthóir ar an Aonad Oideachas Timpeallachta in An Taisce.