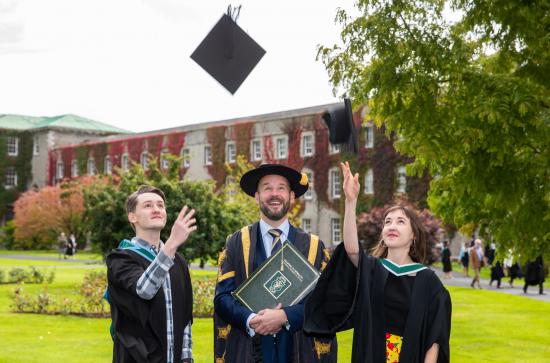 Tuesday, September 11, 2018 - 14:45
The sun shone just in time for Maynooth University graduation ceremonies, which are taking place throughout this week. Among the many proud students were 22-year-old twins Rebecca and Karl Finnerty, from Lucan, Co Dublin.

Maynooth University will this week confer more than 2,300 students with a range of degrees at undergraduate and postgraduate level, including 24 PhD graduates.

Rebecca Finnerty, who was awarded a Bachelor of Arts (English and History), said: I'm taking a gap year out for new experiences and my plan is to come back and do a Master's in Education, possibly in Maynooth," she said.

Her twin brother, Karl, graduated with a Bachelor of Science, and said his next step is to sit the Graduate Australian Medical School Admissions Test (GAMSAT) to study medicine in Ireland.

This year marked the first graduation for the students under the new Bachelor of Arts. The University restructured the degree three years ago to provide greater flexibility, the ability to specialise immediately or wait until after first year, opportunities to take electives, and an emphasis on critical skills. Also for the first time, Maynooth University is conferring Doctorates in Higher and Adult Education, Psychological Science, and Education.

Maynooth University is Ireland's fastest growing university, with more than 12,500 students, including almost 1,600 taught postgraduate and professional students and a growing cohort of over 400 research students.

Maynooth University has recently marked 20 years since its foundation as an independent institution, and earlier was recognised as one of the leading new universities in the world when the Times Higher Education ranked it #80 in its 2018 Young University Rankings.

A total of 1,291 female students and 1,010 males are graduating, an increase of about 250 students from last September. This year, Maynooth will hold an extra day of ceremonies with 13 ceremonies to take place.
Bronntar céimeanna ar níos mó ná 2,300 mac léinn in Ollscoil Mhá Nuad, na céad céimeanna Baitsiléar Ealaíon faoina curaclam nua san áireamh
Dé Máirt, 11 Mí Mheán Fómhair 2018
Thosaigh an ghrian ag taitneamh anuas orainn díreach in am do shearmanais bhronnta céimeanna Ollscoil Mhá Nuad, a bheidh ar siúl go deireadh na seachtaine seo. I measc na mac léinn le bród an domhain orthu inniu tá cúpla dhá bhliain is fiche d'aois darb ainm Rebecca agus Karl Finnerty as Leamhcán, Contae Bhaile Átha Cliath.
Bronnfaidh Ollscoil Mhá Nuad céimeanna ar níos mó ná 2,300 mac léinn ag leibhéal fochéime agus iarchéime le ceithre chéimí dochtúireachta is fiche ina measc.
Bronnadh Baitsiléar Ealaíon (Béarla agus Stair) ar Rebecca Finnerty a dúirt: "Tá briseadh bliana á ghlacadh agam ar mhaithe le heispeárais nua a bhaint amach dom féin agus is é mo phlean ná teacht ar ais agus Máistreacht san Oideachas a dhéanamh, b'fhéidir in Má Nuad."
Bronnadh Baitsiléar Eolaíochta ar a leathchúpla, Karl, a dúirt gurb í a chéad chéim eile ná tabhairt faoin Scrúdú Iontrála Iarchéime Scoil Leighis Astrálach (GAMSAT mar a ghlaoitear air as Béarla) chun staidéar a dhéanamh ar leigheas in Éirinn.
I mbliana bhain mic léinn céimeanna amach den chéad uair faoin mBaitsiléar Ealaíon nua. Rinne an Ollscoil athstruchtúrú ar an gcéim trí bliana ó shin chun go mbeadh níos mó solúbthachta i gceist leí. Tugadh an deis chun speisialtú láithreach nó chun fanacht ar feadh bliana, chun cúrsaí roghnacha a thógáil agus chun béim a leagan ar scileanna criticiúla. Den chéad uair freisin, tá Ollscoil Mhá Nuad ag bronnadh dochtúireachtaí san Ardoideachas agus san Oideachas Aosach, san Eolaíocht Shiceolaíoch agus san Oideachas.
Is í Ollscoil Mhá Nuad an ollscoil is mó le borradh ag teacht uirthi in Éirinn le breis agus 12,500 mac léinn, agus ina measc tá 1,600 d'iarchéimithe múinte agus gairmiúla agus cóhort faoi bhláth de bhreis agus 400 mac léinn taighde.
Cheiliúraigh Ollscoil Mhá Nuad fiche bliain ar an bhfód ó bunaíodh í mar institiúid neamhspleách le déanaí, agus níos luaithe ná sin, bhí sí aitheanta mar cheann de na hollscoileanna nua is rathúla ar thalamh an domhain nuair a tháinig sí san ochtódú áit i Rangú na n-Ollscoileanna Nua Times Higher Education.
Bronnfar céimeanna an tseachtain seo ar 1,291 mac léinn baineann agus ar 1,010 mac léinn fireann agus is meadú 250 mac léinn é seo ó Mhí Mheán Fómhair seo caite. I mbliana, cuirfidh Má Nuad lá breise de shearmanais ar siúl agus trí shearmanas déag ar an iomlán.
Fortheideal don ghrianghraf: Cúpla dhá bhliain is fiche d'aois Rebecca Finnerty (BA) agus Karl Finnerty (BSC) as Leamhcán, Contae Bhaile Átha Cliath a mbronnadh céimeanna Ollscoil Mhá Nuad orthu.