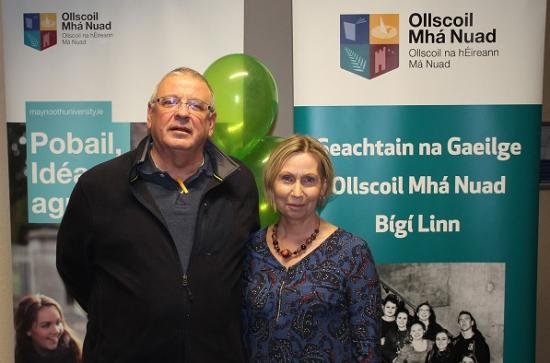 Wednesday, March 15, 2017 - 16:15
Mar chuid de Sheachtain na Gaeilge, thug Lárionad na Gaeilge agus an Edward M. Kennedy Institute, Ollscoil Mhá Nuad cuireadh do Brian Ervine agus do Linda Ervine labhairt ar an téama 'An Dílseoir agus an Ghaeilge i dTuaisceart Éireann'. Thug Brian, deartháir le David Irvine nach maireann, iar‑cheannasaí an Progressive Unionist Party, píosa spleodrach greannmhar cainte ar a chúlra agus ar an dearcadh a bhí aige féin agus ag a mhuintir ar an Phoblacht, ar chúrsaí Gaeilge agus ar fhéiniúlacht an dílseora. Mhínigh sé an tábhacht atá leis an iolrachas cultúir agus leis an iolrachas féiniúlachta i dtír ar bith, go háithrid sa lá atá inniu ann.
Don dara leath den ócáid, chuir mic léinn na hOllscoile agallamh ar Linda Ervine, i nGaeilge agus i mBéarla, faoina saol féin agus faoin turas teanga a thug i dtreo na Gaeilge í. Labhair Linda ar bhealach paiseanta ionraic faoin dóigh a d'fhill sí ar an oideachas agus faoin tionchar dearfach a d'imir sé seo ar a saol. Agus í ag dul i mbun taighde ar a seanmhuintir, d'fhoghlaim sí go raibh Gaeilge agus Béarla acu agus shocraigh sí féin filleadh ar an Ghaeilge, rud a thug isteach i saol nua eile í agus a thug tuiscint níos fearr di ar a muintir agus a timpeallacht féin.
"We say in Irish 'Tá Gaeilge agam'. Well, I wanted to have Irish, too."
As part of Seachtain na Gaeilge events, the Centre for Irish Language and the Edward M. Kennedy Institute, Maynooth University invited Brian and Linda Ervine to speak on the theme 'The Loyalist and the Irish Language in Northern Ireland'. Brian, who is a brother of the late David Ervine, former leader of the Progressive Unionist Party, gave a lively and entertaining talk on his background and on his attitude and that of his people to the Republic, to the Irish language and to loyalist identity. He stressed the importance of cultural diversity and diversity of identity in every country, particularly at the present time.
The second part of the event saw students from the University interview Linda Irvine, in both Irish and English, about her life and the language journey that brought her to Irish. Linda spoke passionately and honestly on her return to education and on the impact which education has had on her life. While researching the lives of her grandparents, she discovered that they spoke both Irish and English and she determined to return to Irish, something which introduced her to a whole new world and gave her a greater understanding of her family and her own environment.